State Exercises and Resources
State Exercise Program
The Washington Military Department is committed to its goal of minimizing the impact of disasters on our communities, property, economy and environment in Washington state. That means leading an Exercise Program to ensure our first responders, emergency managers, government leaders, non-governmental partners and private citizens have the knowledge, skills and abilities needed to perform key tasks when disasters strike.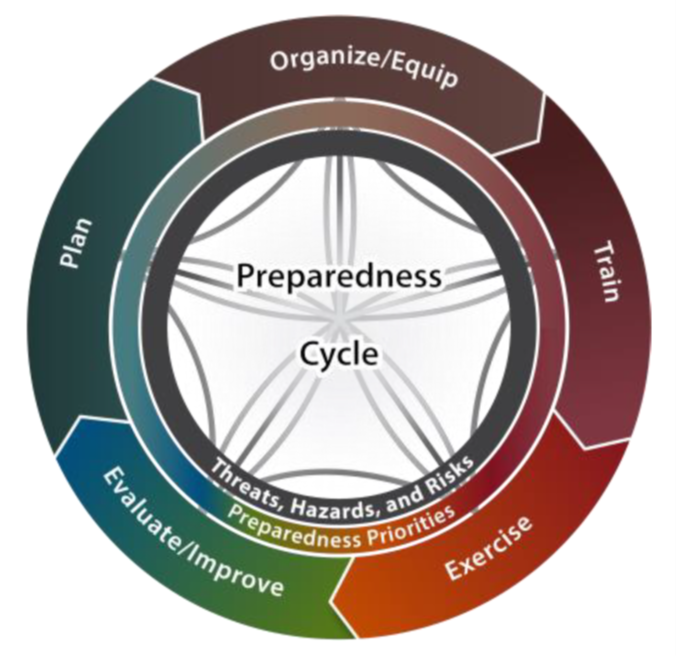 Exercises are an important component of preparedness by providing the whole community with the opportunity to shape planning, assess and validate capabilities, and address areas for improvement. An exercise is an event or activity, delivered through discussion or action, to develop, assess, or validate plans, policies, procedures and capabilities that jurisdictions/organizations can use to achieve planned objectives.
The Exercise Program is a comprehensive program designed to build and sustain strategic, compliance and core capability-based preparedness activities throughout the five FEMA Mission Areas of Preparedness, Protection, Mitigation, Response and Recovery. The program leads an all-hazards Homeland Security Exercise and Evaluation Program (HSEEP) to assist Washington in preventing, protecting, mitigating, responding to and recovering from man-made and natural disasters.
The Washington State Training and Exercise Plan 2020-2022 (PDF) provides a roadmap to accomplish this goal.
Jump directly to: [each item links to the title on this page]
Exercise-Specific Training
Washington State Exercise Program recommends the following Homeland Security Exercise and Evaluation Program (HSEEP) professional development training available through the Emergency Management Institute (EMI).

Online Training

Independent Study Courses
Instructor-led Courses
Master Exercise Practitioner Program (MEPP)
MEPP is designed for mid-level exercise practitioners with a minimum of three (3) Years' experience in an Emergency Management exercise design. Participants refine and practice skills critical to performing the phases of the HSEEP cycle, such as exercise program management, MSEL writing and evaluation data analysis. Candidates apply the key learning concepts from the MEPP curriculum relative to their organizations and their own jurisdictional environments.

Prior to application for a Master Exercise Practitioner Program the following foundational course are recommended:
IS-100, Introduction to the Incident Command System (ICS)
IS-200, ICS for Single Resources and Initial Action Incidents
IS-230, Principles of Emergency Management
IS-235, Emergency Planning
IS-700, National Incident Management System (NIMS), An Introduction
IS-800, National Response Framework (NRF), An Introduction
IS-2200,Basic Emergency Operations Center Functions
You can access the full Independent Study (IS) course offerings here. For information on the program, visit: https://training.fema.gov/mepp/default.aspx
Integrated Emergency Management Course (IEMC)
The Integrated Emergency Management Course is a four-day, exercise-based training activity for Emergency Operations Center personnel to practice simulated, but realistic, crisis situations, within a structured learning environment. The IEMC combines classroom lectures, discussions, small-group planning sessions, and exercise-based training to expose participants to new ideas and increase their awareness of the coordination needed among other agencies and organizations. During IEMC exercises, participants are assigned roles equivalent to their actual position in the community EOC.

For information on the program, visit: https://training.fema.gov/iemc/
---
Exercise Design Resources
Discussion based Exercise Scenarios
Washington based set of simple scenario templates that can be used for local context building if that's for discussion-based exercise or THIRA scenarios or any other simple scenario needs from a localized scenario perspective. 

Radiological Emergency Preparedness (REP) Exercise Templates:
Exercise Starter Kit on Reconstituting Operations
FEMA's National Exercise Division and the National Continuity Programs have collaborated to develop an Exercise Starter Kit on Reconstituting Operations. This Exercise Starter Kit is designed to be shared across the whole community to help organizations, including government agencies, conduct their own planning workshops to navigate the complexities of returning to full operations during the coronavirus disease (COVID-19) pandemic.
The toolkit is organized into four discussion areas: people, facilities, messaging/communications and resources/logistics. The toolkit includes a set of sample conduct slides and a sample facilitator guide that organizations can adapt and customize for their own needs depending on the organization type and current situation.
FEMA Preparedness Toolkit
The FEMA Preparedness Toolkit is an online portal that provides the whole community with tools to aid in implementing all six areas of the National Preparedness System. Along with the HSEEP Policy and Guidance, tools include templates for:
Exercise Program Management
Exercise Design and Development
Exercise Conduct
Exercise Evaluation
Improvement Planning
Exercise Evaluation Guides
Click HERE to register for access to additional interactive tools:
Exercises (allows for collaboration and coordination)
Corrective Actions Management (tracks improvement items from After-Action Reports)
Hazard Explorer (interactive map to see hazards and impacts in specific locations)
Emergency Management Toolkit (complete toolkit to plan, train, test, assess and engage specific threats and hazards)
For more information on the toolkit visit: https://preptoolkit.fema.gov/web/hseep-resources
EMI Virtual Tabletop Exercise Program
The Emergency Management Institute (EMI) conducts a monthly series of Virtual Table Top Exercises (VTTX) using a video teleconference platform to reach community based training audiences around the country and provide a virtual forum for disaster training.
For more information visit: https://training.fema.gov/programs/emivttx.aspx

CISA developed the COVID-19 Recovery CISA Tabletop Exercise Package
Approved by the White House Task Force, and with input from the Federal interagency, this CTEP also provides organizations the opportunity to discuss how ongoing recovery efforts would be impacted by concurrent response operations to a potential "second wave" of global pandemic infections.
For more information visit: https://www.cisa.gov/publication/covid-19-recovery-ctep-documents
National Exercise Program
State, local, tribal, territorial and other whole community partners can receive technical assistance and support for exercises at no cost from experienced exercise specialists in the National Exercise Division
For more information visit: https://www.fema.gov/emergency-managers/national-preparedness/exercises/about

Technical Assistance
Emergency Management Division staff is available to assist cities, counties, tribal entities and state agencies in the design, conduct, and evaluation of their exercises for all hazards. This assistance can be provided in the form of: planning conferences, workshops, and site visits; technical review of exercise documents; exercise design, control, and evaluation; and State EOC exercise play. Contact our Exercise Program Staff for information.
---
Corrective Action Program
The Corrective Action Program (CAP) assists in discussing, validating, prioritizing and assigning tasks for observations identified in After-Action Reports (AARs) from exercises and activations. Improvement planning (IP) translates "area for improvement" into "corrective actions" for implementation (IP to CAP). The Corrective Actions are then tracked through oversight, maintenance and regular reviews by stakeholders of Washington State Emergency Operations Center as part of the continuous process.
After-Action Reports
After-Action Reports (AARs) document the evaluation and analysis of tabletop, functional, and full-scale exercises. AARs include an overview of performance related to each exercise objective and associated core capabilities, while highlighting strengths and areas for improvement. This also applies to real-world activations and AARs. State After-Action Reports are available upon request through the General Email address below.
---
Additional External Resources and Links
---
Contact Us
Assessment and Exercise Program
General Inbox | emd.aande@mil.wa.gov
Patrick Niles
State Exercise Program Manager
(253) 512-7060 | patrick.niles@mil.wa.gov

Robert Sabarese
Assessments and Exercises Supervisor
(253) 512-7137 | robert.sabarese@mil.wa.gov