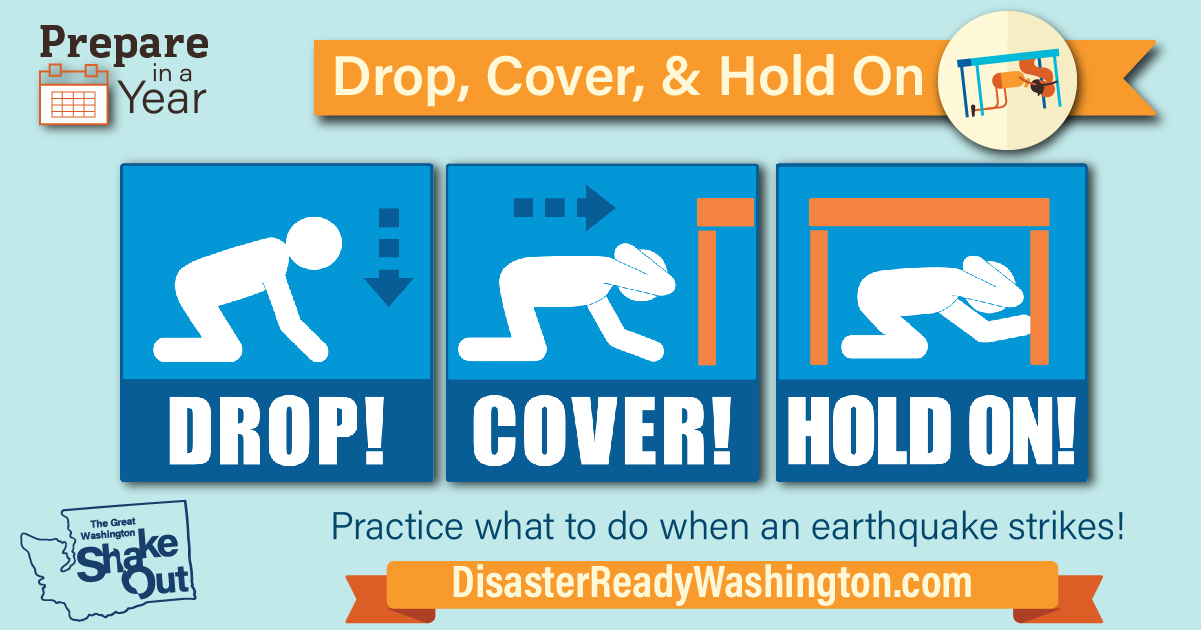 Be a Great Washington ShakeOut Champion!
You CAN survive the big one IF you get prepared. Join the movement and support earthquake/tsunami awareness in your community.
---
What is ShakeOut?
The Great ShakeOut is the world's largest Earthquake drill! Each year, on the third Thursday in October, participants all over the world use this opportunity to practice what they would do in case an earthquake occurred suddenly: Drop, Cover, and Hold On!
Washington is earthquake and tsunami country – either of these hazards could strike at any time. The Great ShakeOut is the perfect annual opportunity to learn about these hazards, practice how to protect yourself from earthquake and tsunamis, and take action to get prepared for disasters, so they won't impact you as much when they occur. When you join everyone else in Washington and around the world participating, it can even be fun!
Follow us on Twitter here.
Take Action – Be a ShakeOut Champion
Washington is earthquake AND tsunami country, and we need your help to be disaster ready. If you would like to do more to help prepare your community, organization, or workplace for earthquake and tsunami hazards, here are some actions you can take. Every step you take to prepare helps make Washington more resilient in the face of disaster!
Learn about Washington's earthquake and tsunami hazards and share that information with others in your community.
Register and participate in the Great Washington ShakeOut (drills can be done at any time of the year). Encourage your friends and family to do the same!
Play an audio broadcast during your drill to practice receiving alerts from the a ShakeAlert Earthquake Early Warning System.
Prepare yourself and your family (go kits, evacuation maps, family reunification plans).
Sign up for local emergency alerts and purchase a NOAA Weather Radio. If you're on the coast, download the NANOOS Tsunami Evacuation App.
If you're on the coast, practice walking your tsunami evacuation route after you drop, cover, and hold on.
Hand out ShakeOut postcards (PDF) to friends and businesses or use them as a graphic to post about ShakeOut on social media.
Promote earthquake/tsunami drills and preparedness actions in your community.
Be creative – you know your community the best!


---
Activities for Kids
It's never too early to start teaching kids to be earthquake and tsunami safe. Below are free activities that can be done at home or in the classroom alongside your drop, cover, and hold on drill. Be sure to print out the Great Washington ShakeOut Champion certificate so your child can proudly show that they helped make Washington a safer place!
More Information
ShakeOut
Hazards
Earthquake Early Warning (EEW)
Home Retrofit Resources
Seismic Scenario Information: Studies assessing the potential impacts of earthquakes on Washington
Tsunami
The first virtual Tsunami Roadshow; learn about the science and dynamics of tsunamis, tsunami alerts, and how to prepare for and respond to tsunamis.
Look up your address on WA DNR's Geoportal Tsunami Evacuation Map to see if you live, work, or go to school in a tsunami inundation zone.

Earthquake Safety (What to do during an Earthquake)
Preparedness