Disaster Ready Washington
Being prepared for disasters is everyone's job, including YOU. Be creative as you prepare your family to be 2 Weeks Ready. Together, we can build a disaster resilient Washington



One step a month for the next year

We want you to be prepared. We all remember when toilet paper and hand sanitizer was a rare find. Yet both of these items have been standard on our recommended emergency kit list for years. That's why we are launching a refresh of our Prepare in a Year guide in multiple languages, geared to help you take one step a month for the next 12 months to get you prepared. We know things are tough and money is tight. So, it makes sense that the first step in our plan is FREE. Get together and start talking to your family. Create an actual communications plan on what would happen if you were separated. During this pandemic, we have been six feet apart, but still together. During an earthquake, your entire family might be separated by school, work or on the road. By crafting solutions now, you can ensure calm and understanding later. Everyone will know what to do. Download the English version here.
Preparedness Webinars
Join Us for our Geologic Hazards Webinar, set for 10 a.m. - Noon, Sept. 22. The event is being done in Microsoft Teams. If you're on a phone, you may need to download the app.

Remind yourself with our Facebook Event. Just click the "join" button on Facebook when it's time.

Create your own calendar invite and add this link to it to join us.
Have questions now or need accommodations? Let us know at this link: https://bit.ly/EMDPrepare

We'll post the Webinar on our YouTube Channel too. Subscribe to be notified when it's up.
MORE WEBINARS
Basic Preparedness Advice: Presentation

What to expect when you're expecting a tsunami: Presentation and slides

What to expect when you're expecting an earthquake: Presentation and slides

---
Three Steps to Preparedness
Learn your Hazards


Have a Plan


u



Build Kits



Learning about the hazards near where you work, play, and live will help you and your family be prepared for disasters that could happen, like earthquakes, floods, and pandemics.


Having a family disaster plan gives you peace of mind when a disaster happens. Decide as a family where your meeting locations are and who your out-of-area contact is.

You and your family may be on your own for at least two weeks when a disaster happens. Build a 2 Weeks Ready kit at home and smaller kits for work, school, and vehicles.
---
Resources for Preparedness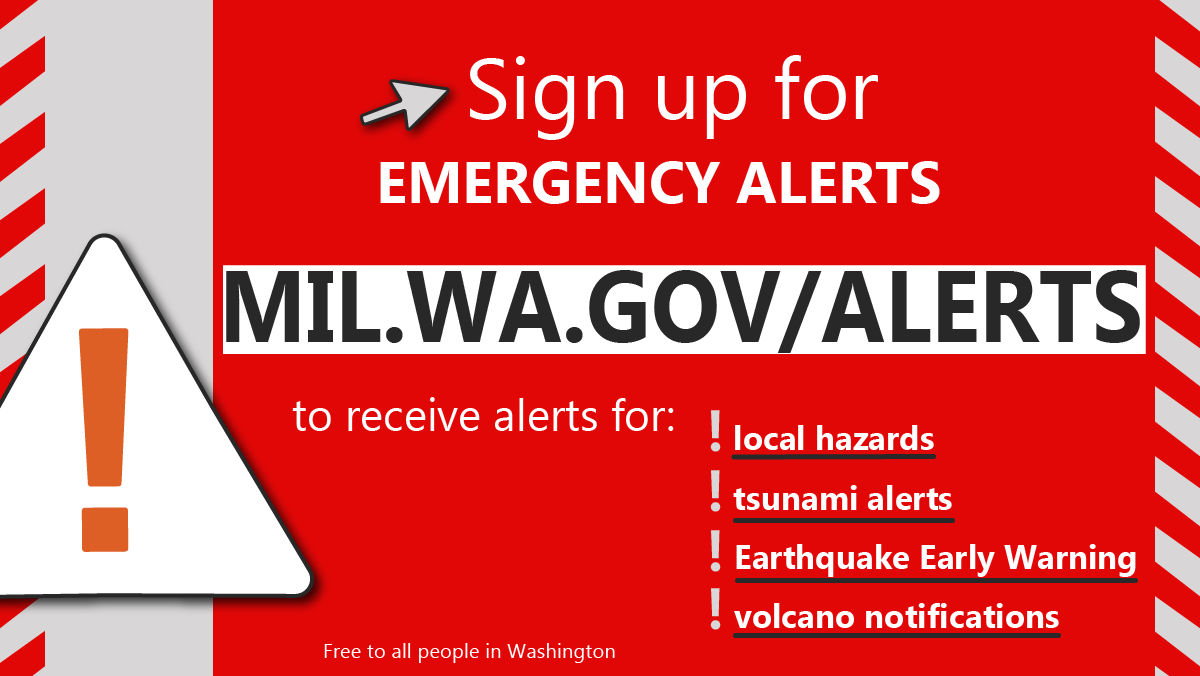 ---
Connect With Us
Email: public.education@mil.wa.gov
---
Our Partners