Earthquake
What's an earthquake?
An earthquake is the sudden release of stored energy. Most earthquakes occur along a fracture within the earth, called a fault. The shaking caused by this sudden shift is often very small, but occasionally large earthquakes produce very strong ground shaking. It is this strong shaking and its consequences – ground failure, landslides, liquefaction – that damages buildings and structures and upsets the regional economy.
Washington, especially the Puget Sound basin, has a history of frequent earthquakes. More than 1,000 earthquakes occur in the state each year. A dozen or more are strong enough that people feel ground shaking. Occasionally, earthquakes cause damage. The state experienced at least 20 damaging events in the last 125 years.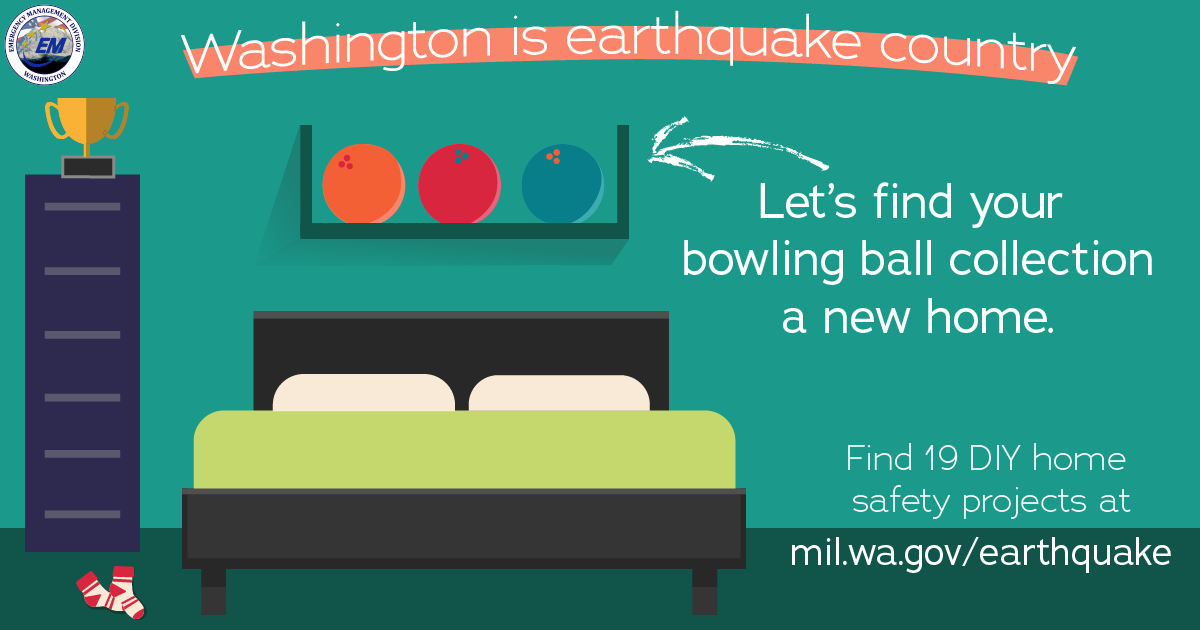 To learn how to secure your space and be safer at home, click here.
Check out these 19 simple, easy, do-it-yourself activities to make your space safer before an earthquake.
Be Prepared. Build Kits. Help Each Other. Download our brochure and add the emergency information card, as well. When an earthquake strikes, where will you be? Do you know what to do?

The Nisqually earthquake on February 28, 2001, was a deep, magnitude 6.8 earthquake 10 miles northeast of Olympia. One person died of a heart attack, hundreds were injured, and various estimates place damage at between $500 million and $4 billion. Exact figures are not available, as insurance claims information is not available.
The earthquake threat in Washington is not uniform.
On July 2, 1999, there was a 5.8 earthquake centered in the Satsop area of Grays Harbor County -- although the earthquake was felt a few counties over, most other areas didn't see damage. In Grays Harbor, the damage was estimated at $8.1 million, including repairing and retrofitting its historic courthouse in Montesano.
While most earthquakes occur in Western Washington, some damaging events, such as the 1872 magnitude 6.8 (est.) quake, do occur east of the Cascades. Geologic evidence documents prehistoric magnitude 8 to 9.5 earthquakes along the outer coast, and events of magnitude 7 or greater along shallow crustal faults in the urban areas of Puget Sound.
The Cascadia subduction zone, the fault boundary between the North America plate and the Juan de Fuca plate, lies offshore from northern California to southern British Columbia. The two plates are converging at a rate of about 2 inches per year. In addition, the northward-moving Pacific plate is pushing the Juan de Fuca plate north, causing complex seismic strain to accumulate. The abrupt release of this slowly accumulated strain causes earthquakes.
ShakeAlert Earthquake Early Warning

As of Tuesday, May 4, 2021, the ShakeAlert® Earthquake Early Warning system will detect earthquakes that have already begun, then send an alert to mobile phones in areas that could feel weak or greater shaking in Washington. The system can also trigger automatic actions like slowing down trains to prevent derailments, opening fire station doors so they don't jam shut, and closing valves to protect water systems.

Alerts can provide seconds of warning to allow people to take protective action (i.e. Drop, Cover, and Hold On) before shaking begins. People may receive an alert before, during or after shaking arrives at their location depending on their distance from the earthquake and how they receive the alert. Learn more about how turn on these alerts.

The system does not predict when or where an earthquake will occur or how long it will last. Depending on your location, alerts may not occur before shaking begins. It takes time for alerts to be delivered to mobile phones, so areas closest to the earthquake epicenter may not receive an alert before the shaking begins. As soon as you feel shaking, or get an alert, take protective action: Drop, Cover, and Hold On. Since the majority of earthquake-related injuries are caused by people getting hit by falling objects or falling down while moving during the shaking, seconds of warning will let people take protective action before shaking begins, reducing the chance of injuries. In most situations, drop, cover and hold on is the recommended way to protect yourself from earthquakes.

Our partners on the West Coast have been working on earthquake early warning for quite some time as the monitoring system continues to be expanded and testing continues. Though the system will be operational, there remains more work to do. The U.S. Geological Survey and its state and university partners, including the University of Washington, will be adding more seismometers to the network through late 2025 to further enhance the system's capability. The sensor network is only about 65% complete for Washington state. Additional work with alert distribution partners is needed to improve the delivery speed of alerts to mobile phones for all earthquakes. Algorithms that estimate earthquake size and shaking continue to be tested and improved to ensure the system's performance in megathrust events (i.e. the "Big One" Cascadia Subduction Zone). With the current ShakeAlert® system, in an M9 Cascadia Subduction Zone earthquake, alerts will be sent but users farthest away from the epicenter may not receive an alert.

Learn more about the ShakeAlert EEW System.
Seismic Safety in Washington
The Geology Division of the Washington State Department of Natural Resources (DNR) conducts geologic hazards mapping across the state and works to identify our earthquake threats. In addition, the United States Geological Survey works closely with DNR to provide the most accurate, credible, and up-to-date scientific earthquake information to the public and emergency management community. Their work forms the basis for the implementation of seismic provisions and standards in building codes and other infrastructure protection standards. For additional information about the earthquake hazards in Washington, see the links below:
Slides regarding Cascadia threat presented to the state Legislature (January 2017)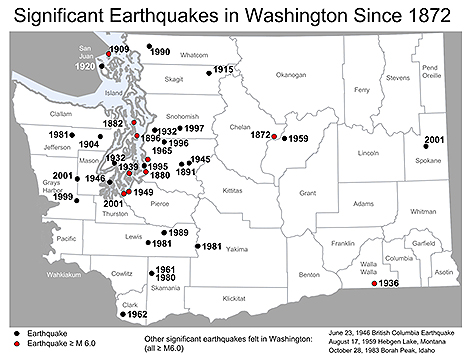 Preparedness Tips
Earthquake Insurance (PDF)
Earthquake and Tsunami School Resource Guide (PDF)
For Neighborhoods:
For Kids:
For Media: