Wildland fires are fires caused by nature or humans that result in the uncontrolled destruction of forests, brush, field crops, grasslands and real and personal property.
The wildland fire season in Washington usually begins in early July and typically culminates in early October when regular rain returns to the Northwest. However, wildland fires have occurred in every month of the year.
The Washington Department of Natural Resources protects 2.5 million acres of state-owned land and 10 million acres of land in private ownership through legislative directive.
The department fights about 900 wildland fires per year across the state, about 70 percent are in Eastern Washington. Most are small, usually extinguished while they are less than one acre in size. Wildland fires can spread to more than 100,000 acres, depending on a number of factors, and may require thousands of firefighters and several months to extinguish. Federal, state, county, city and private agencies and private timber companies provide fire protection and firefighting services on forestlands in Washington.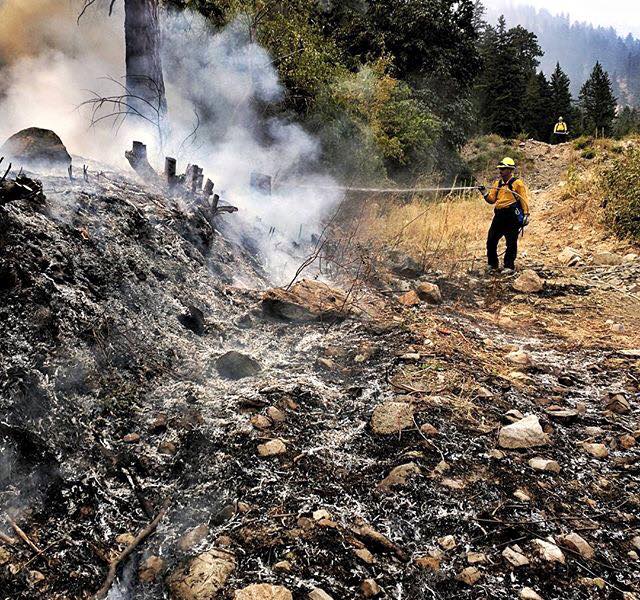 Washington Wildfire Resources
The video above talks about the three levels of evacuation.

Level 1 means be ready. Be alert. There is a threat in your area. Check your local news. Tell your neighbors about the threat so they know. Help others.
Level 2 means get set to leave at a moment's notice. Have an emergency kit. Know your plan and meeting place. If you have mobility or medical issues, consider leaving. If you have livestock or large animals, move them.
Level 3 means go. Leave now. You are in immediate danger. Even if you don't see the danger, follow your plans and leave. Delay could cost lives. If you stay, you may not be rescued.
Report a forest fire: 911 and 800-562-6010 (on DNR lands)
Wildfire status updates
Burn ban status on DNR lands and State Parks
Northwest Interagency Coordination Center updates
Wildfire location and status updates
What you can do
Donate locally: Community Action Agencies in fire impacted areas are assisting with recovery and emergency needs. Just be cautious on what you give and to whom. See this fraud advice from the Washington Secretary of State and the Attorney General's Office:

Volunteer:

Sign up for alerts:
Take steps ahead of time to ensure your property is protected from wildfires:
Social media related to #waWILDFIRE
WA Fire Marshal on Twitter
WA State Patrol on Twitter
Red Cross Northwest on Twitter
Updates from the State
DNR information sources
Local emergency management contacts
Additional information on wildfires:
Learn More About Wildland Fires in Washington State (PDF)
Wildfire Fact Sheet (PDF)
Wildfire Retrofit Guide: Northwest Edition (PDF)
Wildfires -- what to do after returning home (link)

FEMA Course: Wildfire Mitigation Basics for Mitigation Staff
What to do after a wildfire? Red Cross Brochure in English

Que hacer después de un fuego Folleto de Red Cross en Español