Severe Storm
Severe weather can happen suddenly, so it's important to be aware of the local forecast. A severe storm is an atmospheric disturbance that may include any or a combination of the following: strong winds, large hail, thunderstorms, lightning, tornadoes, rain, snow or other mixed precipitation.

Due to its geography, Washington state experiences severe storms. Many severe storms move inland from the Pacific Ocean and may cause major impacts to transportation, infrastructure and services (including loss of utilities). That's why it's important to be prepared before a severe storm occurs!
Contact your local emergency management office or the National Weather Service to find out what types of severe weather are most likely to impact your area. Additionally, sign up for free local emergency alerts to be notified of severe weather conditions.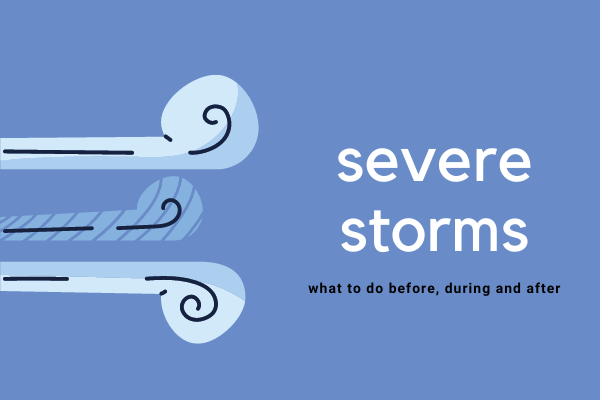 Prepare for a Severe Storm
Preparing for a severe storm is just like preparing for any other hazard. By evaluating your situation and coming up with a plan, you can save lives and reduce the impact of such events. Here are some tips to make sure you're prepared for a severe storm:
NOAA Weather Radios are an excellent source for official National Weather Service warnings, watches, forecasts, and other hazard information 24/7. Make sure you have one and that the batteries are charged. Additionally, sign up for free local emergency alerts here.

Identify a safe heat source, such as a fireplace, indoor portable heater, or wood-burning stove. It is not safe to use an outdoor gas-powered heater indoors as they pose a fire hazard and produce carbon monoxide, a poisonous gas. Make sure to stock up on extra blankets.

To prepare for a power outage, locate your Public Utility District (PUD) or utility company's emergency information. Many PUDs and utility companies have apps and websites with helpful information that can provide estimates of when power will be restored after a severe storm.

Keep your electronic devices, such as cellphones, charged. A charged backup battery pack can be a helpful item in the event of a power outage.

If you have an electric garage door opener, locate the manual override.
If you have a generator, make sure it is properly wired to your home. Generator exhaust can cause carbon monoxide poisoning, so make sure it is away from your home. If you're not sure how to properly use a generator, do not hesitate to contact the vendor. Store an extra supply of gas for your generator in an appropriate location.

Keep your vehicle's gas tank as full as possible. When severe weather strikes, gas pumps may be out of order.

Meet your neighbors! Find out who in your area might need special assistance, such as the elderly, disabled, and folks who speak languages other than English. Come up with a plan for how you can best support each other in an emergency.
Learn and practice evacuation routes from your home, and other places where you spend the most time, in case you need to leave in a hurry. Contact your local emergency management agency to find out if there are specific evacuation routes and assembly areas in your community.

Assemble an emergency kit with enough supplies to last at least two weeks. When building your kit, select non-perishable food items (e.g. beans, tuna, jerky) as well as high-energy foods (e.g. peanut butter, trail mix, granola bars). Learn about other supplies you should include in your emergency kit here.
Make sure you have 1 gallon of water per person and pet/service animal per day for 2 weeks stored in your home. This is a conservative estimate for cooking, cleaning and hygiene purposes. If you do not have the space to store this much water, consider adding a water filter to your emergency kit, getting creative about where you can store water (e.g. in closets, under kitchen sinks, under beds, etc.) and identify additional sources of fresh water in and around your home (e.g. lakes, streams, water heater, ice cubes, etc.).
Make sure you have an adequate supply of medication. Talk to your medical provider to see if you can renew prescriptions early to build up a supply of medication. Additionally, discuss arrangements with your medical provider to ensure back-up options for all medical equipment powered by electricity in the event of a power outage.
Know what emergency plans are in place at your workplace, school and daycare center.

Determine how you will connect with the people you live with if you cannot reach them, and identify a location where you will all meet if you cannot get home. Identify an out-of-area contact who can act as a relay point for members of your family in an emergency.

To prepare for a tornado, identify a safe shelter such as a basement, safe room, or storm cellar. If there is no basement, get to a small, interior room on the lowest level that is away from windows.

Find out which hazards exist in and around your home, such as dying trees or low-hanging power lines, or anything that isn't secure and might be turned loose in strong winds, such as lawn furniture and garbage cans.

Don't forget about your pets and/or service animals! Contact your local veterinarian for animal care instructions in an emergency.
Take a CPR and First Aid class. Getting trained is one of the most important things you can do to help ensure the life of someone suffering from a medical emergency.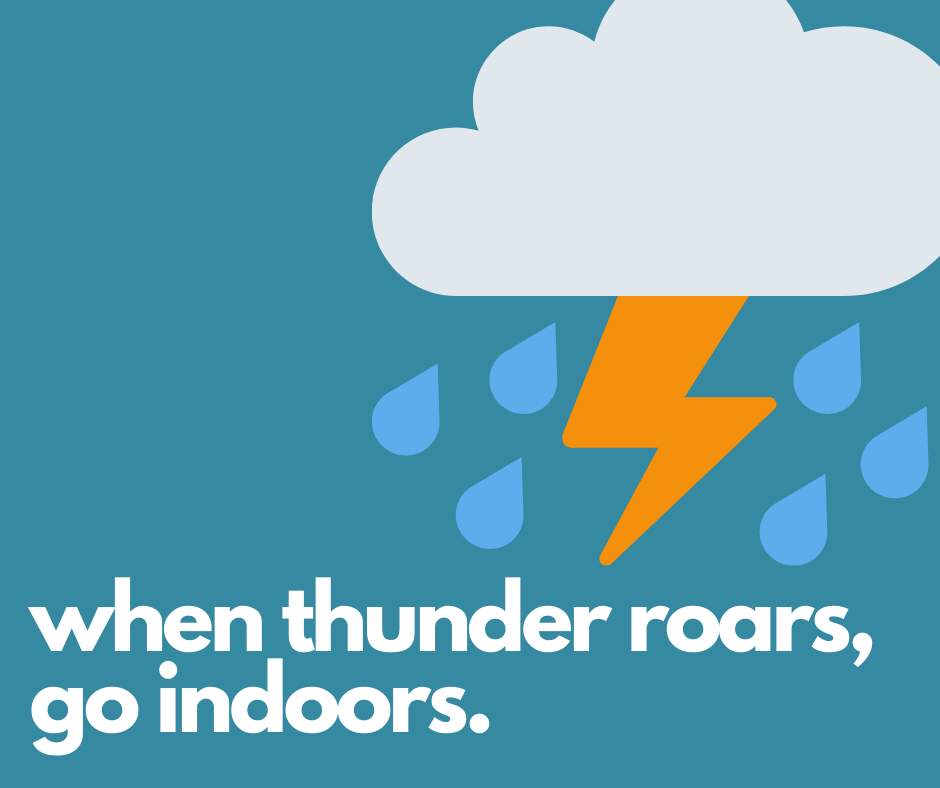 Survive during a Severe Storm
Severe storms can be scary, but it's important not to panic. Here are some tips on what to do doing a severe storm:
Do your best to remain calm. Take quick action to protect yourself and help others.
If you are indoors, move away from windows that could break or heavy objects that could fall. If you live in a multi-story building, go to a lower floor. In the event of a tornado, go to a basement, safe room or storm cellar. If none of those options exist, go to a small, interior room on the lowest level of your home.
If you are outdoors, move into the closest shelter. Avoid potential hazards such as downed electric power lines, utility poles and trees.
If you are driving, slow down and pull off to the side of the road when it is safe to do so. Try to pull over away from trees, traffic signs and powerlines. Avoid underpasses or areas that may flood during severe weather. If possible, walk to the closest indoor shelter. If not, stay in your car.

Never go out on a boat during a severe storm. If you are out on the water and see or hear severe weather approaching, head inland immediately. Listen to marine forecasts prior to leaving the shore and throughout your trip.
Listen to your NOAA Weather Radio for emergency instructions. If you are told by officials to evacuate, do so. Take your emergency kit with you.
If you're cooking when the power goes out, turn off the stove.
Never use a gas stove or oven for heat, burn charcoal indoors, or use a generator inside your home, garage, or carport.

Disconnect appliances and electronics to avoid damage from electrical surges.
If you must travel during severe weather, let someone know where you are heading and what time you plan on arriving.
Be Safe after a Severe Storm
Severe storms can cause extensive damage throughout Washington. It's important to pay attention to local authorities for further instructions on how to stay safe in the aftermath. Here are some tips on what to do after a severe storm occurs:

Check yourself and those around you for injuries. Call 911 only to report a life-threatening injury.

Evacuate damaged buildings. Do not re-enter the building until it has been declared safe by the authorities.
If you smell gas (a "rotten egg" scent), hear a hissing sound, or see the dial on your gas meter turning quickly, you need to leave your home immediately. This could be a gas leak. Turn off gas at the source and call your utility company. Do not use matches, candles, open flames or electric switches indoors.

If the power goes out, keep your refrigerator and freezer doors closed. Food in your freezer may be preserved for up to two days if the door stays shut. The refrigerator will keep food cold for about four hours. When in doubt, throw it out! If refrigerated food has been exposed to temperatures of 40 degrees or higher for 2 hours or more, toss it. If it has an unusual odor, color or texture, toss it.
If you are safe and able, offer to assist your neighbors, especially the elderly or disabled.
Try to connect with your out-of-area phone contact via text message, as text messages are more likely to go through than phone calls. Avoid making local calls so emergency services can have priority access to local phone lines.

Monitor your NOAA Weather Radio for further instructions or an official "all clear" notice. Radio stations will broadcast what to do, the location of emergency shelters, medical aid stations, and the extent of damage.

Never touch downed power lines as they can still be live (charged) and pose an electrocution risk.

During clean-up efforts, be sure to wear thick-soled shoes, long pants, and sturdy work gloves.

Some storms can cause flooding. Learn more about floods and how to clean up in our video series.


Getting Prepared for a Power Outage
Additional Resources