Earthquake, lahar, tsunami drills for schools are now law
---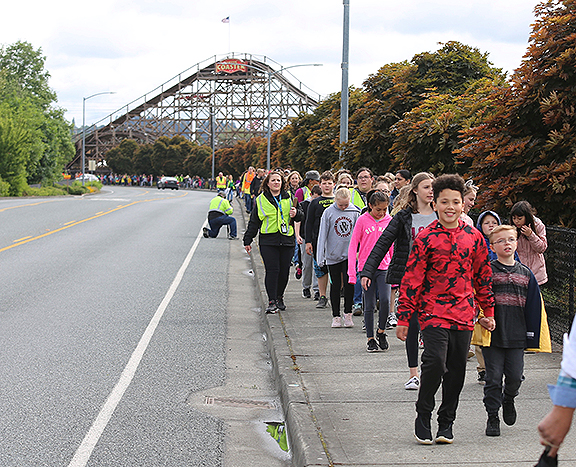 Mandatory earthquake, lahar, tsunami drills for schools are now law
It's now mandatory for all schools in Washington state to drop, cover and hold on for earthquake safety. It's a measure that's been pushed for several years, but finally became law when school safety legislation House Bill 1216 became law at the end of July.
That same law also now requires schools located near mapped volcanic lahar hazard zones to practice evacuation drills, as well. A previous law, first passed in 2017, still requires schools within mapped tsunami inundation zones to also practice at least one evacuation drill per year.
Washington Emergency Management Division officials have spent the summer working with local emergency management officials and the Washington Office of Superintendent of Public Instruction to make them aware of the changes in state law.

Washington Emergency Management Division spearheads the efforts for the Great Washington ShakeOut, hosted this year at 10:17 a.m., Oct. 17, and many schools already participate. ShakeOut is a worldwide annual earthquake drill that happens at the same time around the country.
"The Pacific Northwest is one of the most seismically active regions in the world, and Washington is especially vulnerable to earthquakes," said Chris Reykdal, the State Superintendent of Public Instruction. "An easy way for schools to meet the new earthquake drill requirement is to participate in the Great ShakeOut – a one-day event that ensures millions of students and educators are better prepared for when disaster strikes."
"Drop, cover, and hold on the third Thursday of October each year as part of the Great ShakeOut Earthquake Drill," added Brian Terbush, the earthquake and volcano program coordinator with Washington Emergency Management Division. "Washington is Earthquake Country. It is critical that people know how to protect themselves best the second the ground begins shaking."
Lahars, or volcanic mudflows, are hazards present at all five of Washington's active volcanoes. Even a small eruption can cause ice and snow to melt, resulting in extra water, ash, mud and other debris cascading down the slopes, and putting communities miles downstream in danger. There are a number of communities in Washington in areas where there will be little warning time before a lahar arrives, Terbush said.
Several schools in Washington already perform lahar evacuation drills, including those in the Orting and Puyallup school districts. In May, Puyallup hosted the largest volcano evacuation drill in U.S. history.
Students and staff at schools in tsunami inundation zones also practice drills, where they drop, cover and hold on, then move quickly to high ground. Many schools do their tsunami evacuation drills following ShakeOut, as well.
Evacuation drills have been shown to be critical in evacuations around the world. Familiarity with routes is essential during the chaos of emergencies, whether it's knowing how to leave in a fire, or knowing the quickest, and alternate ways to get to high ground in a lahar or a tsunami or a flood. Students and faculty already practice fire drills regularly.
"Everyone should practice their drop, cover and hold on skills to build muscle memory. It's also important to know if you're in a lahar or tsunami inundation zone. It's even more important to know how to receive warnings about an incoming hazard, and how to get to safety," said Washington Emergency Management Division Director Robert Ezelle. "Knowing that the students can get to safety in time can inspire the whole community that they can survive these events. Practice makes perfect."
Learn more about earthquakes, including a youth video contest for ShakeOut, where a sponsor is giving cash prizes: https://mil.wa.gov/shakeout
Learn more about how to get prepared at mil.wa.gov/preparedness
---