A week inside a summer preparedness camp
---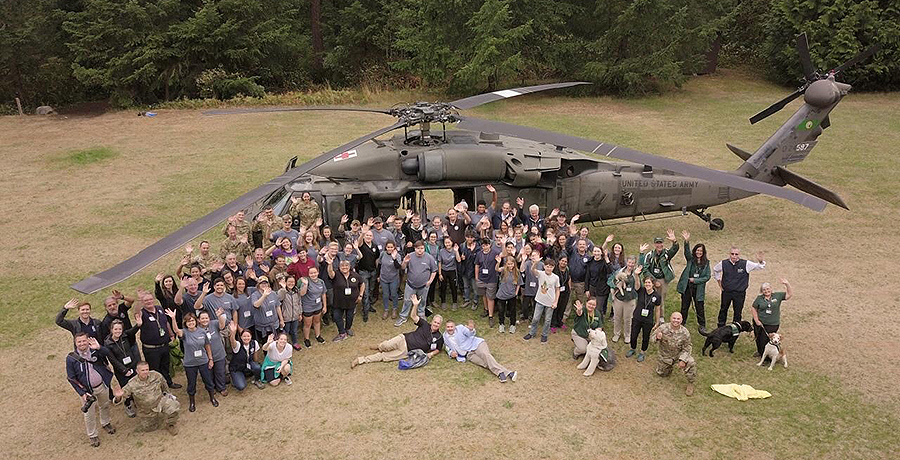 Group Photo of campers, staff and visitors with a Washington National Guard Blackhawk at the FEMA Youth Preparedness Camp (FEMA pic)

By Kiana Kabanje
Disaster Preparedness Outreach Program Manager


Youth are not only the future of disaster preparedness, they are also the present.
Last week, I had the opportunity to participate in the first ever FEMA Youth Preparedness Camp. This camp was hosted by FEMA Region 10, delivered by a contactor named Critical Ops, and experienced in Stanwood, Washington. Of the 200 high school aged applicants for the camp, about 40 were selected to attend, representing Alaska, Washington, Oregon and Idaho. A dozen were from Washington state.
During the week, the campers successfully completed training in Stop the Bleed, Community Emergency Response Team (CERT), disability integration, financial preparedness and You are the Help Until Help Arrives. The campers were challenged through leadership opportunities and team building activities. Each afternoon, the campers had time to digest their new knowledge and skills while enjoying traditional camp activities like rock climbing, swimming, canoeing and tie dye shirts.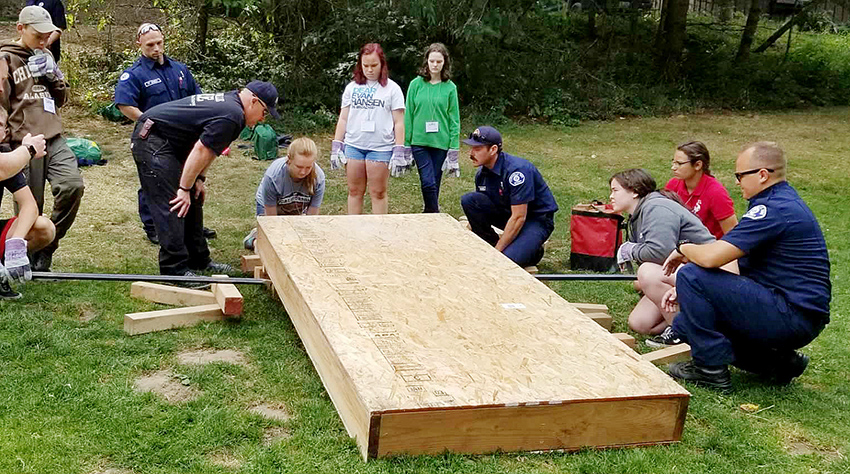 Cribbing is demonstrated during CERT training.

Midway through the week, the campers tested their CERT knowledge and skills with a full-scale disaster simulation. The gruesome moulage did not distract the campers, though. Rather, they excelled at working together as a team to rescue the victims and provide them with care. Following the disaster simulation, we were joined by the Washington National Guard for a "surprise" visit by a UH-60 Black Hawk helicopter and its team.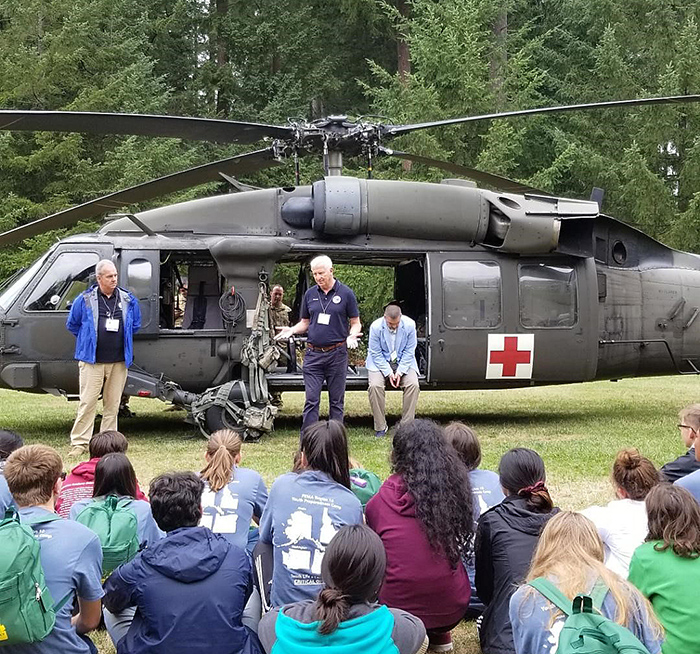 WA EMD Director Robert Ezelle speaks to campers with FEMA Regional Administrator Mike O'Hare.

The campers were also visited by each of the state emergency management directors, including our own Robert Ezelle, who encouraged the campers to continue in their service to their communities.
On the last full day of camp, each of the campers presented to the group their own idea for a give-back project which they intend to implement in their local community. Ideas included developing training for first responders and parents to help children with autism through disasters, adding earthquake safety to school bus drills, establishing a communication network for fellow campers to utilize for emotional support, using the platform of "Rodeo Queen" to educate about preparedness, and incorporating CERT training into Youth Court.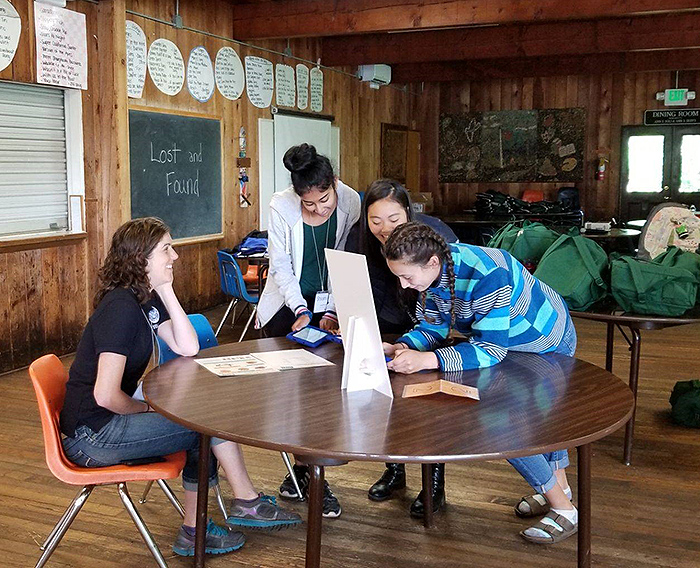 Campers work with staff on financial preparedness.
One camper's goal is to fill a need by becoming an Emergency Medical Technician; she realized that in her small Alaskan community of 30 people, there is no emergency medical care, as the nearest hospital is a flight away. It was inspiring to hear each of the creative give-back project ideas from these teens who are passionate about serving their communities.
Throughout the week these teens, who were strangers at the beginning of camp, bonded with each other with promises to continue the friendships they made at camp. Many have already asked for the application for the 2020 Youth Preparedness Camp.
In an era when our society tends to polarize away from each other, present-day youth are the generation to remind us of the importance of community. Youth are highly successful at communicating the necessity for disaster preparedness not only among their peers but also to adults and children. This fantastic camp empowered youth to be leaders in their communities, use their circles of influence for good and continue making a positive impact with their service.
This inaugural camp received exemplary support from many Washington agencies, including the city of Marysville's Emergency Management and Fire Department, and Sound Credit Union who all joined the camp to teach skills to the campers.
Find your own preparedness tips at https://mil.wa.gov/preparedness
---