Largest volcano evacuation drill in U.S. took place here in Washington state
---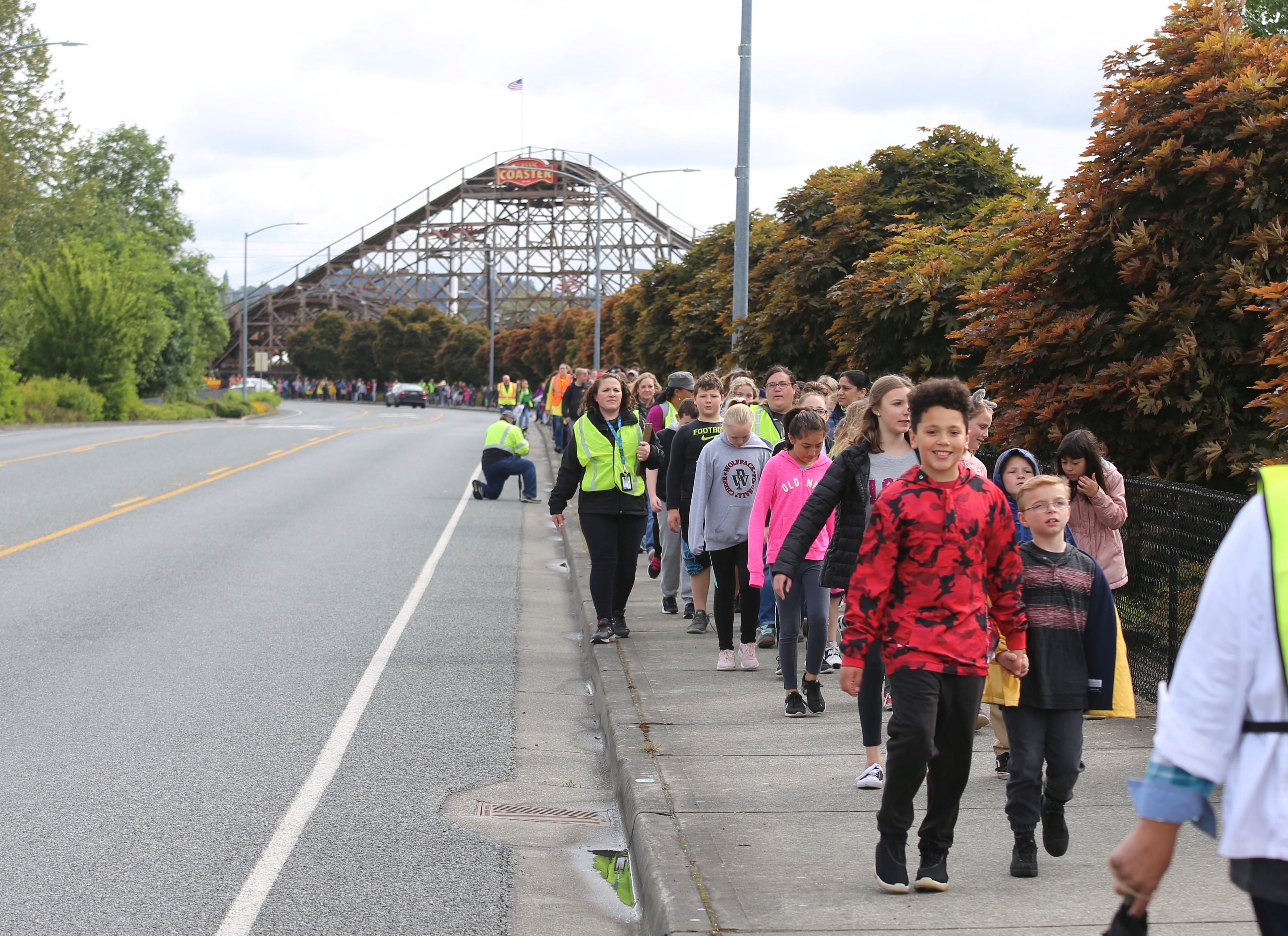 Students from Meeker Elementary walk their lahar evacuation route in downtown Puyallup.
By Brian Terbush
Volcano Program Coordinator
May was volcano preparedness month. I hope you were able to take an opportunity to learn more about our volcanoes, and how their eruptions might impact you.
I wanted to go back through May, and highlight a couple of the efforts that went on during that month, and discuss more details about what they mean for Washington's preparedness for an eruption from one of our five active volcanoes… I may sound like a broken record, but I can't say that enough times!
In case you missed it, a couple of the communities in the shadow of Mt. Rainier went above and beyond, taking volcano preparedness. On Friday, May 10, the city of Orting conducted its annual Lahar evacuation drill (which they've been running for many years now), successfully getting 3,000 students, staff, and volunteers to high ground.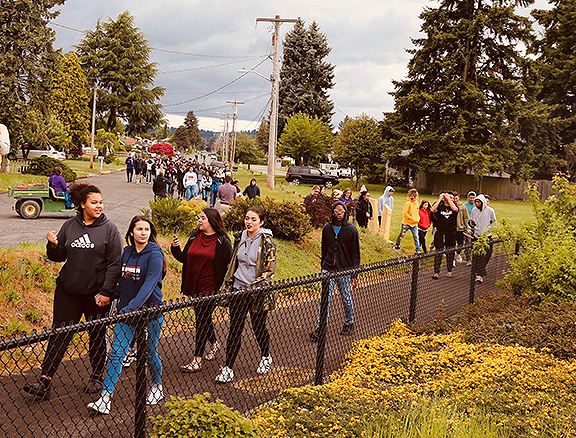 Students from Puyallup High School take to side streets to walk their lahar evacuation route.
One week later, the city of Puyallup held a similar evacuation drill, with more than 8,000 students from 20 different schools walking a majority of their lahar evacuation routes. This was the largest volcano evacuation drill ever in the United States.
First of all, it's important to acknowledge the huge amounts of planning on the parts of the emergency managers, school districts, police and fire officials, and other community members to successfully pull these events off. Incredible work by all of these partners!
More importantly, these events were not just huge successes, but critical steps toward increased safety. Orting and Puyallup recognized their lahar hazard, and took steps towards mitigating the risks, by making sure that a large portion of their population understands their lahar evacuation routes. Research on disasters around the world shows that familiarity with evacuation routes is critical to getting populations to safety in time.
Simply building awareness in the community is a huge help towards volcano preparedness in the region. Any location where an entire school's worth of students had to cross a street as part of their route might be an annoyance to drivers, but (hopefully) it's an opportunity for those drivers to stop to think about the "why," and the importance of knowing how to reach higher ground ASAP in a lahar situation.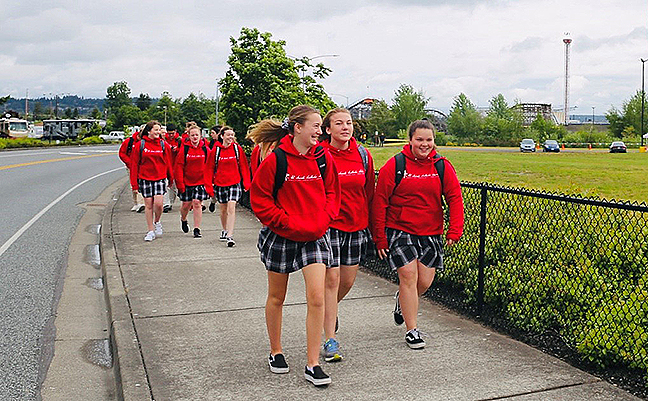 Students from All Saints Catholic School walk evacuation routes in Puyallup.

Washington is a beautiful place – partially because it's such a geologically-active area – it's critical for people to take responsibility for the hazards in their area. So, excellent work on the parts of Orting, Puyallup, and also to anyone else to decided it was a good idea to get out and learn more about the volcano hazards in their community -- since we have five active volcanoes in Washington.
If you missed out on the many activities going on around the state for Volcano Preparedness month, don't worry, May 18, 2020 will be the 40th anniversary of the 1980 Mount St. Helens Eruption, so there will be plenty of activities around all Washington volcanoes to commemorate this historical event. If you can't make it to those events, but still want to appreciate and learn about our volcanoes, summer is an excellent time to visit the mountains. Visitor Centers at the national parks and national forests are full of exhibits where you can learn more about the volcanic history of these peaks.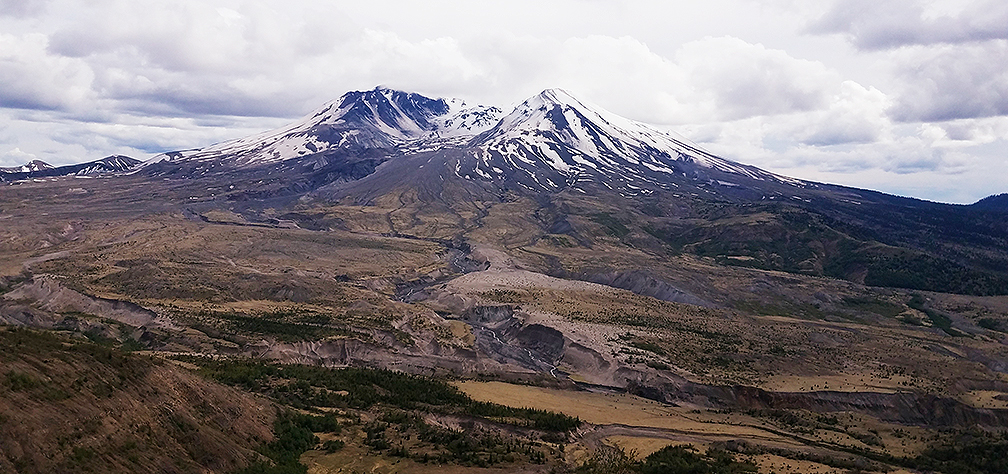 Understanding the hazards in your area and taking some responsibility to prepare for them is an important step, wherever you live. In Washington, we focused on volcanoes, earthquakes and tsunamis, but every place has its own hazards.
---