Earthquake Preparedness in focus in Central and Eastern Washington
---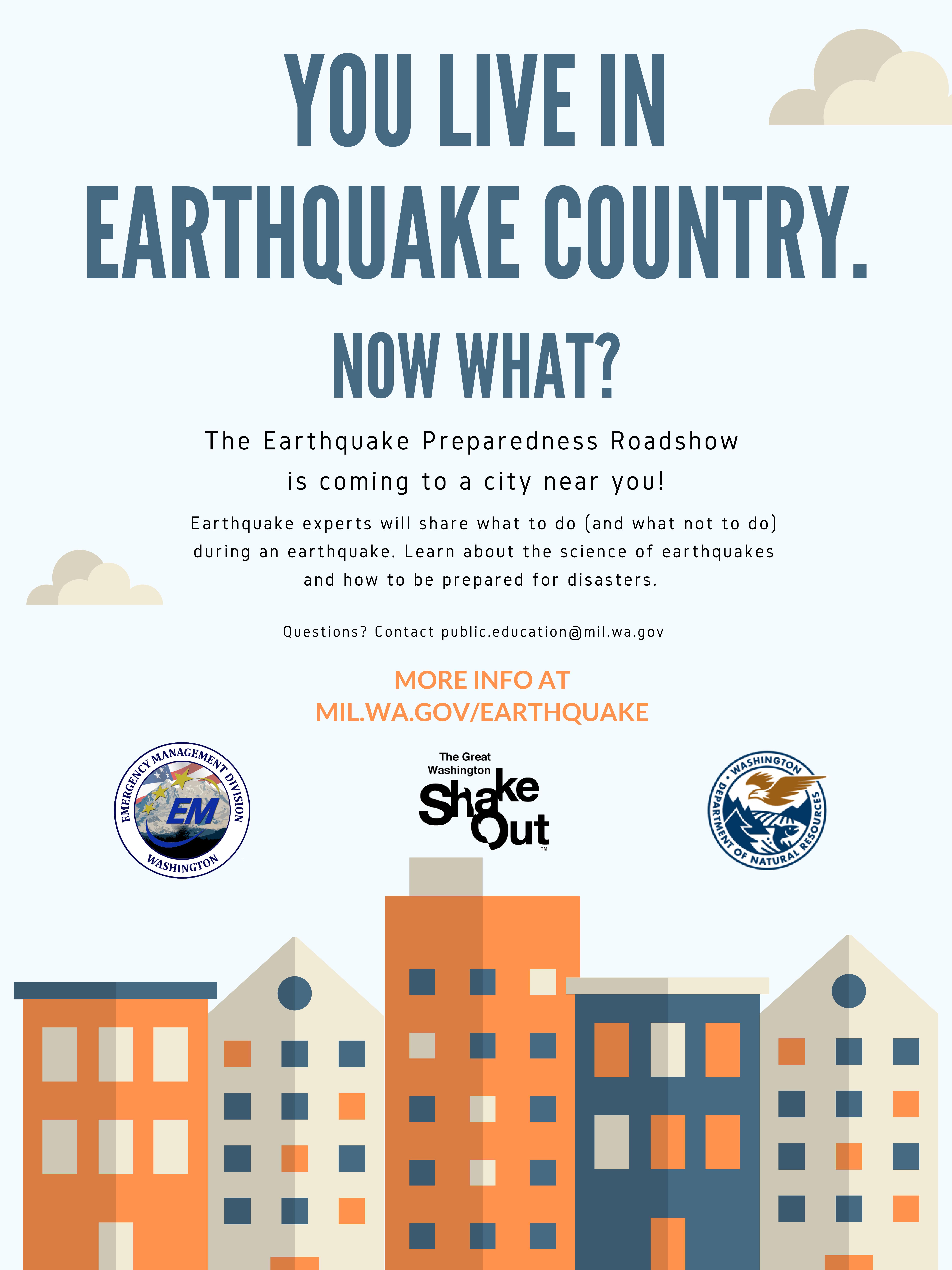 Central and Eastern Washington crisscross with fault lines. Earthquake experts with the Washington Emergency Management Division and the Washington Geological Survey will be taking the science on the road with presentations to help residents figure out what to do during an earthquake, and how to prepare before one strikes.
The Earthquake Preparedness Roadshow will start in Walla Walla on Sept. 29 with stops during the week in Pullman, Spokane, Grant County, Toppenish and Richland.
Learn about earthquake early warning systems, why "drop, cover and hold on" is the best protective action, how earthquake fault lines work and how to prepare for earthquakes and other disasters in your area. This will also be a great opportunity to meet some of your local emergency managers and ask your questions about earthquakes and disaster preparedness.

Kiana Kabanje, the disaster preparedness outreach program manager for Washington Emergency Management Division, said she will also be on hand to talk about the importance of being "2 Weeks Ready," tips for creating emergency kits and how to talk to the whole family about emergencies, whether it's an earthquake, a snow storm or a wildfire.
"Earthquake preparedness is not something we typically talk about in Central and Eastern Washington," Kabanje said. "As a result, people may not know what to do. Running out the doorway is a bad idea because you could get hit with falling debris. Instead, drop to the ground if you can, get under a hard surface or cover your neck and head, then grab hold of something to keep yourself steady."
Residents have a chance to practice their earthquake readiness during the Great Washington ShakeOut at 10:17 a.m., Oct. 17. Schools, business and families are all invited to register for the free event. Take a minute to drop, cover and hold on – and then do one more thing to make yourself ready.
Learn more about earthquakes and how teens have a chance to win $1,500 in prizes by creating a short video: mil.wa.gov/earthquake
---