ROTC
(Click to Learn More) Trifold.pdf
Support Your Community
Lead America's Future
Develop Yourself
In the Washington Army National Guard
Army Reserves Officer's Training Corps (ROTC) is a college elective curriculum that allows you to earn a commission as a military officer. Gain Leadership skills through college while you work toward a degree. You'll combine classroom instruction with practical experience, learning skills that are sure to give you an edge over your peers when comes time to look for a job. Have the chances to serve in the Washington Army National Guard part time while pursue your civilian career. ROTC can help pay for your degree and or further your education.
Simultaneous Membership Program (SMP)
SMP/ ROTC Benefits

State Tuition Assistance Program (STAP) up to $12,000 per year (reimbursed)
Federal Tuition Assistance (FTA) up to $4,000 per year
Montgomery GI Bill Kicker adds $350 per month to your existing GI Bill benefit
Pay grade starting at E5 (higher if you're at a higher pay grade)
Stipend between $420 per month depending on your school status (freshman through senior year)
Yearly book allowance of $1,200 per year to cover the cost of books
Dedicated Army National Guard (DEDNG) Scholarship: pay for up to 3 years of college unless a STEM major then up to 4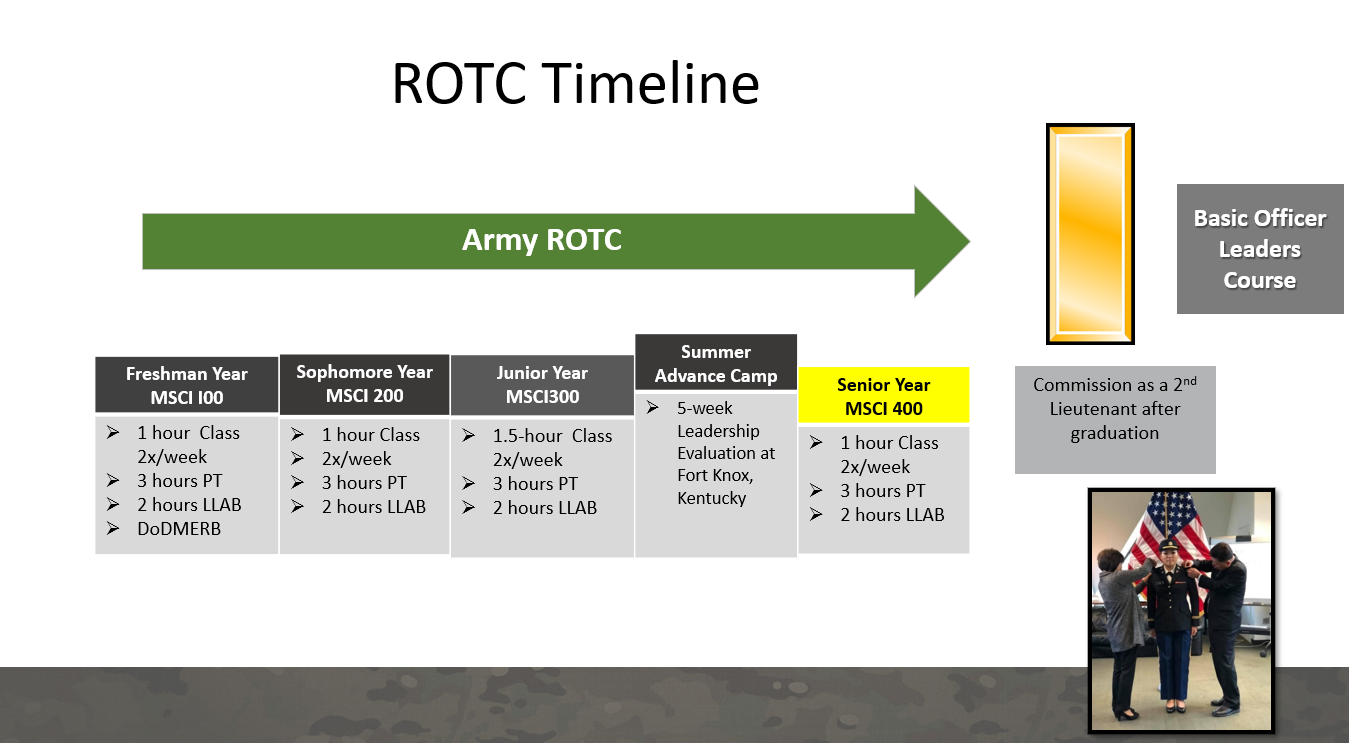 Qualified Guard Soldiers may enroll directly into Advanced ROTC courses (MS III & IV).
Additionally, on training weekends SMP Cadets are mentored in their assigned unit. During these weekends, Cadets wear their ROTC designation and carry out duties of new 2LTs in a supervised, on-the-job training environment.


Step-by-step guide for commissioning into the WA National Guard
First be accepted and attend a college or university offering Reserve Officer Training Corps (ROTC) courses.
Once this is accomplished:
1. Communicate with the local ROTC department and confirm requirements for a contract.
2. Talk with the OSM shop or local recruiter to begin SMP process.
3. Once in your MSIII year (Junior year), declare your intent to commission into the National Guard
4. Attend Cadet Summer Training (CST) in Fort Knox Kentucky
5. Once complete with CST reach out to the OSM shop to secure your letter of acceptance (LOA)
6. Upon receiving your LOA begin working on your commissioning packet
7. Graduate college and Commission!
ROTC Cadet Summer Training (CST)
After completion of Military Science III (Junior year), Cadets attend a six week ROTC course at Fort Knox, KY. (Replaces Annual Training if SMP)
This segment of a Cadet's training provides one third of the evaluation for accession and branch selection at commissioning. Here you will train to Army standards, refine leadership skills, and evaluate officer potential. This phase is intentionally tough and stressful. The days are long with considerable night training. Throughout, a Cadet encounters physical and mental obstacles, challenging him/her as a person, Soldier, and leader. Training information:
Primarily conducted in small unit, tactical sessions
Sequenced in a logical, building block manner
Covers basic military skills for leading Soldiers in tactical environments
Forces Cadets to serve in positions of leadership from squad to company level
Serves as a basis to evaluate Cadets on their leadership, organization and teamwork abilities
Allows camp instructors ample opportunities to advise, coach and evaluate a Cadet's potential.


BASIC COURSE
Basic Course refers to freshman and sophomore level ROTC classes; Military Science (MS) I and II. These classes cover subjects like military history, traditions and organizations, and national defense. A strong emphasis on leadership development is prevalent the first two years. This offers a unique opportunity for students to gain hands on leadership skills while in college.
Basic Camp during one of your summer's freshman or sophomore year
While not required it is highly encouraged to attend Basic Combat Training before University/College or during Freshman summer in order to qualify for 50% off tuition at State schools
ADVANCED COURSE
This final phase consists of the last two years of the ROTC program, MS III and IV. The curriculum focuses on preparation for the challenges of military leadership. To enter this course, you must have already completed one of the following:
Army Basic Combat Training
Basic Leadership Training Course
Complete MS I & II
During your Junior year, you will combine classroom instruction and practical application focusing on land navigation, military tactics and how to prepare and present operation orders. Your Senior year focuses on Cadet leadership positions, leadership challenges and preparation to become a 2LT. You will also be responsible for training and evaluating Cadets currently going through MS I, II, and III.


Washington ROTC UNIVERSITIES
University of Washington – Lisa Pirak - (206)579-1635 - armyrotc@uw.edu
Seattle University – Shawn Dodge - (206) 296-2439 - sdodge@seattleu.edu
Pacific Lutheran University – John Gouveia - (253) 576-0077 - rotc@plu.edu
Central Washington University – Darren McMahon - (509) 963-3520 - army.rotc@cwu.edu
Washington State University – Timothy A. Tate - (509) 335-3523 - tim-tate@wsu.edu
Eastern Washington University – Chris Ford - (509) 723-3810 - rotc@ewu.edu
Gonzaga University – Alan Westfield - (509) 313-6517 - westfield@gonzaga.edu
Contact us through Email, Call, or Text:
Email: ng.wa.waarng.list.rrb-osm@army.mil
Cell: (253) 468-3712