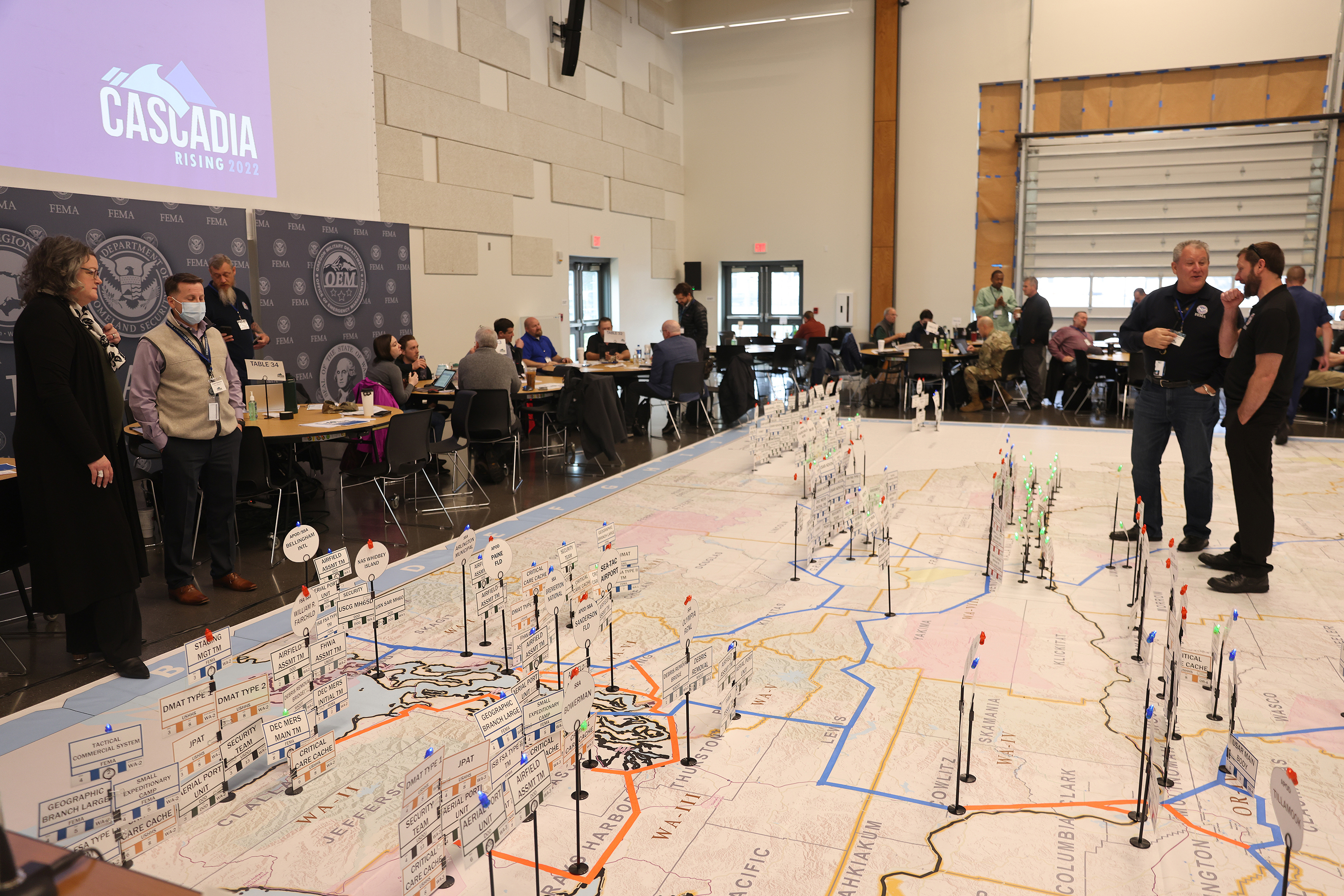 State, federal partners launch Cascadia Rising Exercise
---
Washington state residents will need to be prepared to be on their own following a catastrophic earthquake and tsunami. That was the take-away from a recent multi-state exercise that looked at the impacts of a Cascadia Subduction Zone disaster.
"We're going to have to make hard decisions," said Willie Nunn, regional administrator for FEMA Region 10. "You're going to see a loss of life. You're going to see injuries. You're going to see family separations. And these are going to be hard, tough decisions. You're going to see spontaneous volunteers, who are going to have to integrate into our response and recovery plans. This is going to have to be an all-hands-on-deck, consolidated effort and we're all going to have to be on the same page: Life saving, life sustaining and transitioning into recovery."
From May 3 -5, staff from the Washington Military Department, led by its Emergency Management Division, joined partners from across the Northwest at a three-day discussion-based exercise, called the Rehearsal of Concept or ROC, for the Cascadia Subduction Zone (CSZ) Earthquake and Tsunami Plan. The facilitated exercise, which drew the emergency management directors from Washington, Oregon, Alaska, Idaho and FEMA Region 10, as well as the Washington National Guard, focused on operational activities, logistics, resource management and communications for response and recovery operations for a 9.0 earthquake and subsequent tsunami. The scenario took place on a Wednesday morning in February – important because of the impacts it could have with kids in school and families separated.
Participants talked about family reunification, mass care and when supplies would start coming in.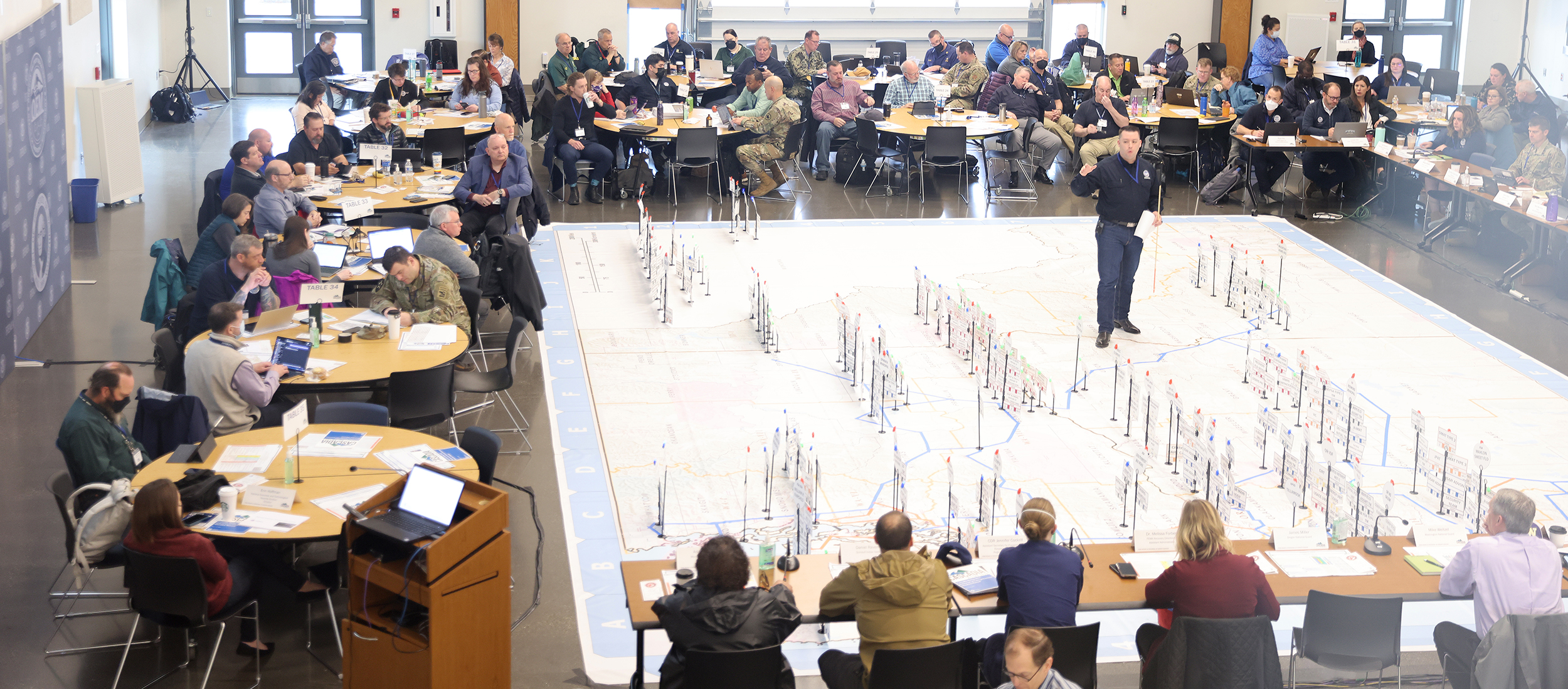 Participants used a large 35-foot by 26-foot map to display impacted areas and demonstrate resource allocation, staging, and movement in response to a CSZ event. Knowing many roads, bridges, buildings and other infrastructure will be damaged or destroyed, the movement of supplies and emergency personnel is challenging. This exercise discussed these challenges and worked toward solutions.
The map included giant moveable icons that included resources such as fuel, mobile hospitals and search and rescue teams that could be moved from place to place.
FEMA and staff say the priority is figuring out what roads are essential to reopen to get supplies to those who need it most. The map displayed different colors for roads. Blue means it might be passable. Orange means it's not likely.
And if roads can't be reopened, how else can supplies be sent? Air drops? By boat? Solutions and strategies to address that concern were discussed, along with how to conduct evacuations when roads are impassable.
There are two strategies at work: With no fuel available, is it possible to get fuel in and empower people to use their own vehicles to evacuate? If not, planners have to figure out strategies to get people out.
"There is help coming, lots of help coming," Robert Lantz-Brazil, a logistics specialist with FEMA told those gathered while standing on the giant map. "And I hope that's evidenced. This isn't everything we're tracking. There's even more resources coming."
Days after the earthquake, it's clear in the exercise that people are vulnerable and day by day things are deteriorating as fast as the area around them
Stacey McClain, operations unit manager at EMD, noted that site surveys are being done now to figure out where military helicopters could land.
"Helicopters don't go across mountains very well," McClain said during the exercise. "If Sea-Tac Airport is operating, that's great. If not, what's the best place to take them?"
Boise might be available. But if there is a mass exodus, reception centers might need to be set up in Arizona or Utah.
"Eastern Washington is not set up to take millions of people," Sharon Wallace, deputy director of EMD, told those at the exercise. "Having a repatriation plan is essential. Where are we going and when are we coming back? The goal is to get the survivor home."
The first Cascadia earthquake plan was published in 2013 and was tested in the Cascadia Rising 2016 Exercise (CR16). The plan was updated in 2017 to address power outages and lessons learned from CR16. Lessons learned from the Cascadia Rising 2022 ROC exercise will be incorporated into the plan's next update.
"What we're doing has genesis in what we did six years ago when we did the first major Cascadia Rising exercise," said Washington EMD Director Robert Ezelle. "We learned about the fragility of our critical infrastructure, our transportation systems, communications, energy. We learned the critical importance of mass care. We learned the importance of public health and medical needs of people. So, coming out of that exercise, we have done a ton of work at the federal level, at the state level and at the local level."
One takeaway from CR16 was the need for residents to be prepared to be self-sufficient for a longer period – up to 14 days. Learn preparedness tips at mil.wa.gov/preparedness.
"One of the overarching things we're trying to communicate, not just among ourselves, is the responsibility for individuals, communities, families in Oregon and Washington to be prepared," said Andrew Phelps, director, Oregon Office of Emergency Management. "We're doing these exercises to prepare our communities, our infrastructure providers, our federal partners. We're asking Oregonians and Washingtonians to do those same things, as well. Think about what they're going to need for the first one week, two weeks, three weeks after an emergency and disaster, knowing we're not going to have water or sewer, we're not going to have communication and energy. What do you and your family need to do to be disaster survivors, not disaster victims? That's a really important piece of the puzzle."
The update to the Cascadia earthquake plan was completed in January. It is a multistate federal response plan that addresses a no-notice catastrophic earthquake disaster with expected direct and indirect impacts to Washington, Oregon, Alaska, Idaho, California and Canada.
The plan focuses on the first 14 days after a CSZ event when every level of government and private sector will immediately provide resources to respond and support the needs of survivors.
Exercise participants for the CR22 ROC include FEMA Region 10, FEMA Headquarters through the National Response Coordination Center, Department of Defense, American Red Cross, Tribal partners, states of Alaska, Idaho, Oregon, Washington and Emergency Management British Columbia.
---