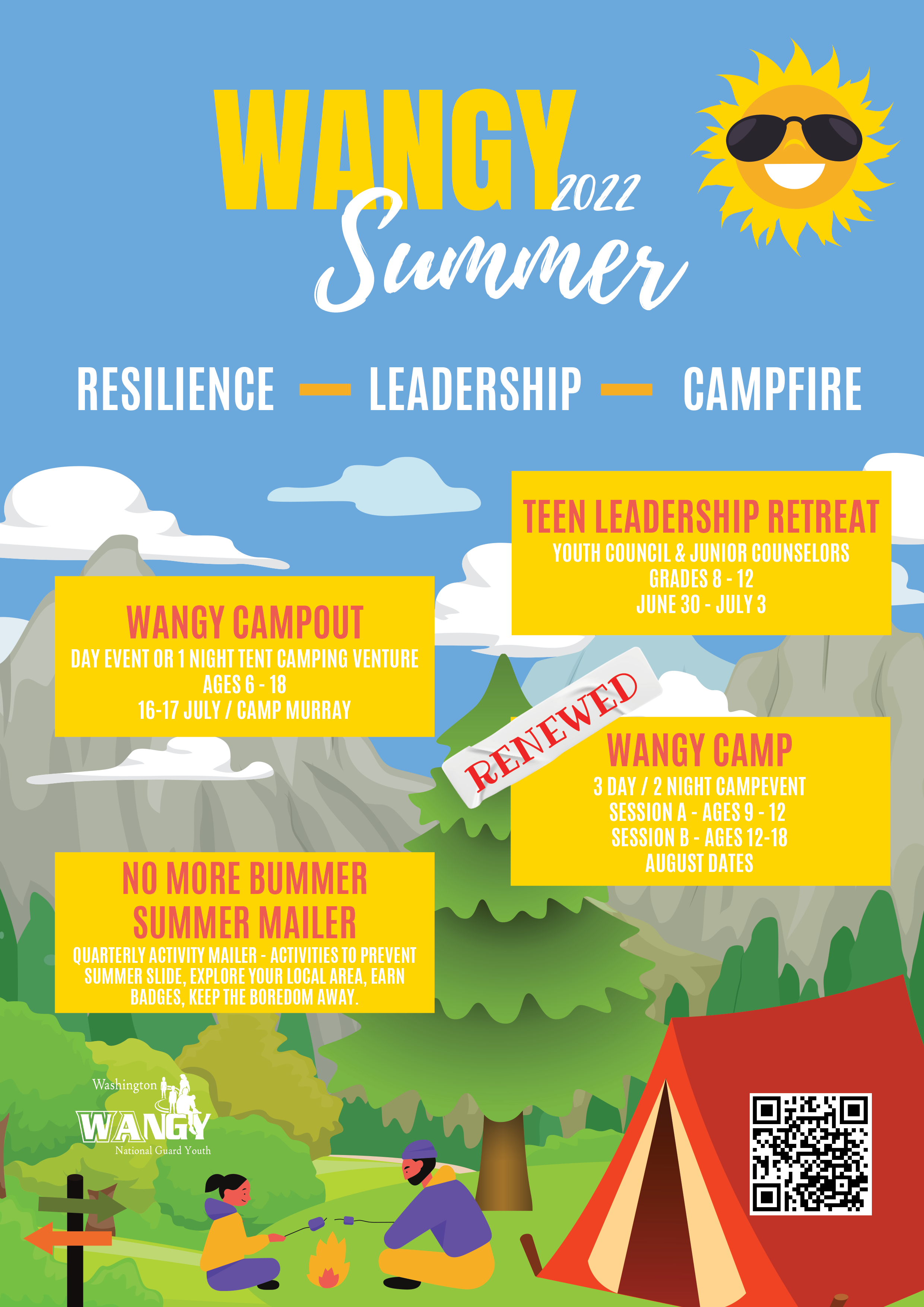 WANGY Summer Camp-Joint Services Support
---
WANGY Day Camp - Camp Murray - July 16th, 2022
We are excited to offer a day camp for national guard-connected youth, ages 6+. During this one-day event, we offer outdoor education opportunities like kayaking, fishing, hiking. And team building activities through low ropes, games, and an "all camp" volleyball tournament.
WANGY Family Camp Outs - Camp Murray - July 16th to July 17th, 2022
Limited Space; Bring your tent, snacks, and family to join us for this one-night tent camping experience with other WANGY families. Activities will be offered for families to participate in, as well as some time to enjoy camping with your family. No meals will be provided.
WANGY West Summer Camp - Location TBD - Tentative Dates: August
This year's summer camp is an adjusted in-person version as we navigate regulations. Summer Camp this year will happen in two sessions.
Summer Camp A - Youth ages 9 - 13 - Tentative Dates: August 19th to August 22nd, 2022
Summer Camp B - Youth ages 13 - 18 - Tentative Dates: August 22nd, 2022 to August 25th, 2022
The basics of summer camp, as we become refreshed with big in-person events. The are NO REGISTRATION FEES AND NO TRANSPORTATION TO/FROM THE VENUE. In order to be eligible, each youth attendee must be a dependent or immediate family member of an Army or Air National Guard Service Member. With limited spacing, a wait list has been set up and if a space becomes available we will contact you directly via phone or email to complete the registration ticket. For all attendees, in order to complete registration, a variety of forms will need to be completed to confirm the spot, forms including confirmation of vaccination status. We are a federally run program and are required to collect the vaccination status of all attendees at our events.
It's time for WANGY West Summer Camp 2022! Camp gives National Guard Youth the opportunity to develop leadership skills, strengthen personal endurance, learn resiliency skills, and build connections with others in the dependent community. WANGY Camp is youth-led and youth-driven. Each camper is placed in a small group led by a Junior Counselor (JC) - a teen that has been to camp before and attended specialized training to be a great leader of other youth. Every flight, led by a JC is accompanied by an adult, who manages the safety and experience of their group of campers.
If you have any questions, comments, or concerns please reach out to Robbin Seeberger via email at robbin.a.seeberger.ctr@army.mil .
As a note: WANGY East is hosted by 141st ARW - and registration is being handled via paper application. For info, please contact Mary Thomas via email at eastwangycamp@gmail.com.To learn more about these summer activities please visit: https://www.eventbrite.com/e/c...;
---