WYA teacher named national teacher of year
---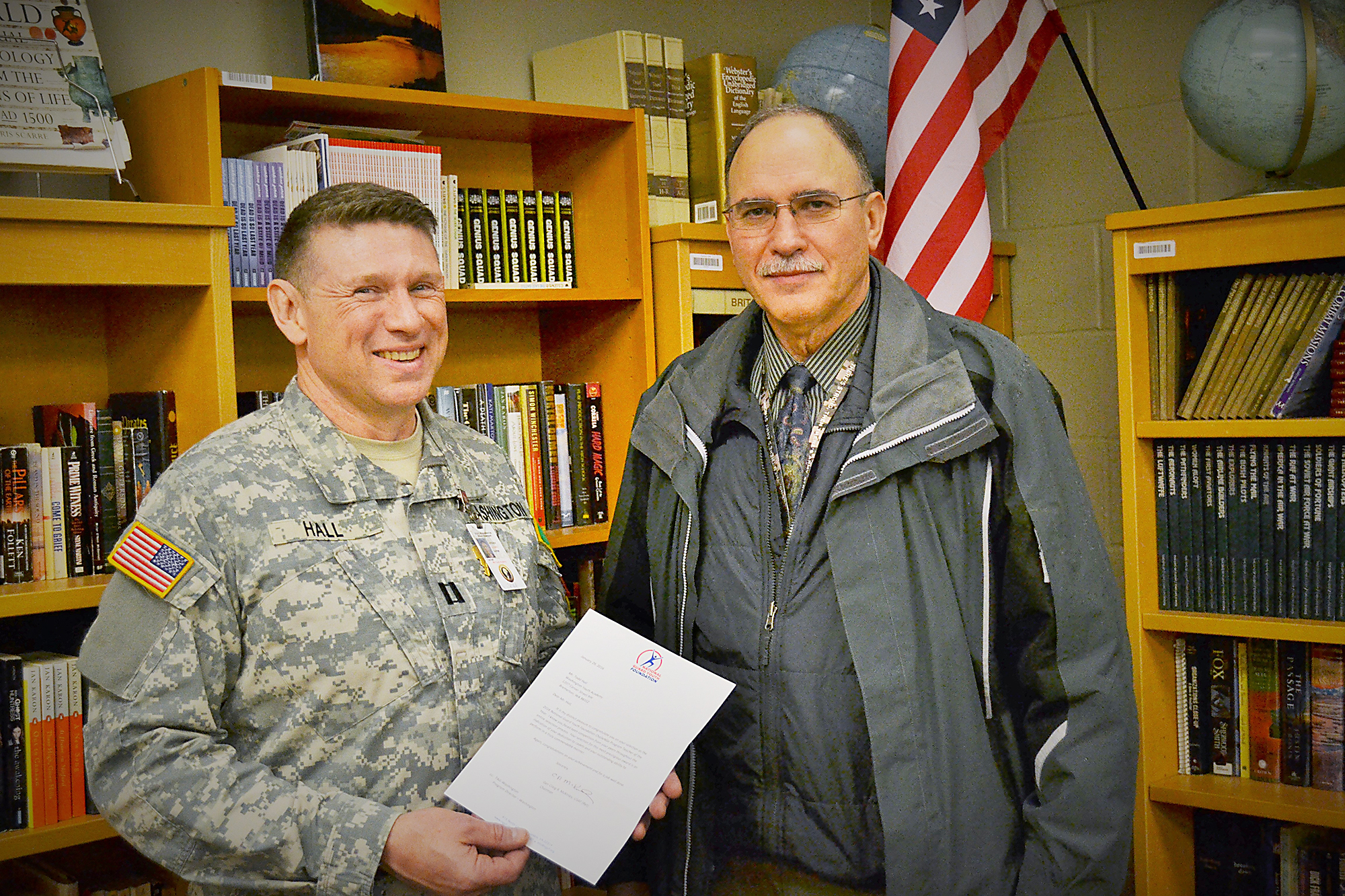 Teacher Tod Hall with WYA Director Larry Pierce.
Teacher at Washington Youth Academy wins national teacher of the year honors
BREMERTON – Tod Hall has a way with words.
"If you squeeze a grapefruit, you get grapefruit juice. If you squeeze an apple, you get apple juice. If you squeeze a human being, you get character. And that's what we do," said Hall, an English teacher at Washington Youth Academy. "We squeeze them. We don't fix them."
Hall also believes in the concept of "firm forgiveness," which inspires these cadets to strive for and reach their goals, while providing a sturdy foundation to build upon.
Hall will be honored as the national teacher of the year at National Guard Youth ChalleNGe Foundation's annual ChalleNGe Champions Recognition Event along with a national program director of the year and national leader of the year who have been instrumental in helping youth turn their lives around. Congressional and military leaders, the business community, alumni, and graduating cadets are expected to attend.
As a teacher of the WYA ChalleNGe program, a state-run residential and post-residential intervention for youth who have dropped out of high school or are at risk of dropping out, he developed the English curriculum after joining the program at its inception in 2008. But his blackboard isn't limited to the classroom as at-risk youth who voluntarily enroll in the program discover. The Poulsbo resident is known to bring out his guitar and start singing, sparking student engagement in the structure of poetry and how words in song can have even more impact than words on paper.
Beyond English class, he helped launch a choir at the academy and works with National Anthem singers, many who perform at state legislative session openings. Hall also reviews potential legislation that could impact the academy and coordinates with the local library district to send a bookmobile to campus. Hall is also a student, working toward his Ph.D. in educational leadership at City University of Seattle.
"He doesn't just teach. He inspires," said WYA Director Larry Pierce, who submitted the nomination letter in January. "I've seen cadets go from failing English at their old high school to becoming stellar speech writers."
WYA cadets have consistently won top awards at the Veterans of Foreign Wars' Voice of Democracy speech competition and this year swept all three awards categories with a cadet advancing to state-level competition.
Teacher Tod Hall stands in his uniform in front of a yellow brick,

representing a cadet that has left the program. He created the brick program

as a means of retention for the academy.
Hall is the only teacher to receive cadre training and holds rank of captain. He is also a veteran, having served in the U.S. Marine Corps as an infantry squad leader. He was part of the attempt to rescue the Iran hostages in 1980, and after that became a police officer. For the last 24 years, the 57-year-old father of two has dedicated himself to teaching and has taught at the elementary and middle school levels.
"I try to make learning fun and instructional at the same," said Hall. "I like to spend more time instructing than testing, as I believe students are more engaged when they are actively participating in the classroom."
"Where others see failure, outstanding, inspiring WYA teachers like Tod Hall see hope and potential among some of our nation's most downtrodden teens," said Brig. Gen. Allyson Solomon, USAF (Ret.), president of the NGYF.
Presented by Microsoft and Northrop Grumman, the ChalleNGe Champions Recognition Event will be 5:30 – 8:30 p.m. on Tuesday, Feb. 23, at the Renaissance Washington, D.C. Downtown Hotel.
Read Gen. McKinley's letter to Mr. Hall. Read Director Pierce's nomination letter.

Hall plays a song for a cadet during his English class.
About the Washington Youth Academy
The Washington Youth Academy is one of 37 National Guard Youth ChalleNGe Programs supported by the NGYF across the country, Puerto Rico and Washington, D.C. The nonprofit NGYF is dedicated to addressing the nation's alarming school dropout crisis by giving otherwise "forgotten" youth a second chance to receive their high school diplomas or GED equivalent, and to reconnect with mainstream society through mentorship, training and workforce transition. Almost 2,000 youth have graduated from the WYA since ChalleNGe started in the state in 2008. Last year WYA graduated its largest class ever
About The National Guard Youth ChalleNGe Program
ChalleNGe is a 17-month, voluntary, second-chance program for struggling youth ages 16-18 who have dropped out of school. Participants have the opportunity to enhance life skills, increase self-esteem, learn job skills, and earn a high school diploma, GED or return to high school to graduate with their peers. ChalleNGe has undergone rigorous evaluations, the results of which show it yields success for both its participants and its funders. Since the program's inception in 1993, ChalleNGe has grown to 37 programs in 27 states, Puerto Rico and Washington, D.C., and has helped more than 140,000 former dropouts make it to graduation day.
About The National Guard Youth Foundation
The National Guard Youth Foundation, a 501(c)(3), supports the National Guard Youth ChalleNGe Program's efforts to address the nation's high school dropout crisis by giving troubled youth a second chance, helping them graduate and continue their education or join the skilled workforce in America. The Foundation awards scholarships and facilitates job opportunities for ChalleNGe graduates. To learn more about the Foundation's initiatives, please visit www.ngyf.org.
---