Washington Youth Academy selects new director
---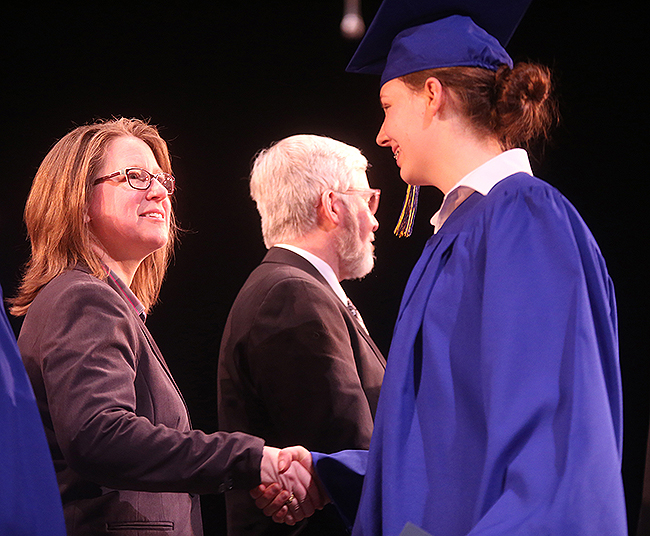 Amy Steinhilber, incoming director of the Washington Youth Academy, shakes hands with a cadet during the Dec. 15, 2018 graduation.
Washington Youth Academy selects new director
The Washington Youth Academy in Bremerton is celebrating the retirement of its director Larry Pierce and welcoming a new director, starting January 4.
Pierce is retiring after 36 years of state service, the last 10 with the Washington Youth Academy. He'll be replaced by Amy Steinhilber, who served as Pierce's deputy director and brings more than 20 years of passion and commitment to the Youth Challenge Program.
"She's uniquely qualified with the passion, skills and experience to take our program to the next level, including expanding beyond our current Bremerton location," said Brig. Gen. Jeremy Horn, commander of the Washington Air National Guard, in charge of the Washington Youth Academy. "I'm really excited that she's agreed to take this on."
Pierce started his career in the U.S. Army and then spent decades working as an administrator in the tribal school system and the community college system. He became the deputy director of the Washington Youth Academy in 2008 and was hired on as director in 2010.
Steinhilber started as a cadre at a youth academy in Texas in 1997 and came to Washington in 2008 to help start the program here. In 2013, she went to Idaho as the deputy director to help create the Idaho Youth ChalleNGe Academy. She returned to the Washington Youth Academy family in 2015 as deputy director.
"Larry has been instrumental in shaping our strong foundation and I wish him a retirement as fulfilling as his work at the Academy," she said. "I am grateful for the opportunity Gen. Horn and Gen. Bret Daugherty have given me to lead this next phase in expanding the Academy to meet the demand."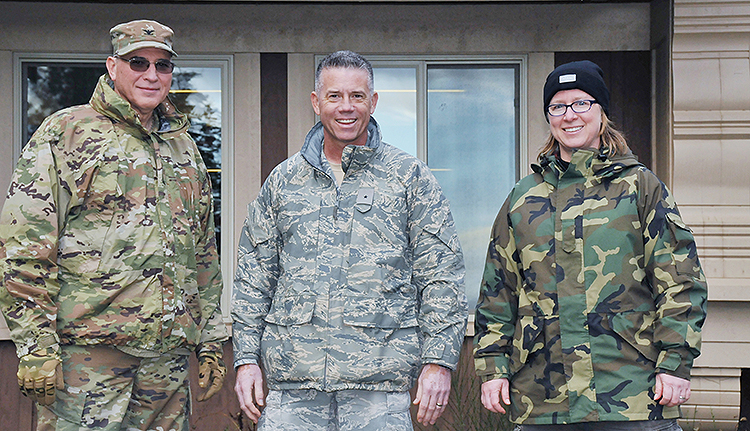 Washington Youth Academy Director Larry Pierce stands with Gen. Jeremy Horn and incoming director Amy Steinhilber in this photo from 2017.
Pierce says he will travel and enjoy time with his family, including his granddaughter. He'll still be involved with the Academy, serving on the non-profit Washington Youth Academy Foundation. He also plans to be involved in a motorcycle rally conducted every year to raise money for cadets. He's a big fan of motorcycles, with three Harley-Davidsons in his collection.
"Amy is one of the brightest people I know," Pierce said. "She knows this program, and the struggles these cadets go through. She's going to bring a whole lot of energy to this position."
The Washington Youth Academy is a quasi-military training and mentoring program for at-risk high school teens. The goal of the program is to give youth a second chance to become responsible and productive citizens by helping them improve their life skills, education levels and employment potential. Students live on the Bremerton campus for just shy of six months and recover up to a year and a half of credits. More than 2,600 cadets have graduated since the first class in January of 2009.
For more information, visit https://www.mil.wa.gov/youth-academy
---