Three final tips from our retiring preparedness program manager
---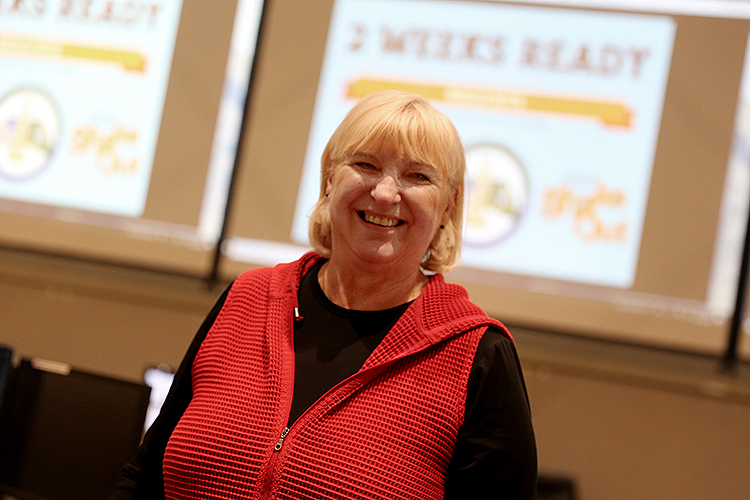 As the Preparedness Outreach Program Manager for the state, Rosanne Garrand practices what she preaches. She gives out emergency kits for the holidays. Her car is stock full of "Go" bags. Even her grandkids are prepared.
But, after 31 years with the Washington Emergency Management Division, Garrand is retiring even though we're not quite prepared to say goodbye.
Garrand started her career with the state Emergency Management Division and, except for a six-month stint at the state Department of Natural Resources, spent her career here.
"Our state owes a lot to Rosanne," said Washington Emergency Management Division Director Robert Ezelle. "We're all safer because of her."
Here are three tips from Garrand, which she's done herself.
Worried about water? Buy four large outside garbage cans with snap-on lids on wheels. Treat them with bleach like the CDC recommends and then fill them up with water. Recycle through the water each summer. "People used to steal my five-gallon jugs for camping and I'd never get them back," she said. "Nobody steals my garbage cans."
Live in an apartment? Invest in water filtration devices and start putting supplies under beds. Have cabinets over the fridge you never use? Put supplies there. Sometimes, you just have to be creative. "You may have more to live off than you think," Garrand said. "Finding things in the back cupboard where it's hard to get to because pots and pans are down there. Put some food and storage in the back corners of things."
Need medicine? Garrand said most pharmacies allow you to renew prescriptions two to three days before you run out of the previous prescription. Keep renewing those prescriptions early and build up the excess into its own bottle for your emergency kit.
Starting as a receptionist, Garrand worked her way to become the administrative assistant under four directors at the agency. Then, she worked as a training coordinator, helping teach classes and educate partners on a variety of topics. For the past 13 years, she's led the agency's preparedness efforts, as we've gone from telling the public to be at least three-days prepared to "2 Weeks Ready."
George Crawford, the former earthquake program manager for Washington Emergency Management Division, said that there simply was not much earthquake outreach until after the 2001 Nisqually earthquake that rattled the state.
"She took a shell of a program we had and helped us make it into actual outreach program, especially after the 2001 earthquake," Crawford said at Garrand's retirement gathering on Nov. 12. "We went through tons of changes but she was always there to help. She has made a difference on the coast. It's a safer place to live because people know what to do and a lot of our products have been given out internationally."
Garrand helped oversee the state's popular Map Your Neighborhood program, which strives to connect neighbors to each other to boost preparedness levels. She worked with dozens of local agencies, went to thousands of preparedness fairs over the years and she also helped start a preparedness work group, connecting local partners to each other to share resources – and ideas.
"We needed a better way to talk to each other so we're not duplicating the same thing over and over," Garrand said.
Garrand says the most challenging part of the job has been trying to convince people to take the time to at least get started with a Go bag.
"It's from people saying that a disaster is going to be so devastating, so why even bother? There's a delicate balance between scaring them and preparing them. You have to find that balance to do something. Once they get started, they do better. Usually people will take action right after a disaster, which is a shame because you want them to do it beforehand so they're ready for it. You know you're going to have winter storms. You know you're going to have power outages. So, why not have your plan? And have your kits ready."
Garrand says she has no major plans for retirement, other than to spend a lot more time with her grandkids.
---