Washington - Malaysia host two day planning conference to road map SPP exchanges
---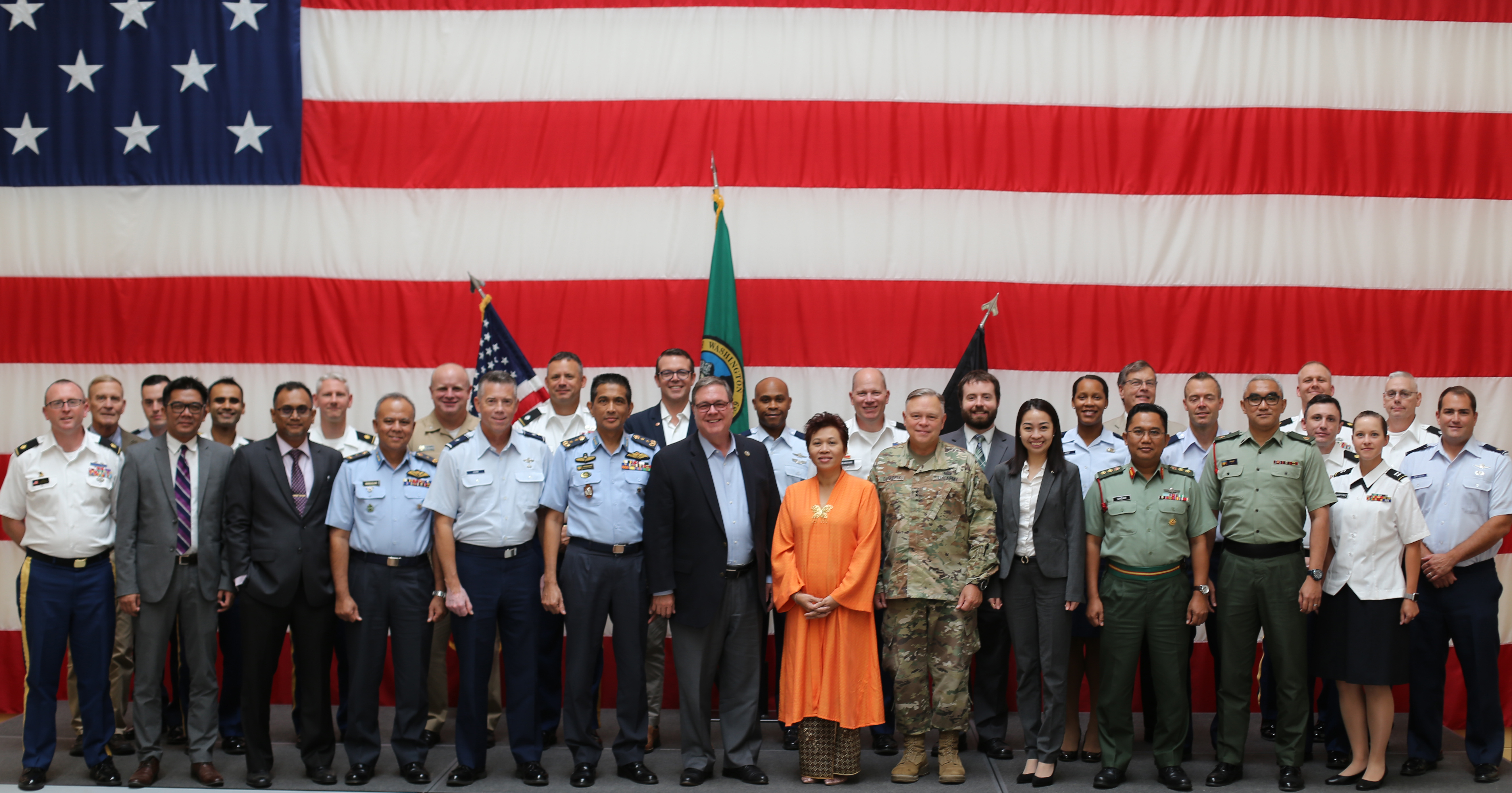 If you look at a map, you probably won't see too many commonalities between Malaysia and Washington. Malaysia, a country just shy of the equator, remains hot and humid throughout the year. Washington, a state that just shy of Canada, experiences multiple different climates.
However, earthquakes, floods and tsunamis are some of the common natural disasters that can suddenly occur in both regions, and was a topic of discussion at the first Malaysia – Washington State Partnership Program planning conference on August 7-10 at Joint Base Lewis-McChord, Wash.
In 2017, Malaysia and Washington signed a formal agreement making them the 73rd partner country of the National Guard State Partnership Program.
This cost-effective program is administered by the National Guard Bureau, guided by State Department foreign policy goals, and executed by the state adjutants general in support of combatant commander and U.S. Chief of Mission security cooperation objectives and Department of Defense policy goals.
However, both Malaysia and Washington see this partnership being more than a military to military joint venture.
"We want to not only build stronger partnerships, military to military, but expand civilian partnerships as well," said Maj. Gen. Bret Daugherty, the adjutant general. "Part of the long-term success will include emergency management."
During the planning conference, a group of delegates from Malaysia, led by Maj. Gen. Dato' Hj Roshaimi bin Zakaria, Assistant Chief of Staff Defense Planning Division, Malaysia Armed Forces, focused on emergency management and resiliency. Leaders agreed that establishing relationships between the Washington Emergency Management Division and the National Disaster Management Agency – Malaysia (NADMA) would benefit both partners and allow for further exchanges in the future.
"I believe we had an amazing two days of planning, and have set up a foundation for what this program was established to do," said Dato' Roshaimi bin Zakaria.
Part of the plan would include exchanges with emergency management professionals in both Washington and Malaysia sharing best practices and talking about standard operating procedures during disasters.
A 9.1 magnitude earthquake in the Indian Ocean on December 26, 2004 created a 100-foot high tsunami wave, hitting both Malaysia and Washington's other State Partnership Program country, the Kingdom of Thailand. Although not the hardest hit countries, Malaysia had 62 casualties and millions of dollars in property damage.
After the disaster, NADMA began mapping the country, and identified that more than 15 percent of Malaysia's population lives in areas that are prone to flooding.
Congressman Denny Heck, representing Washington state's 10th congressional district, took part in the final briefings, which included a 10-year exchange plan. He was briefed on the potential of exchanges between military and civilian personnel.
"I deeply believe in what you have done in the last two days; this is how you build security for both countries, and friendships as well," Heck said. "We know disasters can happen anywhere, and sharing resources and ideas is important to saving lives."
"I think what we have done is set up a great basis for what will be a great partnership," Daugherty said. "This is about growing friendships between our state and countries."
---