Student, Engineer, Soldier all in one
---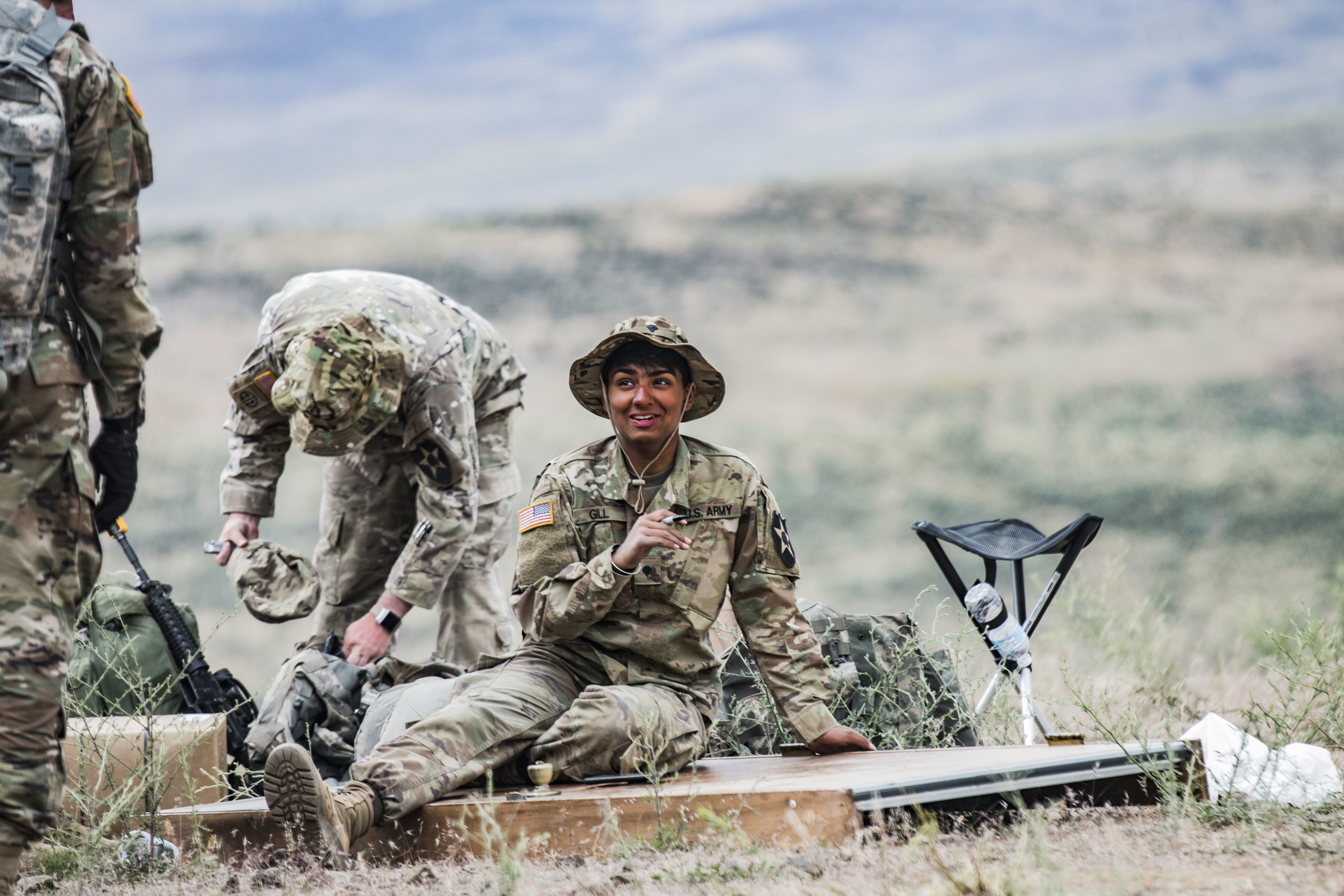 Spc. Arshia Gill, Alpha Company, 898 Brigade Engineer Battalion, 81st Stryker Brigade Combat Team, prepares a door for a breaching exercise on a demolitions range at the Yakima Training Center, June 12, 2018. Alpha Company is conducting their annual training at YTC. (U.S. Army National Guard photo by Sgt. David Carnahan)
Spc. Arshia Gill is breaking the mold and has become one of the many new female soldiers stepping into a combat military occupational specialties.
But, for Gill, she's become more than just a trail blazer, she's an engineer, a student and a soldier all wrapped up into one. Gill is a combat engineer with Alpha Company, 898 Brigade Engineer Battalion, 81st Stryker Brigade Combat Team.
"If a I had an opportunity to do this all over again, even though it's really difficult managing it, I definitely would; it's a cool experience," said Gill.
"She's always the first one wanting to learn and go do something," added Sgt. Jason Longmire with Alpha Company, 898 Brigade Engineer Battalion, 81st Stryker Brigade Combat Team. "We were doing urban breaching [training] yesterday and she was right there, right next to the door, maybe five or 10 feet away holding the blast blanket so that no one got hurt."
Gill's company commander, Cpt. Brandon Buehler describes her as a warrior and a true combat engineer. Combat engineers are expected to be able to build structures, operate explosives, and do the appropriate mathematics to ensure that both are done correctly.
When she's not at drill, Gill is a full-time student at the University of Puget Sound. The two lifestyles are night and day. Her school's trim and manicured campus is a world away from the hot and dusty field training at the Yakima Training Center. Transitioning back and forth can be challenging.
"If I have a weekend off, I usually visit home and my family that usually puts me back on my feet if I'm having a tough time," she said.
Family is a big motivator for Gill.
"Most of the men in my family have served in different armies around the world, and I am the first in my generation, and also the first female [soldier] in my family."
In January 2016, the Department of Defense opened all military occupational specialties to women.
"I was a little scared after basic because drill sergeants try to freak you out about being one of the first women in a combat MOS that just opened up," Gill said. "[I heard] a lot about being able to carry your own weight, and I pride myself in being able to do that."
Gill was nervous about arriving in her first unit, but that concern went away when she got to know her new teammates.
"I honestly feel blessed to be in this unit," she said. "I'm just really happy that I got placed with some of the men that are in this unit because they're very respectful and the transition was very easy. I didn't feel like there were any bumps in the road or anything like that."
---