Celebrating a new tsunami vertical evacuation refuge for the Shoalwater Bay Indian Tribe
---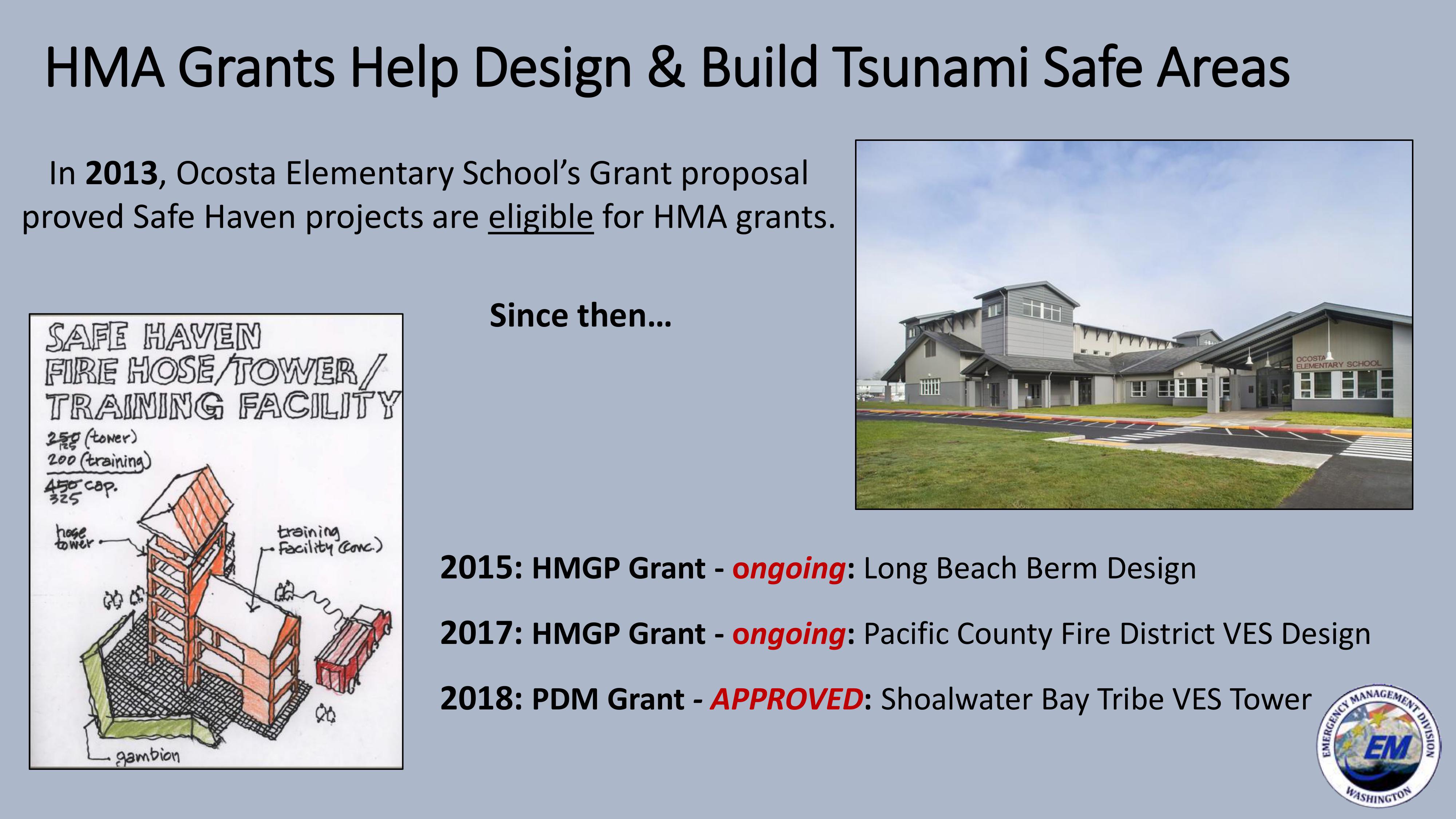 Celebrating a new tsunami vertical evacuation refuge for the Shoalwater Bay Indian Tribe
A long planned tsunami vertical evacuation tower in Tokeland received $2.2 million in federal funding on June 26 to help pay for the construction of a safe refuge for hundreds of residents.
The Shoalwater Bay Indian Tribe had long sought ways to help its tribal members evacuate when there could just be 22 minutes of notice that a giant wave is coming following a huge earthquake, said Shoalwater Emergency Management Director Lee Shipman. The effort was amplified six years ago following discussions with the University of Washington and the Washington Emergency Management Division, which looked at the types and locations of safe refuges up and down the outer coast of Washington.
These efforts were referred to as Tsunami Project Safe Haven. Shipman said that much of the Shoalwater Bay Indian Tribe's land have hills that residents can safely evacuate to when a tsunami hits. But the Tokeland area was the most vulnerable.
"In the end, this isn't just about helping our members, but the entire community," Shipman said. "This is about being a good neighbor. We know that resources are scarce in the area, so we make sure that the surrounding community members are always included and informed of impending Emergency Management issues. We feel strongly that we are all in this together."
The Shoalwater Bay Indian Tribe, as a recognized sovereign nation, applied for the funds directly from FEMA using the federal Pre-Disaster Mitigation Grant Program. Still, Shipman said she relied on help from members of the Washington Emergency Management Division to guide her efforts, citing specifically the work of Mitigation Program Manager Tim Cook and Earthquake Program Manager Maximilian Dixon in the crafting of the document with additional support of Human Services Program Manager Casey Broom and Mitigation, Response & Recovery Section Manager Stacey McClain.
"We're looking forward to continuing our relationship with our friends at Washington EMD," Shipman said.
The Tribe and the members from the surrounding communities have participated together in the Project Safe Haven meetings. Shipman participates in the state's Tsunami Workgroup meetings along with the other coastal emergency managers like Scott McDougall from Pacific County and Charles Wallace from Grays Harbor County.
This is the first time federal funding from FEMA has gone toward construction of a vertical evacuation structure in Washington state. Previously, the state worked with local jurisdictions in Long Beach and Pacific County Fire District 1 at Ocean Park to do design work toward potential vertical evacuation structures.
The first tsunami vertical evacuation structure in North America was unveiled in 2016 at Ocosta Elementary School near Westport. It can accommodate at least 1,000 people. Cook says that school district officials applied for federal funding and were determined to be eligible by FEMA, but didn't get the funding. Instead, taxpayers voted to foot the entire bill, noting it was critical to protect the kids.
"This was an important step, though, because before this, FEMA hadn't even said these kinds of structures were eligible," Cook said. "Now, they are, and it opens up an opportunity for local jurisdictions to apply for funding."
In June, officials from Washington Emergency Management Division, the University of Washington's Project Safehaven project and the Washington Geological Survey met with city officials in Ocean Shores to discuss what it would take to build a new tsunami shelter there. A public forum was also conducted with residents.
In August, a similar event is being planned for the city of Aberdeen. Dixon said he's recently had discussions with the mayor of Aberdeen and the superintendent of the Aberdeen School District, looking at tsunami vertical evacuation structures and strengthening its existing tsunami evacuation plans.
Later this year, the Washington State Emergency Management Division will be publishing a new Roadmap Manual. The manual will help coastal communities better plan for and build tsunami vertical evacuation refuges.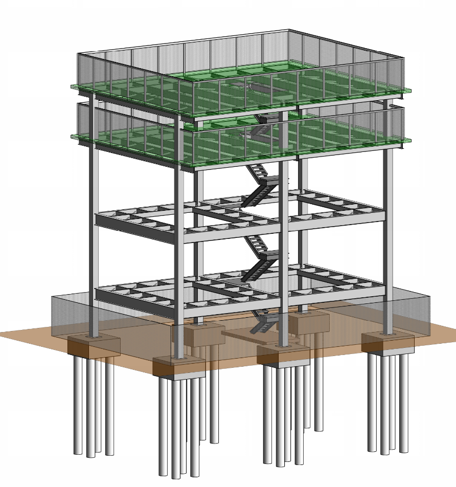 The design of the new structure at Tokeland.
The safe refuge platforms being constructed by the Shoalwaters will be two levels, built at 40 and 50 feet above grade, which is greater than the tsunami wave crest height of 32 feet above grade. With a total useable area of 3,400 square feet, it will accommodate the 386 people. The structure will be built of steel with concrete pilings that go down 45 to 50 feet.
The structure has been designed by engineering firm Degenkolb, which also designed the structure at Ocosta Elementary.
---