Malware Alert: Soldiers educate tomorrow's cyber-security experts
---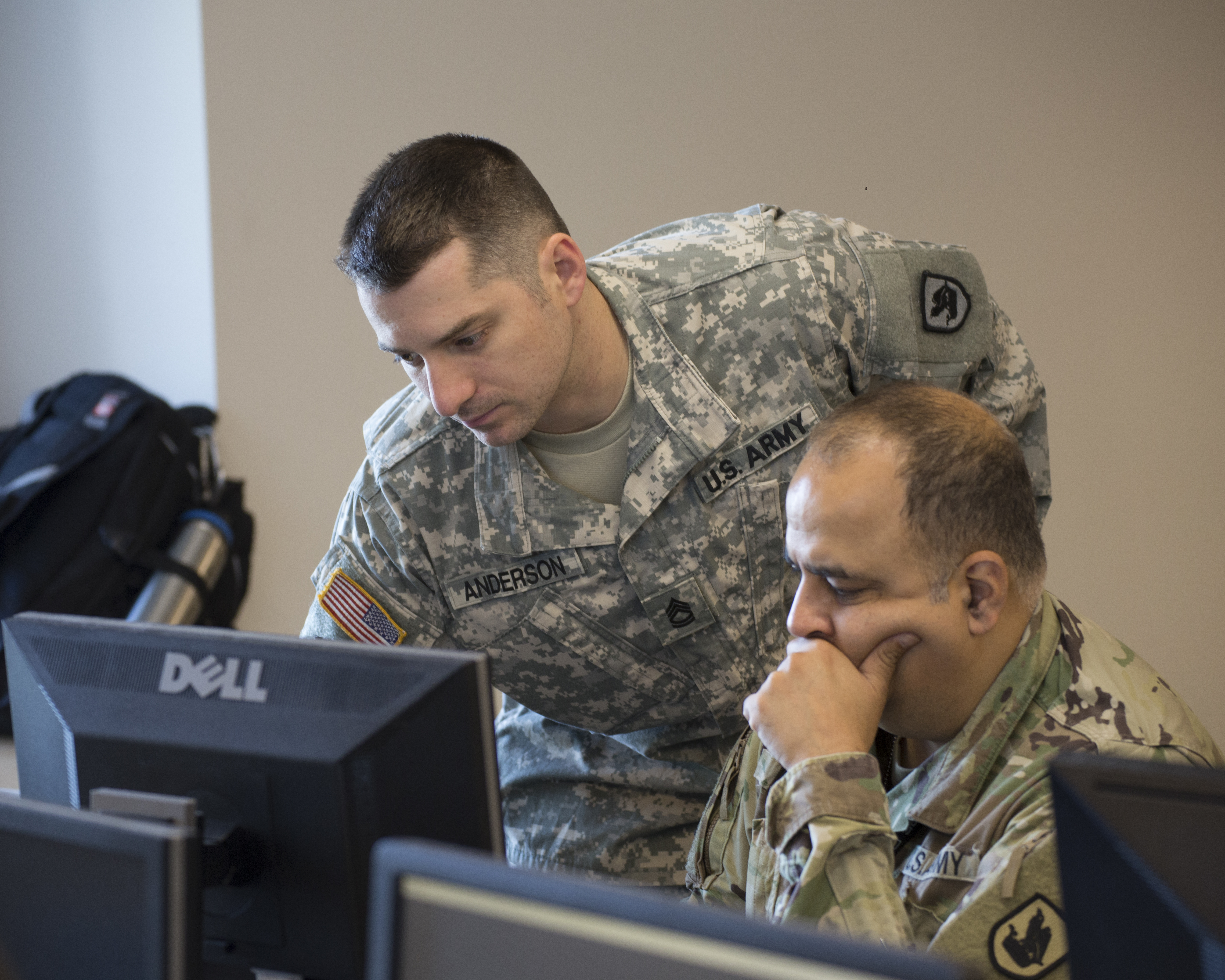 Sgt. 1st Class Samuel Anderson, Joint Force Headquarters, advises Cpt. Sameer Puri, 56th Theater Information Operations Group during the International Collegiate Cyber Defense Invitational, July 6th, 2018, Highland Community College, Wash. Washington National Guard soldiers attended the International Collegiate Cyber Defense Invitational to help educate information technology students on their responses to cyber-attacks. (U.S. Army National Guard photo by Spc. Alec Dionne)
A soldier opens his laptop, and the attack begins. Spc. Sunia Laulile, Alpha Company, 56th Theater Information Operations Group, types efficiently, shutting down the opposing system. Malware is installed, the system is crippled, the mission is a success. This was not a real world attack however, but an exercise at the International Collegiate Cyber Defense Invitational, July 6th, 2018, Highline College, Wash.
Washington Army National Guard soldiers from the 56th Theater Information Operations Group, Joint Force Headquarters, and Headquarters and Headquarters Company, 181st Brigade Support Battalion, 81st Stryker Brigade Combat Team, were invited to the exercise to help train the nation's next generation of cyber security professionals.
"Our team did extremely well," said Cpt. Sameer Puri, 56th Theater Information Operations Group. "They showed how the security flaws in computer systems and networks can be exploited." Cpt. Sameer Puri, 56th Theater Information Operations Group.
The soldiers participated as the opposing force during the invitational, and students acted as the network's defenders. Students were graded on how well they protected their computer systems from the soldiers' cyber-attacks. At the end of each iteration, the soldiers and students came together to discuss how to better improve their response to the attacks.
This is valuable training for Guard soldiers too.
"We have more freedom of execution here," said Laulile.
Events like these give cyber-professional soldiers the operational freedom to practice their skills in real time, similar to a live fire exercise. They get to break the mold and experiment with new ways to disrupt a computer network.
"Cyber exercises like ICCDI help to build better cyber resilience and enhances the mutual cooperation between the Washington National Guard and academia in the field of cyber security," said Puri.
---