State trains for Bakken crude disaster amid rise in oil trains
---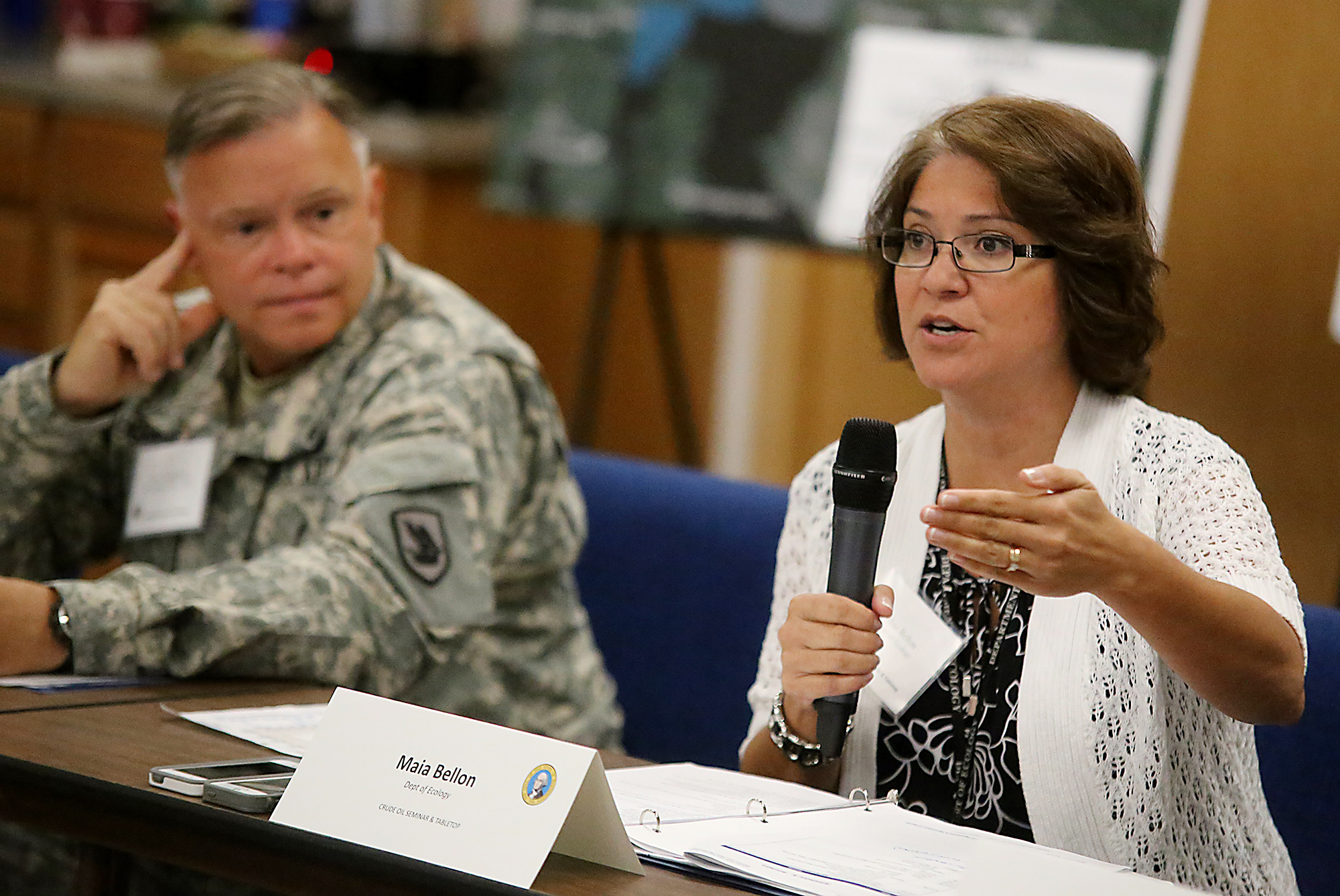 Major General Bret D. Daugherty and Ecology Director Maia Bellon.
State trains for Bakken crude disaster amid rise in oil trains
What if a train carrying volatile Bakken crude derailed and then exploded in the Puget Sound area, jeopardizing hundreds of lives and the nearby fragile ecosystem? How would first responders react? Would evacuation be needed? Would shipping lanes need to be closed? If so, how would the economy react?
These are just a few of the questions on the table during an elaborate exercise that focused on the "what ifs" featuring, federal, state and local agency leaders as well as the private railroad Burlington Northern Santa Fe during an exercise July 16 at Camp Murray, hosted by Ecology Director Maia Bellon and Major General Bret D. Daugherty, The Adjutant General.
"The risk of a Bakken crude incident is increasing every day," Daugherty said, adding that training is essential to make sure that agencies don't "start flatfooted" when it comes to responding to an oil train derailment and explosion.
Bellon noted that there are 3,157 miles of railroad track in the state. There are almost 2,500 major rivers in Washington that run within 1,000 feet of a rail line.
"Businesses in our state don't want nor can they afford to have spills in our waters," Bellon said. "Our communities around the state are nervous and understandably so."
She noted that exercises like this help build the critical relationships needed before the disaster occurs.
"It's not just what we're doing but how and who we're working with," Bellon added, noting that building relationships with business and tribes is also essential.
The disaster response policy seminar and tabletop exercise was geared to look at the impacts of a crude oil rail transportation disaster in the state of Washington. The goal was to look at the state-level public health and safety, environmental, social, economic and governmental impacts that a crude oil train disaster would create. And the threat is real.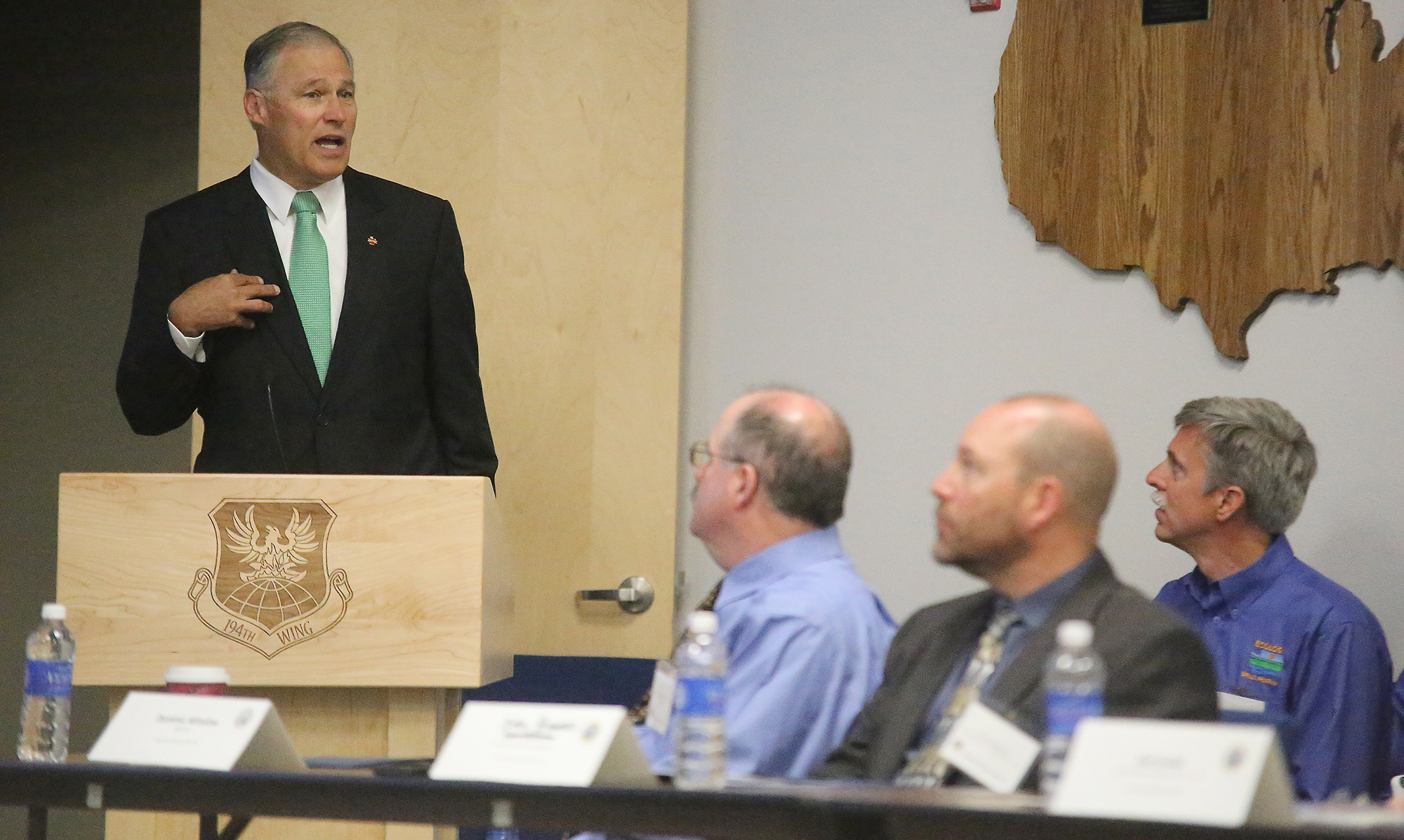 Gov. Inslee speaks to attendees of the training session on July 16.
Gov. Jay Inslee, who gave opening remarks, noted to the 75 members in attendance, "You have the safety of 7 million strong people in your hands … because the future has a lot of oil trains in it. We've gone from zero to 700 million gallons of even more volatile material than historically we've known about."
Inslee said recent legislation approved by the state Legislature is a start, but he wants more done. Inslee also wants the federal government to enact stronger restrictions, particularly on oil train rail cars.
"In the interim that means we're going to have to up our game and am grateful we have people in our jurisdiction planning on what we can do while waiting for the federal government," Inslee said.
Ecology officials noted with proposals around the state to expand oil train export facilities, more oil trains are coming in all the time.
"We have 20-plus of these trains rolling through this state and the number is growing," Daugherty said.
Just in the past month, the number of crude oil trains has risen. Burlington Northern Santa Fe's report showed a sharp uptick in trains between a report released in May and another report released in June. The State Emergency Response Commission makes available notifications on the Washington Military Department's website mandated to be sent to the state when there's been an increase or decrease of 25 percent or more in the number of trains carrying Bakken crude oil. Despite being labeled as confidential, these reports are public record and have been vetted by our Public Records Office for release as detailed on our website.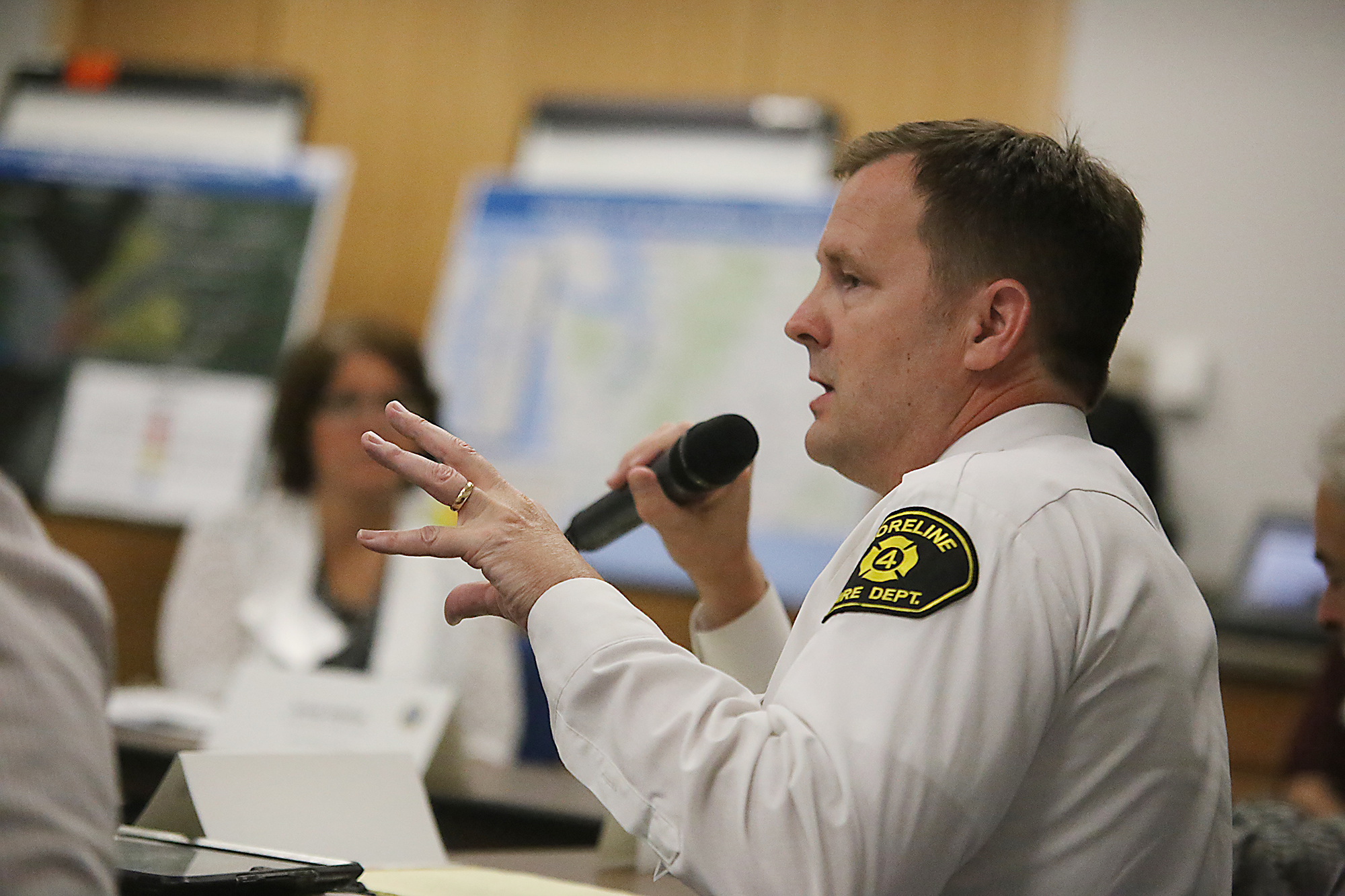 Shoreline Asst. Fire Chief Tim Dahl.
The exercise in question looked at what would happen if a crude oil train were to be hit by a landslide near the Shoreline area. Assistant Fire Chief Tim Dahl of the Shoreline Fire Department called the scenario "scary but realistic," noting that the Shoreline area is prone to landslides.
The scenario noted that a 120-car train has the potential of carrying 3.4 million gallons of Bakken crude oil and could easily ignite in a derailment scenario, especially coupled with a landslide. Utilizing a NOAA model, organizers showed a spill of 140,000 gallons of crude oil could spread over the entire navigational channel within three hours and in a day's time, the oil could reach across the Puget Sound to the shores of Kitsap County.
Participants dealt with critical questions such as whether evacuations would be needed, whether shelter in place orders would have to be given, how air quality could be handled, what the health consequences could be, wildlife impacts and the procedure to determine if a chemical dispersant could be used or if oil skimmers may be a useful tool. Bellon said every decision would have to be made weighing the pros and cons.
Dahl noted that a team of 20 firefighters could be on scene within minutes and he could drum up 75 to 100 firefighters within 30 minutes to an hour, reaching out to mutual aid. The Coast Guard could respond soon after. But he said he would have some concern if the explosion were to occur during the summer months at the same time firefighters are out fighting wildfires in Eastern Washington or elsewhere.
Peter Antolin, the assistant director of the Washington Emergency Management Division, said he felt that communication would be a critical element to deal with.
"The biggest issue here is communication and we would stand up and bring our resources to bear to help the local communities and provide them the critical information they need," Antolin said.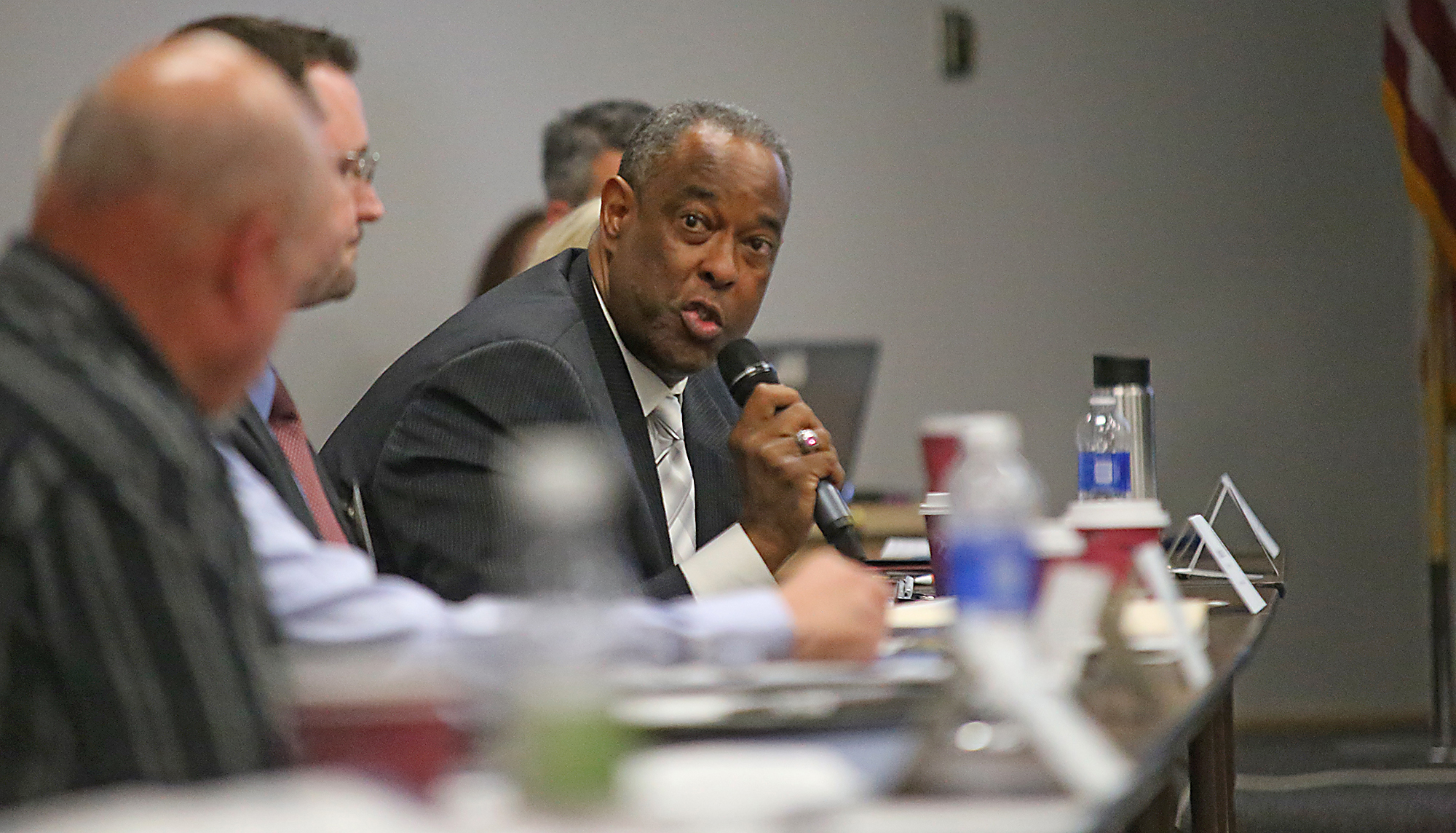 State Patrol Chief Batiste.
Chief John Batiste of the Washington State Patrol said that an oil train explosion would take an all hands-on-deck approach, utilizing fire mobilization requests and Troopers to handle everything from aviation support to traffic control.
"Our local responders, we will be there for you and will do whatever we need to do to help you get people back to their normal livelihood," Bellon said at the end of session.
More photos on Ecology's Flickr page here.
---