Airmen practice earthquake communications
---

Airmen from the 242nd Combat Communications Squadron at Fairchild Air Force Base exit and
unload a C-17 flown by the 446th Airlift Wing at Gray Army Airfield at Joint Base Lewis-McChord
as part of Exercise Evergreen Tremor, a rehearsal of the emergency management and military response
in the event of a catastrophic Cascadia Subduction Zone earthquake. (Photos by 2nd Lt. Hans Zeiger)
Air National Guard would provide critical link following a megaquake
By 2nd Lt. Hans Zeiger
194th Regional Support Wing
JOINT BASE LEWIS-MCCHORD, Wash. - Early in the afternoon on June 18, a C-17 Globemaster landed at Gray Army Airfield here, delivering information technology equipment and military communications experts from the 242nd Combat Communications Squadron who are practicing their response to a catastrophic earthquake that could rock the Pacific Northwest someday.
The C-17 was flown by the 446th Airlift Wing, an Air Force Reserve Wing assigned to McChord Air Force Base, while the 242nd is a Washington Air National Guard squadron assigned to Fairchild Air Force Base in Spokane.
"It's unique that an active or reserve component airlift could support an Air Guard partner in support of a state exercise," said Lt. Col. Chris Panush, plans officer for the Air Guard's 194th Regional Support Wing, which includes the 242nd. "It shows a huge commitment by all levels of the military to our planning."
During Exercise Evergreen Tremor in June, Army and Air Guard personnel along with military and civilian partners spent several days rehearsing a plan to save lives, prevent further damage to the infrastructure, environment, and economy of Washington and prepare for eventual recovery.
The flight was "great," said Staff Sgt. David Bryan, an IT expert in the 242nd, as he stepped onto the tarmac at Gray Army Airfield. He was en route to help set up Joint Incident Site Communications Capability at Satsop, he said. The JISCC is housed in a trailer that provides commercial internet, voice and data communications during an incident.
Materials had to be flown in since truck travel across Cascade Mountain passes would be impossible in the quake scenario.
"We are rehearsing operations in a post-Cascadia Subduction Zone rupture where transportation routes are unusable," said Lt. Col. Clayton Braun, deputy director of operations for the exercise. "The C-17 flight was a practice in getting there in a hugely damaged environment."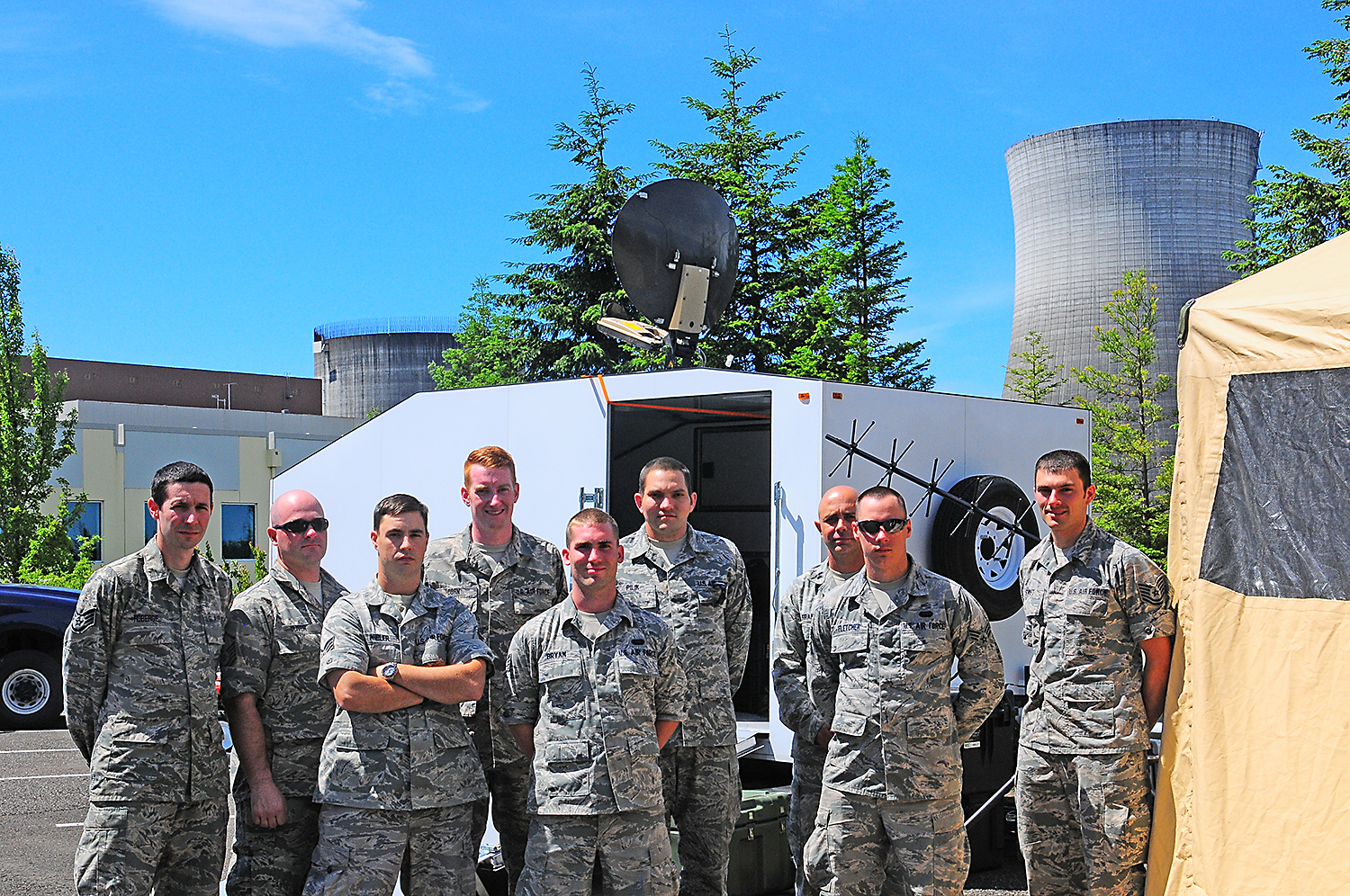 Members of the 242nd Combat Communications Squadron from Fairchild Air Force
Base take a break from operations at Satsop, Wash., as part of exercise Evergreen
Tremor to prepare for a catastrophic Cascadia Subduction Zone earthquake.
In addition to deploying the JISCC to Satsop, the 242nd established Theater Deployable Communications, or TDC, at the Mason County Fairgrounds in Shelton in support of airmen from the Air National Guard's 111th Air Support Operations Squadron and soldiers from the Army National Guard's 96th Troop Command. TDC uses satellite technology to provide various modes of communication.
"It is cool to go anywhere and provide the services that we have," said Airman 1st Class Philip Clapin, on duty with the 242nd at the county fairgrounds.
"It's exciting watching everyone scramble to get communications up," added Airman 1st Class Shirley Beaumont, also with the 242nd in Shelton. "Things are changing, and we're adjusting with all the changes."
The 111th Air Support Operations Squadron located at Shelton processed air mission requests and dispatched a rapid response force into the field to transport supplies, said Maj. David Stilli of the 111th. The rapid response force also scanned for potential landslides, said Tech. Sgt. Russell Record, a fighter duty technician with the 111th.
About 40 miles southwest of Shelton, Capt. Duane Franks of the 242nd led a small team at the JISCC.
"It's pretty flexible what we can provide," he said. "The exercise provides some of our traditional Guardsmen more training on the equipment."
In an operations tent near the JISCC, Tech. Sgt. Josh Nibler, who works as a railroad engineer in his civilian job, said that he and his colleagues in the 242nd are able to bridge communications gaps that hampered responses in past crises.
"If we have the FBI come in on high frequency and the Guard on a different radio, I'm the guy who can patch them together," Nibler said. "If there's a helicopter in the air, we're able to take a very high-frequency channel and patch it through to a cellphone."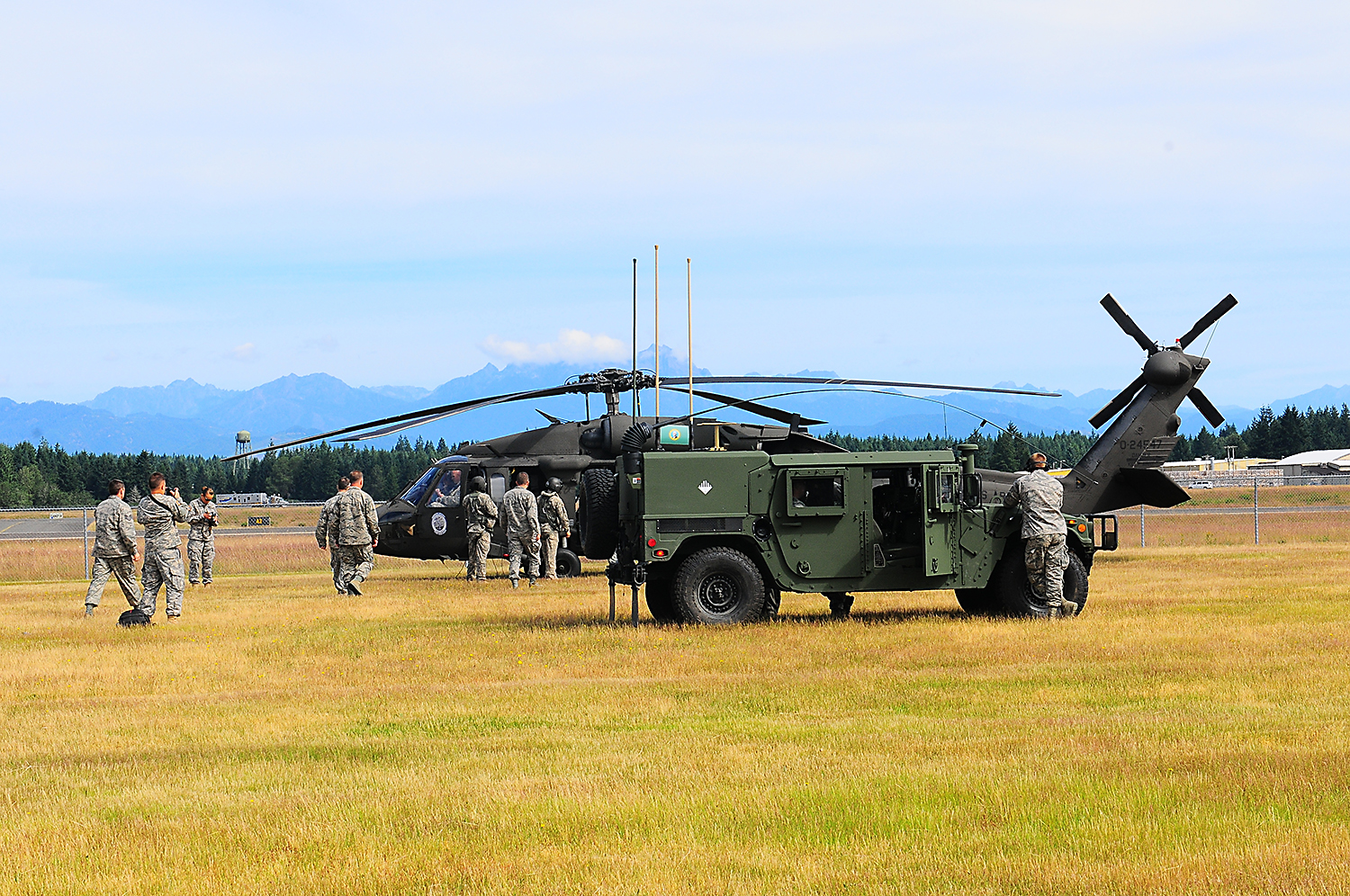 Washington National Guard members depart the Mason County Fairgrounds
in Shelton to visit operations in Satsop via helicopter as part of exercise
Evergreen Tremor to prepare for a huge earthquake.
The Guard members participating in exercise Evergreen Tremor at Shelton and Satsop were part of Task Force 3, working in support of the civilian Mason County Emergency Operations Center. Other military domestic operations task forces were established throughout the state in support of specific regions.
A Cascadia Subduction Zone quake that registered at 9.0 on the Richter scale would "end life as we know it," said Col. Jeremy Horn, commander of the 194th Wing, headquartered at Camp Murray. Since the zone stretches 800 miles long just off the Pacific Coast, an earthquake and tsunami could have devastating effects on people, property, and critical infrastructure throughout the Northwest.
Evergreen Tremor is a preparation for a much larger national-level earthquake exercise in 2016, Horn said.
---