JSSWA Bids Farewell to John Rimel
---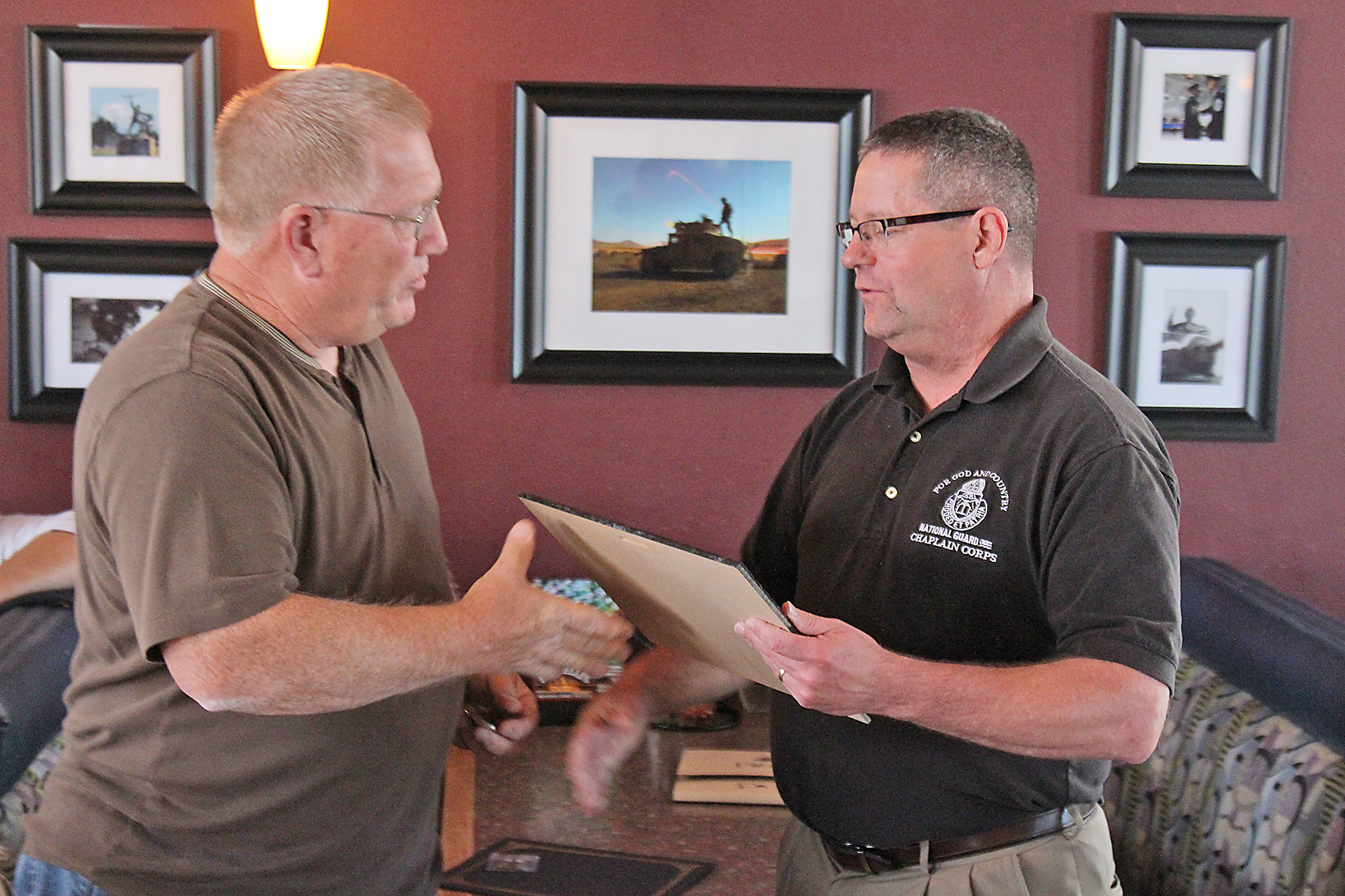 Col Carl Steele, Joint Services Support Director, thanks John Rimel for his years of service.
JSSWA Bids Farewell to John Rimel
Saying goodbye is never easy, especially when it's a JSS employee that has been assisting service members for more than a decade. After completing our Joint Services Support Washington (JSSWA) All-Hands meeting on July 22, the entire JSSWA staff conducted a special retirement ceremony for our Yakima Family Assistance Specialist (FAS) Mr. John Rimel. Mr. Rimel has dedicated more than 14 years to the JSSWA and has provided assistance for hundreds, if not thousands of service members. We wish you happiness in your future endeavors and hope that you still stop in and check on the JSSWA throughout the year.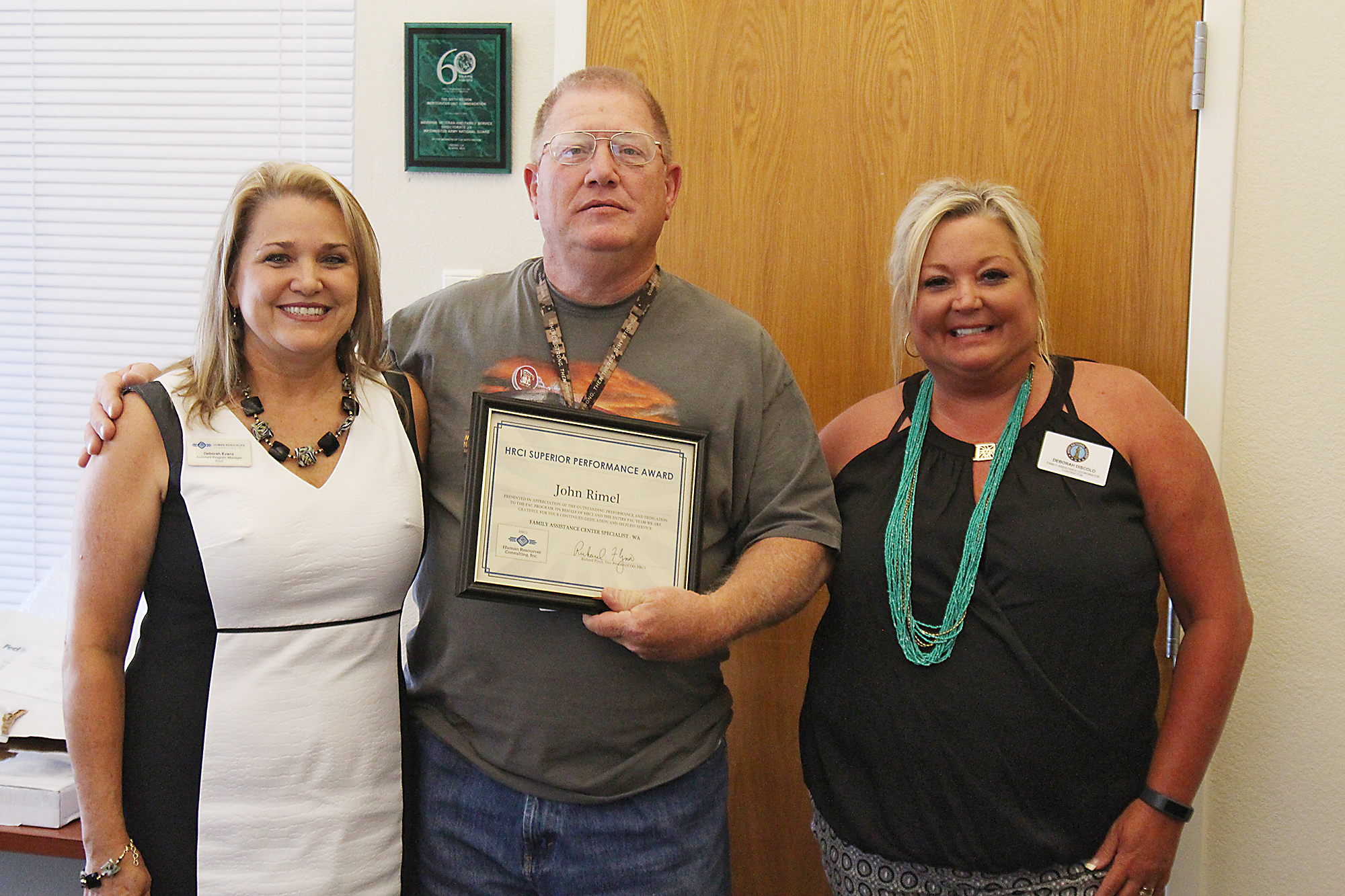 John Rimel receives a Certificate of Appreciation for his 14 years of service
with the Joint Services Support Washington from HRCI Assistant Program
Manager Deborah Evans (left) and Washington National Guard Family
Programs Lead, Deborah Discolo.
Citation for John Rimel's Certificate of Appreciation:
FOR EXCEPTIONAL ACHIEVEMENT WHILE ASSIGNED AS A FAMILY ASSISTANCE SPECIALIST RESPONSIBLE FOR PROVIDING INFORMATION, REFERRAL, AND OUTREACH FOR SERVICE MEMBERS AND FAMILIES IN THE YAKIMA SERVICE AREA FROM DECEMBER 2003 TO JULY 2015. JOHN RIMEL'S OUTSTANDING DEDICATION, INITIATIVE AND UNWAVERING SUPPORT TO THE JOINT SERVICES SUPPORT WERE INVALUABLE TO CONTRIBUTING TO THE OVERALL SUCCESS AND READINESS OF THE SOLDIERS AND THEIR FAMILIES. JOHN RIMEL'S PERFORMANCE REFLECTS GREAT CREDIT UPON HIMSELF, THE JOINT SERVICES SUPPORT AND THE WASHINGTON ARMY NATIONAL GUARD.
Here's just some of the highlights & accomplishments from John's 14 years:
Assisted with the startup of the Yakima County Veterans Taskforce. The Task Force is made up of service providers that address the needs of soldiers, their families and veterans. The Task force today meets on a monthly basis and coordinates services for military clients
Partnered in the development of the Yakima County Veterans Coalition. This partnership eventually led to the coalition becoming an official 501(c3) organization. It also established a partnership between the WAARNG Family Programs and the Coalition. The coalition established formal points of entry for clients to receive services. The Yakima FAC is one of those formal points of entry
The coalition puts on the annual Veterans Stand Down which provides an opportunity for soldiers, their families and veterans to receive services under one roof. I was the chair of the Stand Down committee for 5 years
Served on several committees to address the homelessness issue with soldiers and veterans
Served on several committees to address suicide prevention among our soldiers and veterans
Prior to the formal establishment of the Yellow Ribbon Program worked on several community partner committees to address the needs of soldiers and their families during the deployment cycle
Before the formal establishment of the Employment Transition Coaches worked with several community partners to formally address the employment needs of soldiers and their families. This led to a formal process of referring soldiers for employment to include WAARNG sponsored job fairs and employment workshops
John was one of the first FAS on the Team Dec 2003
---