New graphic helps public tell difference between tsunami alerts
---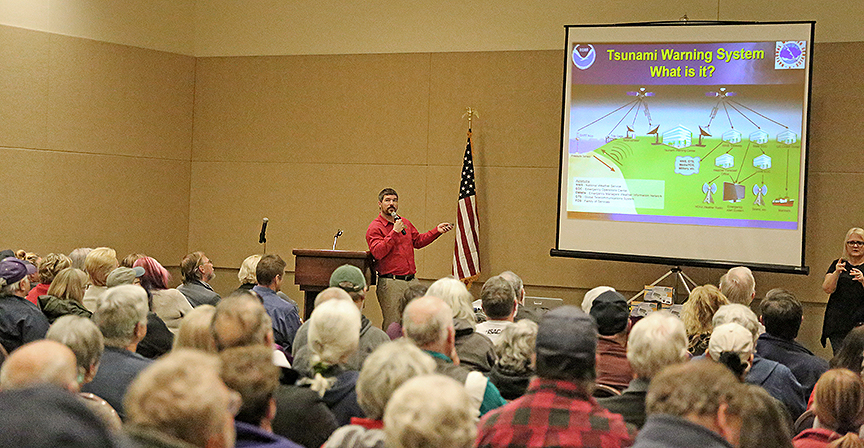 Maximilian Dixon, earthquake program manager of Washington Emergency Management Division, talks about how the tsunami warning system works before 250 residents in Ocean Shores.
New graphic helps public tell difference between tsunami alerts
The Washington Emergency Management Division unveiled a new tsunami alert graphic during presentations with the public on the coast and emergency managers during recent events.
The graphic, created with input from local jurisdictions, provides more details to help the public better understand the differences between a Tsunami Watch, Advisory and Warning and is based on an existing template created by the National Oceanic and Atmospheric Administration.
Maximilian Dixon, the earthquake program manager for the Washington Emergency Management Division, said it's important to clearly explain the differences between the various tsunami alerts. In January, there was a 7.9 earthquake in Alaska that hit in the middle of the night. The earthquake triggered a tsunami watch in Washington state, but that was lifted after a couple of hours.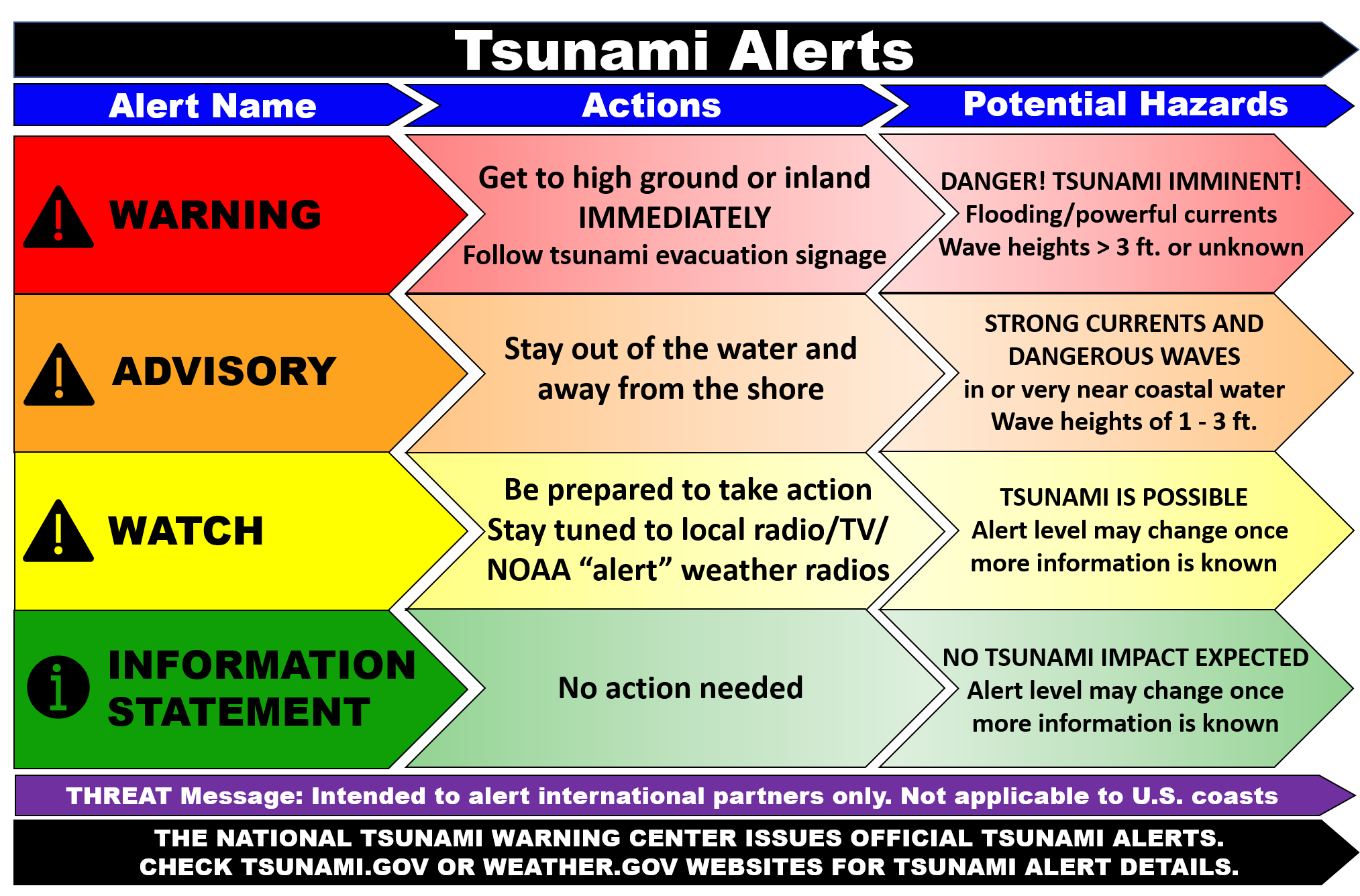 Still, Dixon says there was confusion from the public as to what to do during a watch, hence an increased public awareness campaign, including public presentations and working with local emergency managers.
Tsunami scientists and emergency management professionals also recently wrapped up a series of tsunami preparedness presentations on the Washington coast, which drew about 1,000 people at eight events.
On April 4, the Washington Emergency Management Division conducted a tabletop exercise (KUOW story) with dozens of emergency managers from the coast, including representatives from local tribes, county and city governments and the U.S. Coast Guard. An official from the province of British Columbia was even an observer.
"It really is a timely topic to come together and sit down and how we're going to address these issues better," Washington Emergency Management Director Robert Ezelle told the group during the meeting. "We've had a couple wake up calls in recent history. I mean, literal wake up calls where our team has actually been woken up. We're looking at making this a regular event going forward where we can continue to chip off the rust and make sure we're sharp and focused and ready to deal with this when it does happen again."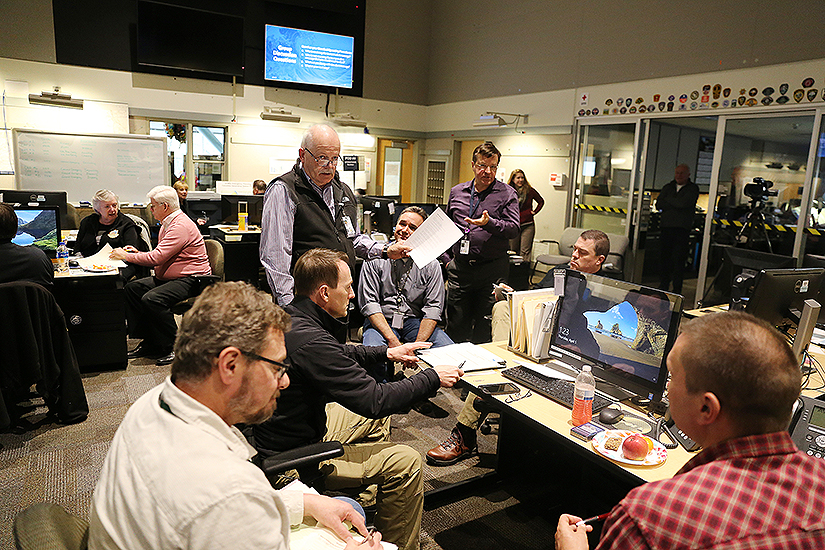 Chris Utzinger, response section manager for the Washington Emergency Management Division, leads a group discussion on communication strategies during the tabletop exercise on April 4.

The event in Ocean Shores was broadcast on TVW and is still available for viewing now (TVW link).
"We're going to give you the information that we can, but when we say get inland, get to high ground and keep going if you can, we mean it," Dixon told attendees. "A tsunami is a series of waves that are coming in and the first wave is not necessarily the highest."
Dixon notes that during the devastating tsunami in 2011 in Japan, "The fifth wave actually ended up being the highest."
Scientists covered the difference between a distant tsunami (like from Japan or Alaska) and a local tsunami, which could come from a huge 9.0 earthquake in what's called the Cascadia Subduction Zone off the coast of Oregon and Washington.
A distant tsunami could trigger a watch, like what happened in January. At that point, scientists with the U.S. National Tsunami Warning Center review data to decide whether to increase the alert level.
As waves move over "DART" (Deep-ocean Assessment and Reporting of Tsunami) buoys and special gauges, scientists are able to get a clearer picture and either drop the watch completely or else raise it to an advisory or a warning.
"An advisory has powerful currents potentially coming in with inundation up to three feet," Dixon said. "There could be strong currents for the maritime community, for boats and for those in water. Stay away from the shore. This is just a small potential tsunami, but even a really small tsunami has the potential to push boats and cars and cause damage. This is the whole ocean moving. It's very powerful. There is 1-3 feet of tsunami waves."
"Anything above three feet is a warning and a warning goes out. Now, you're talking about really powerful currents, potentially high waves and this is when you really want to get everyone out of the inundation zones and immediately to high ground."
Coastal sirens, meant to be heard for those outside, will automatically go off when a warning is issued and NOAA Weather Alert Radios will go off, as well.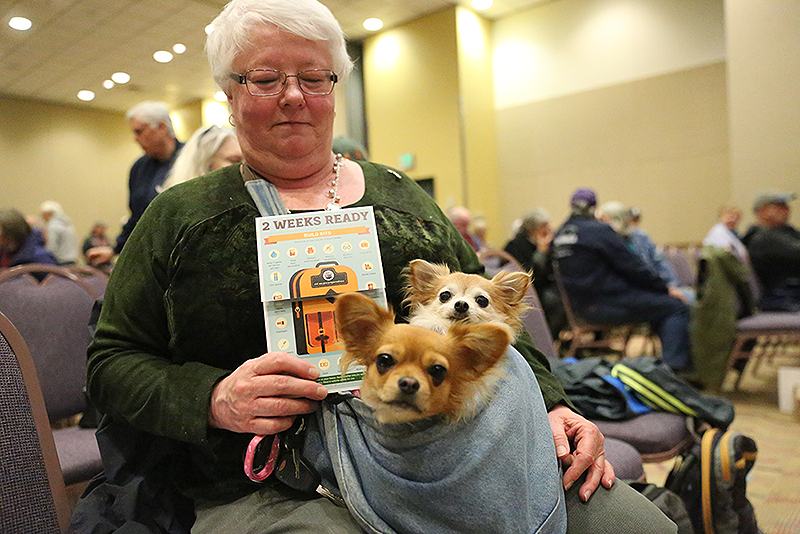 Karen Ambrogi of Hoquiam holds up a 2 Weeks Ready brochure (PDF). Accompanied by her dogs, she attended the presentation in Ocean Shores on April 11.
A warning will also be issued automatically if there's only less than three hours between when a tsunami wave is expected to hit the coastline and when the earthquake occurred. Dixon explained that the warning is issued because scientists want to be extra cautious since their time to review buoy data and other information has a compressed timeframe.
During the January 7.9 earthquake in Alaska, a warning was issued in British Columbia because the province was less than three hours from potential waves (which never really emerged) compared to a longer timeframe for the Washington coast, where just a watch existed for a couple of hours.
Meantime, if residents are on the coast and feel an earthquake, don't wait for the sirens to go off. Start walking to high ground immediately. The earthquake is your alert.
"The models we see is based on scientific information that gets inputted," said Chuck Wallace, the Grays Harbor Emergency Management director. "It could be better than this or worse than this. When you look at these models, don't look at them and say, 'This is what's going to happen. My world is over.' Most of these events won't be the worst case scenario but somewhere in the middle and if we prepare, we have a really good chance to survive these things."
STAY INFORMED LINKS
---