More coastal areas considering tsunami vertical evacuation structures
---



A Blackhawk helicopter lifts a person off the roof of Ocosta Elementary, the nation's first vertical evacuation structure in 2016 in a demonstration as an audience watches.
More coastal areas considering tsunami vertical evacuation structures
City officials in Ocean Shores are weighing whether to invest in tsunami vertical evacuation structures, which are structures built to withstand a large earthquake at a high enough elevation that people at the top would also be able to seek refuge from coming tsunami waves.
The first tsunami vertical evacuation structure in North America was unveiled in 2016 at Ocosta Elementary School near Westport. Other potential structures are in design phases in Pacific County.
Last week, an expert panel fielded questions from city officials and residents on how exactly tsunami vertical evacuation structures would work – and if funding would be available.
The panel was broadcast by TVW, which has archived the two-hour long session online.
"We're here because we want you to survive," Maximilian Dixon, the earthquake program manager for Washington Emergency Management Division, told about 90 other residents who came to the meeting on June 12.
"Nobody is going to help you unless you help yourself," said Chuck Wallace of Grays Harbor Emergency Management. "This is not a political issue, this is a personal issue."
Ocean Shores Mayor Pro Tem Jon Martin introduced the panel by noting he hadn't considered the possibility of actually surviving a tsunami event until he attended a different workshop hosted by the Washington Emergency Management Division in April.
"A tsunami is something very important to me because it didn't used to be," he said. "I was probably a fatalist and my philosophy on tsunamis is I live in Ocean Shores so when it comes I was going to just grab my favorite alcoholic beverage and just wait for it to show up. And then we had the tsunami that never showed up from Alaska in January and realized we had six hours to make a decision and that was stupid not to do anything."
Martin noted that he learned from Dixon of an elementary school in Japan that consistently practiced heading to high ground and, when the Japanese tsunami hit in 2011, just about everybody survived.
"And then there was another school and they didn't practice and they almost all perished," Martin said. "If something has to be done, it has to be done with local citizens."
"You're not doing this alone," Dixon added. "This is a team effort."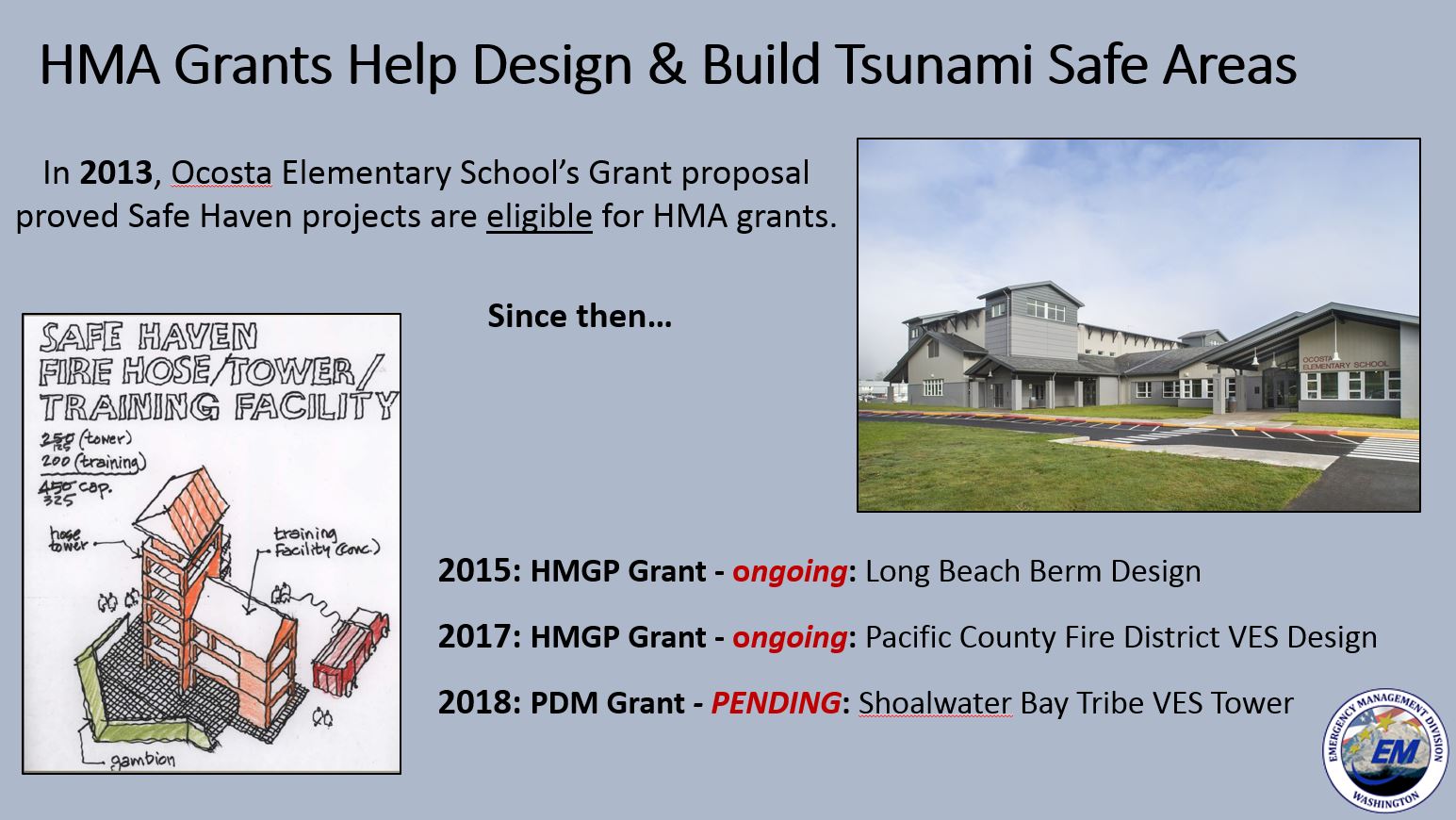 Tim Cook, the mitigation program manager for Washington Emergency Management Division, noted that federal mitigation funding has provided design dollars for tsunami vertical evacuation structures in Long Beach and Pacific County Fire District 1 at Ocean Park already.
Besides the town hall-style public meeting, Dixon and scientists from the University of Washington and the Washington Geological Survey also met with city officials.
Six years ago, there were also a series of meetings in Ocean Shores to discuss the types and locations of tsunami vertical evacuation refuges, posted online at mil.wa.gov/tsunami. These efforts were referred to as Tsunami Project Safe Haven. Planning reports were assembled from this collaboration between Washington State Emergency Management Division and the University of Washington.
Later this year, the Washington State Emergency Management Division will be publishing a new Roadmap Manual. The manual will help coastal communities better plan for and build tsunami vertical evacuation refuges. This Ocean Shores panel is part of the Roadmap project.
Dixon said he's also working with officials in Aberdeen, who are interested in learning more about vertical evacuation structures.
The recent panels are part of plans to bolster the state's tsunami outreach efforts, which included a tabletop exercise and new graphics in April and, just this week, officials from the maritime industry met in Seattle to train for potential tsunami hazards facing that industry.
Read more about the panel in The North Coast News, which covered the event.
---