Youth Academy honored by FEMA for emergency preparedness efforts
---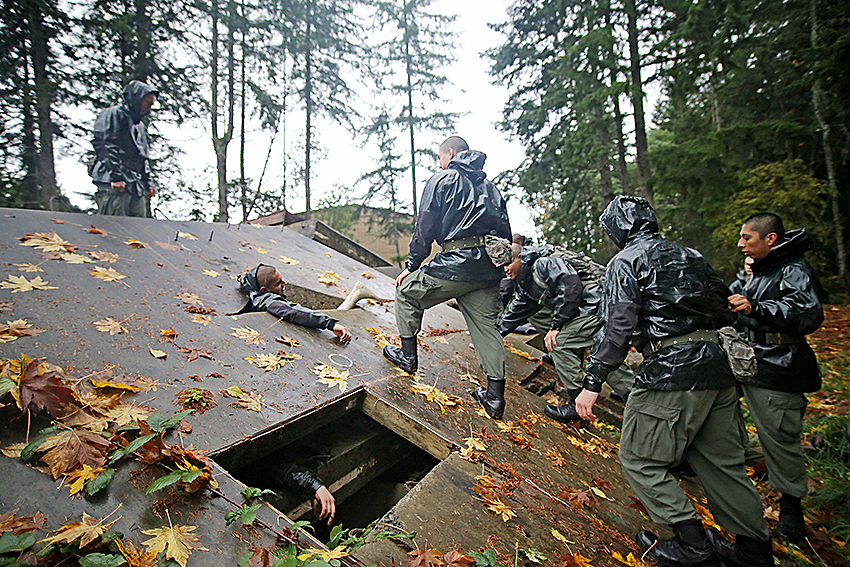 Cadets learn mass casuality skills as part of CERT.

Youth Academy honored by FEMA for emergency preparedness efforts

The Washington Youth Academy was honored in September for its efforts to train each and every cadet with critical preparedness skills they can take with them back to their home communities.
The Federal Emergency Management Agency gave an honorable mention to the Youth Academy in its national Individual and Community Preparedness Awards for Outstanding Achievement in Youth Preparedness.
To date, 835 cadets have completed Community Emergency Response Team training. This year, the Puget Sound Energy Foundation provided grants to the Washington Youth Academy Foundation for the purchase of Community Emergency Response Team kits to give to the cadets when they go home. By giving all of the cadets Community Emergency Response Team training, the Youth Academy is turning them into preparedness ambassadors for their own communities.
"We're getting our young people to be leaders in their community," the application for the honor states. "They might not use this training every day, but if we get a major earthquake or even a storm event, we think they'll be able to figure out what to do, to be there to help. Before this, most of these cadets have never even held a fire extinguisher or understood the basics of first aid. As a final test of their CERT training, the cadets conduct a mass casualty drill and practice what they've learned -- some cadets practicing as injured, while others demonstrate search and rescue skills."
Empowered youth can help engage their families, their peers and their communities in disaster readiness. Youth are empowered through understanding of risks and knowing protective actions, per the National Strategy for Youth Preparedness Education.
Trainers from CERT teams in Pierce County and Kitsap County helped do the initial training. Lately, though, the program has been self-sustaining with cadre going through specific training so then they can pass on that knowledge back to the cadets.
Cadet Amanda Torres, of Yakima, noted in the article that she hadn't ever thought of emergency kits before the CERT training. Now, non-perishable items like canned goods and bottled water are something she actually thinks about.
"Now, I know how to use a fire extinguisher," she added. "I never had to use one before, but it's pretty easy. There were some pretty important lessons we learned here that we can take with us after graduation."
The program began as a pilot with just a few cadets back in cycle 2014-2 when Washington Youth Academy Director Larry Pierce was brainstorming with WYA Programs officer Patrick Cruz on ways to help the preparedness mission outlined by Maj. Gen. Bret D. Daugherty, the adjutant general in charge of the Washington Military Department, including the Youth Academy. Every cadet has been trained since cycle 15-1.
Cruz credited the cadre and the cadets for taking preparedness seriously and getting everyone on board.
"Besides CERT training and CPR training, our cadets also embrace community service, donating many hours of service to their community," Pierce said. "The last cycle, for instance, donated 7,992 hours of community service to the local area, which included creating care packages for the needy."
---