Command Chief Warrant Officer retires after 35 years
---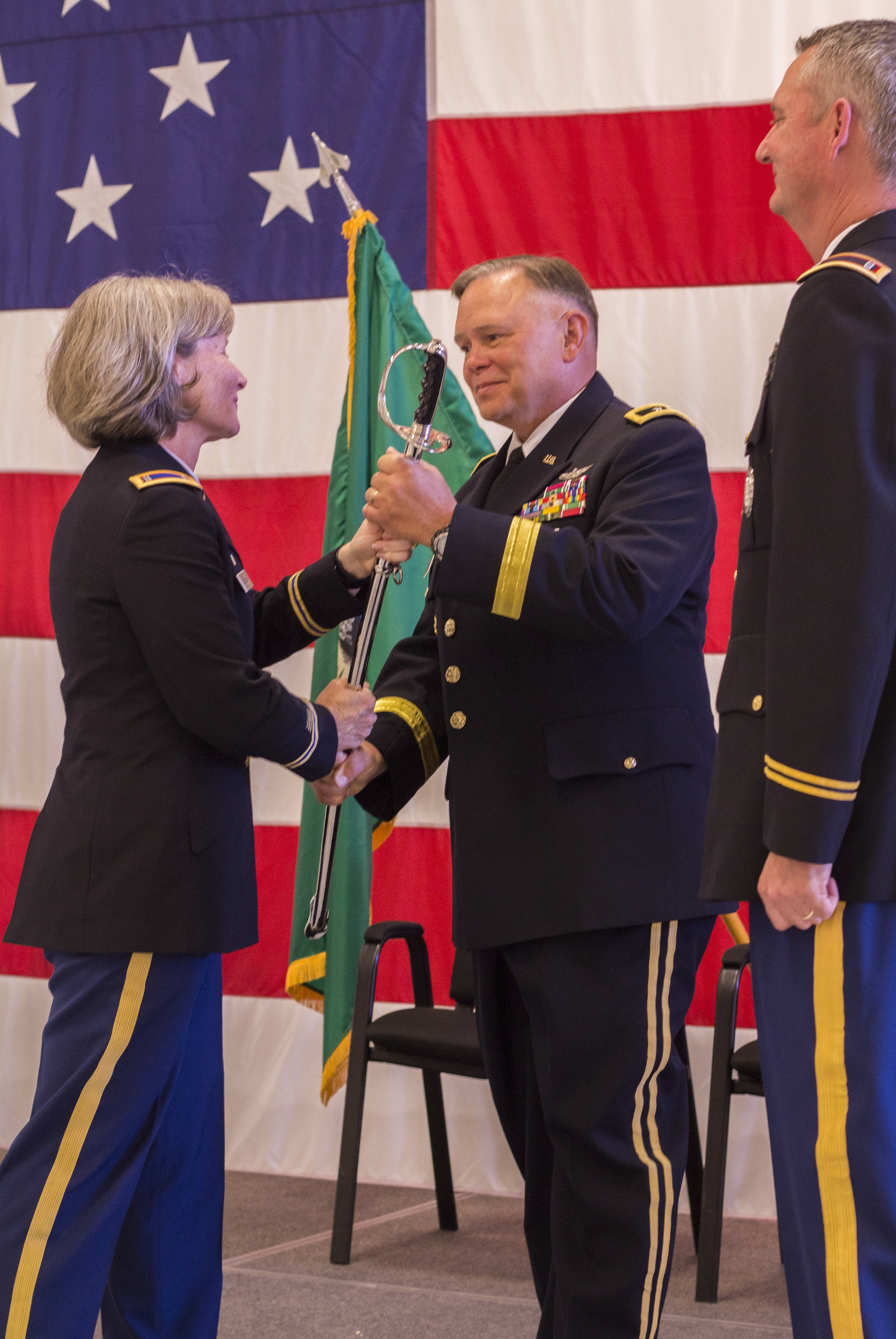 Chief Warrant Officer 5 Teresa Burgess, Command Chief Warrant Officer for the Washington National Guard, pass a ceremonial sword to Maj. Gen. Bret Daugherty, The Adjutant General of the Washington National Guard, during her change of responsibility for the Command Chief Warrant Officer position of the Washington State National Guard, July 14, 2018, Camp Murray, Wash. Chief Warrant Officer 5 Burgess was only the second Command Chief Warrant Officer in the history of the Washington National Guard. (U.S. Army photo by Spc. Alec Dionne)
Command Chief Warrant Officer Teresa Burgess has had quite the career since joining the Army in December 1982. She flew as a medical evacuation pilot, mobilized to aid victims of Hurricane Katrina, deployed to Iraq, and served as the Washington National Guard's second Command Chief Warrant Officer. She also went back to college, earning an Associate in Technology degree from Pierce College, a feat which recently garnered her distinguished alumni honors earlier this year. That is what made July 14, 2018 so special, as she retired after an amazing 35 years of public service.

"When I reported to Warrant Officer Candidate School there were two other women that I had met," said Burgess, adding that by the time she graduated, she only knew of one other female warrant officer.

"It'll be a big job to replace her," said Chief Warrant Officer 4 Tim Gordon, Headquarters, Recruiting and Retention Battalion, 96th Troop Command, Burgess' successor.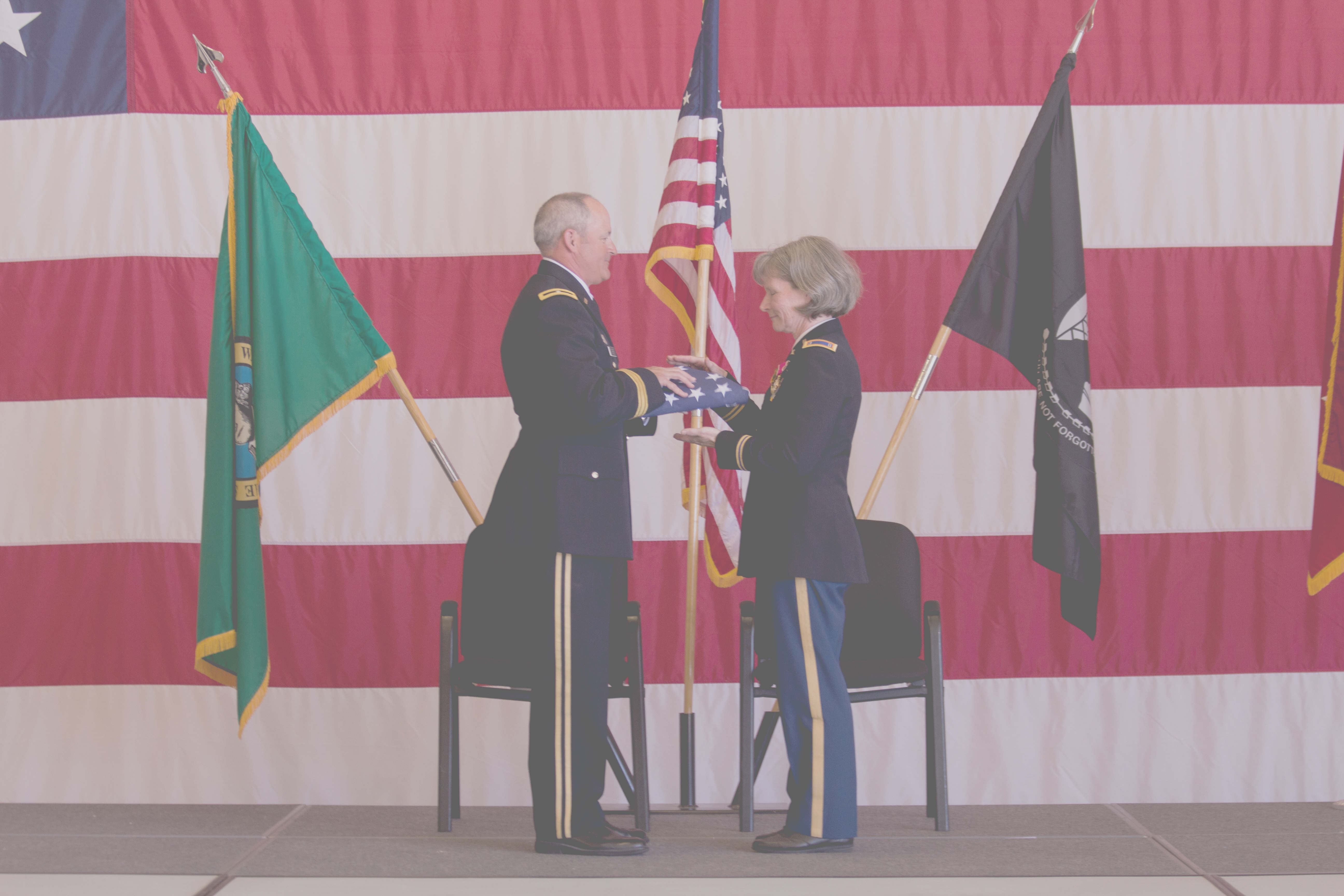 Chief Warrant Officer 5 Teresa Burgess receives her tri-fold flag from Brig. Gen. Wallace Turner, Assistant Adjutant General, July 14, 2018, Camp Murray, Wash. Chief Warrant Officer 5 Burgess was only the second Command Chief Warrant Officer in the history of the Washington National Guard. (U.S. Army photo by Spc. Alec Dionne)
Burgess entered the Army, despite her father having a career in the Air Force, in December 1982 on track to become an aviation warrant officer. She'd go on to serve nine years and nine months on active duty.

Despite being new to aviation, Burgess fast tracked into a medical evacuation team. Medevac can be called up to aid military or civilian personnel at any time. This means that medevac pilots are typically required to have more formal experience outside of training.

"I was all for it," Burgess said. "Medevac is the best mission you could have in peace time, because back then we didn't have civilian medevac here in the state of Washington, so we flew all of the missions. We did hoist missions, blood runs, patient transfers, as well as our military missions on Fort Lewis and Yakima."

Burgess flew medevac out of JBLM for four years until she was transferred to Korea for a year. After Korea, she transferred back to JBLM for another three years.

Because both Burgess and her husband were stationed on JBLM, the switch to the Washington National Guard, in 1993, was a natural next step for Burgess. Drilling as a soldier-aviator in the Washington Army National Guard was the perfect fit for Burgess. It allowed her to advance her professional career and raise her children.

Once she joined the Washington National Guard, Burgess was trained as an instructor pilot, establishing her as a leader within the new unit.

"[The National Guard Soldiers'] service goes beyond just service of the nation, it's service of the local community, and that says it all," Burgess said.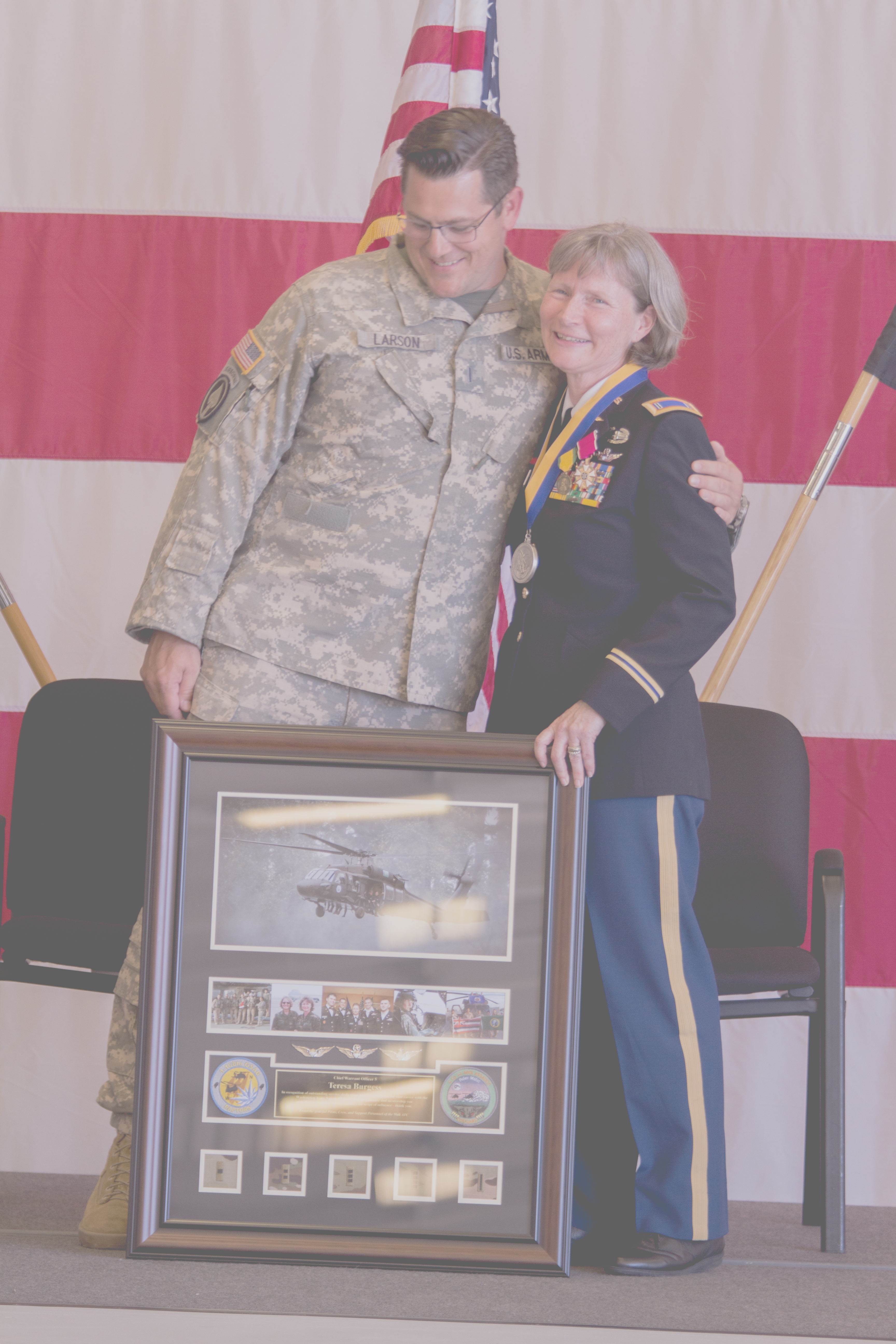 Chief Warrant Officer 5 Teresa Burgess receives a gift from Chief Warrant Officer 5 Noel Larson Headquarters and Headquarters Company, 96th Aviation Troop Command, during her her retirement ceremony, July 14, 2018, Camp Murray, Wash. Chief Warrant Officer 5 Burgess was only the second Command Chief Warrant Officer in the history of the Washington National Guard. (U.S. Army photo by Spc. Alec Dionne)
On Aug. 28, 2005, Hurricane Katrina made landfall, creating one of the costliest natural disasters in U.S. history. Three weeks later, Burgess was mobilized to help with the recovery effort.

"One reason that Washington was one of the first units down there was because we had gone to the [National Training Center] with the same unit [from the Louisiana National Guard] in 2000, so we already had those relationships," Burgess said.

Upon landing at Naval Air Station New Orleans, Burgess stepped into the chaos that was the aftermath of Hurricane Katrina. Their aircraft, fresh from a deployment to Iraq, was in need of repairs.

Burgess and her unit were much needed relief for the soldiers of the Louisiana National Guard.

"Being able to relieve them, because a lot of them had not been home, to see their own homes, because they had been flying for three weeks," Burgess said.

From there, Burgess and her unit learned to navigate a devastated New Orleans without formal maps. With some help from their Louisianan counterparts, they provided humanitarian aid that helped hundreds of people weather the storm.

In August, 2007, Burgess deployed to Iraq. There, on Christmas Day, she participated in and led the first all-female combat UH-60 Black Hawk crew.

"It was not just the aircrews themselves, but all of the support staff were female," said Burgess. "It was quite a feat in itself."

Part of that mission was a large mail run. They filled their helicopter full of packages, so much so that they almost did not have room for a unit commander, who was also being transported on that mission.

"The soldiers were very happy to have packages on Christmas Day," Burgess said.

Burgess had been selected for promotion to Chief Warrant Officer 5, but the promotion was delayed due to her deployment. Despite being the second person to hold the Command Chief Warrant Officer position, Burgess still had to work hard to establish the new position.

"People weren't used to having a warrant officer in the mix in the command group," Burgess said. "It's a culture change; they were used to having their warrant officers in their formation for a long time, and a lot of them go."

Burgess feels very thankful for her time in the Washington National Guard.

"I've been very fortunate that the National Guard has given me the opportunity to fly and do missions and become an [Active Guard and Reserve] soldier," she said. "I never expected to stay in this long."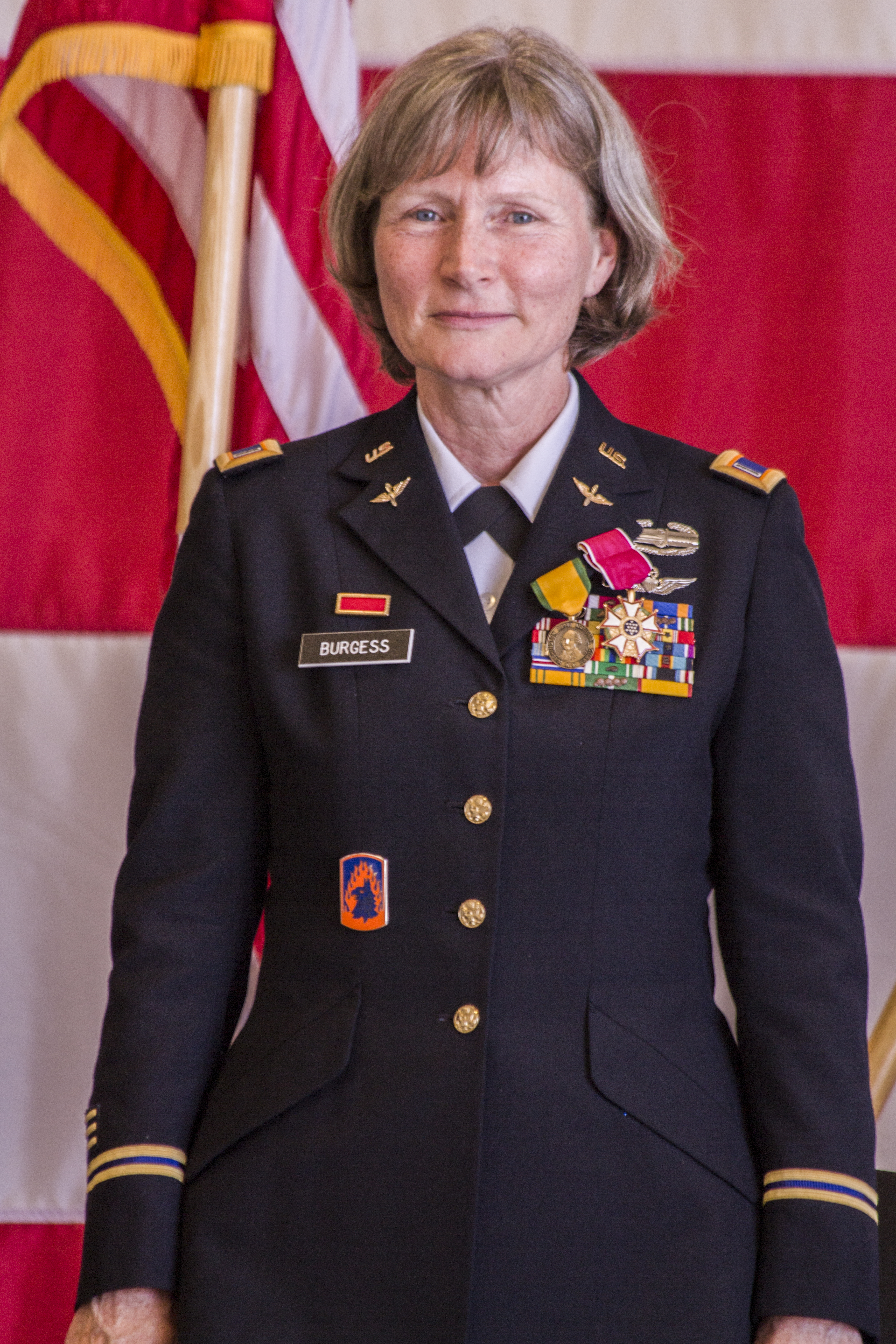 Chief Warrant Officer 5 Teresa Burgess is inducted into the Washington State Legion of Merit, July 14, 2018, Camp Murray, Wash. Chief Warrant Officer 5 Burgess was only the second Command Chief Warrant Officer in the history of the Washington National Guard. (U.S. Army photo by Spc. Alec Dionne)
---