Looking Back on a Storied Career
---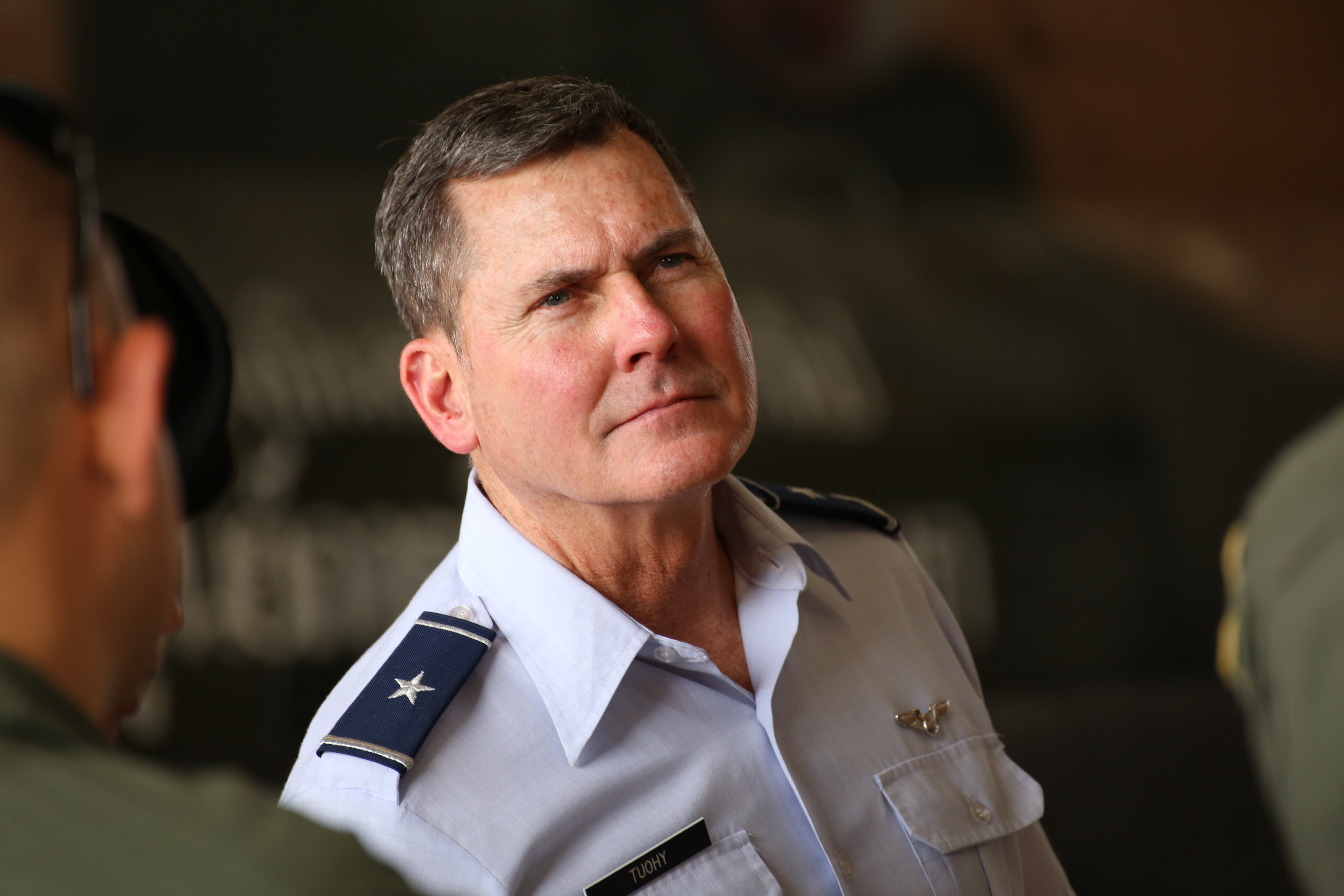 Brig. Gen. John Tuohy looks over a CH-47 Chinook while on a visit to the Kingdom of Thailand in 2016.
If John Tuohy had it his way, he would have pursued a music career after finishing high school. A warning from his father, who had a successful career in the Navy, made Tuohy think twice.
"My dad one day said to me, even quality musicians, the best ones don't make a decent living," said Tuohy.
Shortly after that conversation, Tuohy spotted a newspaper ad for Air Force Reserve Officer Training Corp at Florida State University. That small advertisement changed Tuohy's course.
"I got accepted to Florida State, but didn't get a scholarship," he said. "So I had to work my butt off, started pulling in A's, was focused and getting things accomplished."
On Aug. 13, 1978, 2nd Lt. John Tuohy graduated with a bachelor's degree in business management and his commission into the U.S. Air Force as a B-52 "Stratofortess" navigator. He completed officer training in California and put in for assignment at Fairchild Air Force Base with the 325th Bombardment Squadron.
"LeeAnn, my future wife-to-be, was from Seattle and we really wanted to be at Fairchild," said Tuohy.
After four years at Fairchild, the Tuohys made the decision to move from active duty to the National Guard.
"We just loved Washington," Tuohy explained. " We had all the seasons, great weather, and really good friends in Seattle. We just kept seeing the opportunities. I had been handed my next assignment on active duty and it was Minot, North Dakota. After a conversation with my wife, we weren't looking forward to that."
Around that time he discovered the 141st Air Refueling Wing.
"I would see these guys come in every drill weekend, they just looked happy, fulfilled, and I was interested in this Guard thing," said Tuohy. "I decided to join Det. 1, Air Guard Headquarters on Camp Murray and never looked back."
Over the next five years, Tuohy served part-time and worked full-time in pharmaceutical sales, but admits that something was missing.
"Putting the uniform on during the weekends was a high point, I knew I liked that feeling," said Tuohy. "So when the 111th Air Support Operations Squadron job came along, my wife asked if I would be happier."
Giving up a high salary job with a company car, bonuses, gifts and an expense account was tough, but he had a passion for working with airmen, and the 111th ASOS gave him the opportunity to work with airmen fulltime.
"I knew I would be happier, and we made the decision to switch from part-time to full-time Guard," said Tuohy. "My wife was the driving force. She knew my passions and was there to support it."
Over the next 19 years, Tuohy worked in a variety of positions, in the Air National Guard and in the Joint Force Headquarters. While serving as the Joint Chief of Staff, he played an instrumental part in assisting Maj. Gen. Tim Lowenberg, the adjutant general, to strengthen the new formalized partnership with the Kingdom of Thailand. He also helped stand up the newly formed 10th Civil Support Team and developed the future structure that would later become the Homeland Response Force.
"Knowing you are helping in your own backyard and really the United States was very rewarding," said Tuohy.
While commanding the newly formed 194th Regional Support Wing (now 194th Wing), Tuohy was selected to be the Washington National Guard's United States Property and Fiscal Officer, a position that required him to manage and oversee more than $1.3 billion in equipment, property and funds. Tuohy also believed that this was his last assignment before retirement.
"I was 100 percent retired after my time as USPFO," he said. "I was ready for it and thought that this is the final stop. Then, unexpectedly, I was selected for the Assistant Adjutant General position and it was very rewarding."
In November of 2013, then Col. Tuohy was sworn in as the commander of the Washington Air National Guard and Asst. Adjutant General.
"I felt I needed to set the tone right away for all 2,000 Air National Guardsmen. I was telling them every time I could, just stick to the core values. Integrity first, service before self and excellence in all we do," said Tuohy. "Just apply those three things and you will be successful."
During his time as the Assistant Adjutant General, Brig. Gen. Tuohy led the Air National Guard through multiple state emergencies, including the devastating State Route 530 landslide and multiple historic wildfire seasons. His reputation as a responsible leader and masterful communicator led to a by-name request to serve on the Fiscal Stewardship Working Group tasked by the Chief of the National Guard Bureau to write the fiscal stewardship comprehension plan for the National Guard of the United States. Additionally, he balanced the largest contingency deployments of Washington Airmen to date and the first Air National Guard activation and employment of a cyber protection team, while simultaneously spearheading a cyber schoolhouse initiative.
"I always told everyone, do the best job you can do, no one expects perfection," said Tuohy. "Follow the MAP – mission, accountability and people and you will do just fine."
In addition to his duties with the Washington Air National Guard, he also led the team at the Washington Youth Academy, a school for at-risk teens, where he helped speak to youth at graduation events and during drill exercises and proved an excellent role model.
"Become someone," Tuohy told cadets during one of his last speeches. "The good Lord made you for a purpose. Fulfill it. Don't let anyone tell you that you can't do it. Don't let anyone tell you 'no,' and, most important, don't tell yourself 'no.'"
On Aug. 13, 2017, exactly 39 years to the day he swore an oath to support and defend the constitution of the United States as an officer in the U.S. Air Force, Tuohy passed the guidon to Col. Jeremy Horn, and retired from the Washington Air National Guard.
"Brigadier General Tuohy has served with great success, clearly, at all levels of command, as well as serving as our Human Resources Officer, our Chief of Staff of the Joint Force Headquarters, our State Partnerships Director in the early years when we got things going with Thailand, and our United States Property and Fiscal Officer," said Maj. Gen. Bret Daugherty, the adjutant general, Washington National Guard. "His hallmark successes include being the very first commander of the 194th Wing, along with pioneering an initiative for a joint cyber training schoolhouse to safeguard our critical infrastructure here in the state."
Daugherty's comments highlighted Tuohy's career, but his closing comments highlighted his life.
"Winston Churchill once said, 'We make a living by what we get, but we make a life by what we give' and John Tuohy, I believe, is the embodiment of that sentiment."
Tuohy credits the support he received from his wife and family for much of his successful military career. He also acknowledges his mentors, the late Maj. Gen. (Ret) Tim Lowenberg, Maj. Gen. (Ret) Frank Scoggins, and Maj. Gen. (Ret) Gary Magonigle for their outstanding leadership. Just as important, Tuohy is also thankful for the airmen he worked with.
"Recognize your airmen, let them know you love them, you care about them," said Tuohy. "Encourage them when they do well, but correct them when they need it and most importantly have fun."
Since retirement, Tuohy has found enjoyment taking trips to Florida, spending time with his grandkids and relaxing on the ranch with the real unsung hero of his story, wife Leeann.
"She is the real hero, I went to the office every day, and she managed everything at home," Tuohy said. "I was humbled and honored with the privilege of working with the finest airmen I have ever known."
---