161st Infantry Regiment History Presentation at Camp Murray
---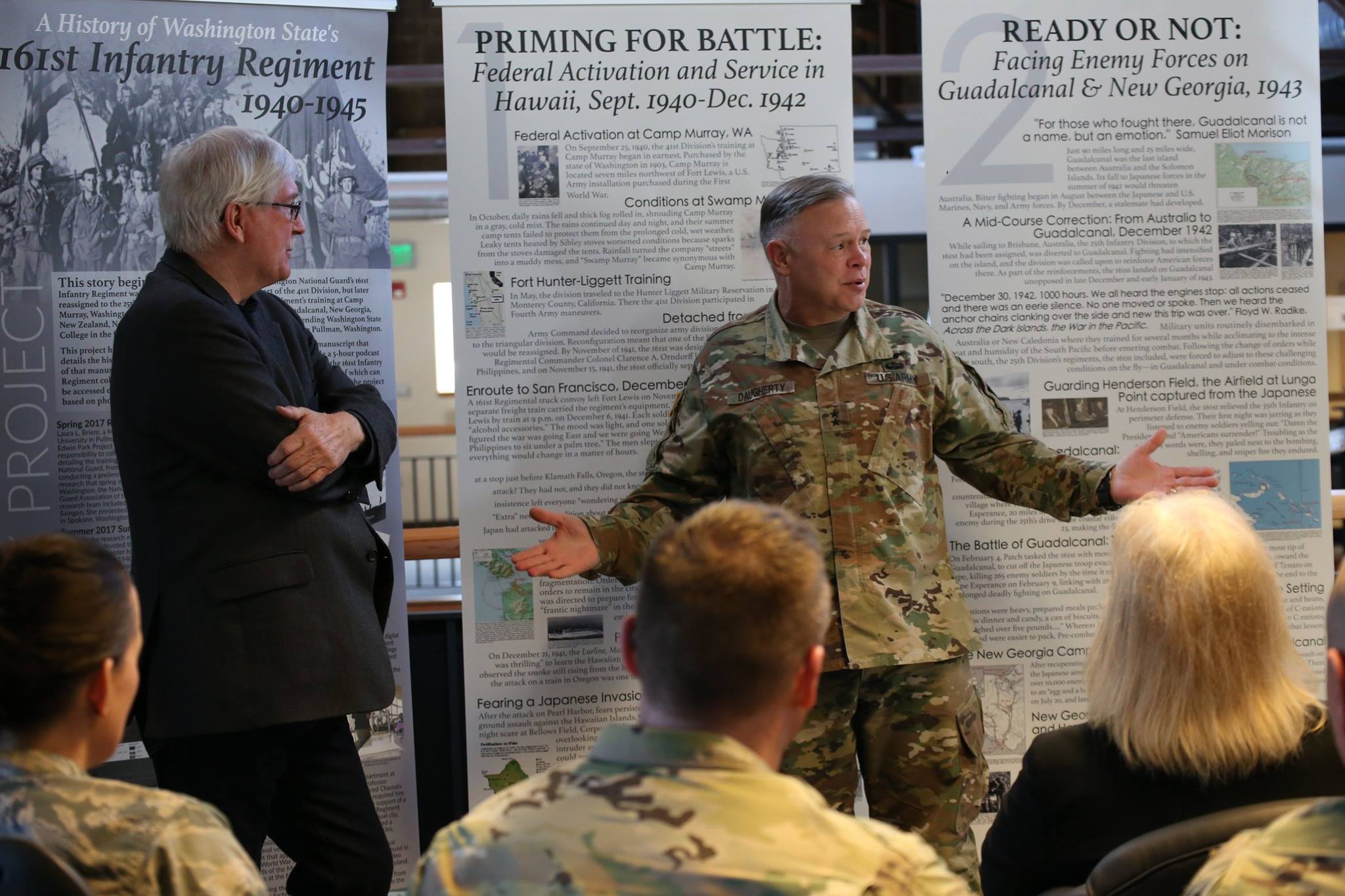 Maj. Gen. Bret Daugherty addresses the audience after the presentation on Saturday, March 3, 2018 at the Museum on Camp Murray, WA.
Ed Park experienced a time in history he fears is quickly fading.
As an 18-year-old college student in Pullman, he had dreams of completing his Engineering degree and starting a career. That goal was sidelined when the United States Department of War activated his Washington National Guard unit, Company E, 161st Infantry Regiment, to support World War II.
Since then, the 95-year-old has lived an entire lifetime others would dream of. He completed his college degree, married and started a family. He had a successful career with the U.S. Air Force and after retiring from the military, worked for NASA.
But he still remembers the day he traveled to "Swamp Murray" to train for his mobilization to the Pacific Theater. And he wants to ensure future generations learn about an important piece of our past.
To help preserve a piece of our state and nation's history, Park funded a research project conducted by students at Washington State University. He asked that they look into and document the history of his unit's activation during World War II.
In spring 2017, Dr. Orlan Svingen and graduate students Laura Briere and Jared Chastain accepted Park's request and began their research. Their first stop was Camp Murray and the Washington National Guard Museum.
"The Guard museum opened their doors, and allowed Laura and Jared to research," said Svingen. "That was just our starting point."
Over the next nine months, Dr. Svingen, Briere and Chastain, along with another student, Peter North, conducted research across the country, working on the unique request, uncovering never-before-seen World War II footage, discovering unique facts about the 161st Infantry Regiment and building a 240-page manifest for Lt. Col. (Ret) Park.
"His request to us was that we needed to share whatever findings with the Washington National Guard at Camp Murray," said Svingen. "He wanted to have this history spread through his old unit."
On March 3, 2018, Dr. Svingen and his team had the chance to present the manifest, slide presentation, graphic illustrations and stories with Maj. Gen. Bret Daugherty, the adjutant general, Washington National Guard and nearly 60 other Washington National Guardsmen in attendance at the Camp Murray Museum.
For an hour, the research team presented facts, stories and displayed videos pulled from the National Archives.
"The interesting thing about this presentation is Laura didn't know a Colonel from a Corporal, and now she knows more about the 161st than soldiers that serve in the unit today," said Svingen.
At the end of the presentation, Daugherty addressed the crowd, awestruck with the amount of research that was pulled by the team.
"You have presented us with an amazing gift," Daugherty said. "As a former history teacher, I know how much goes into research and this is an unbelievable amount of work."
The Washington State University 161st Infantry History Project has already been requested to be presented in Pullman to the classes from 1950 – 1960 during their "Golden Reunion." Lt. Col. Paul Sellars, Commander, 1st Battalion, 161st Infantry Regiment, also made the request to have his unit listen to this presentation.
Sellars added, "There is a lot our Guardsmen can learn from our unit's history, who we are, where we have been and what they did to build our legacy."
To learn more about the project go to the History Project Page
---