Guard unites for peer-to-peer support training
---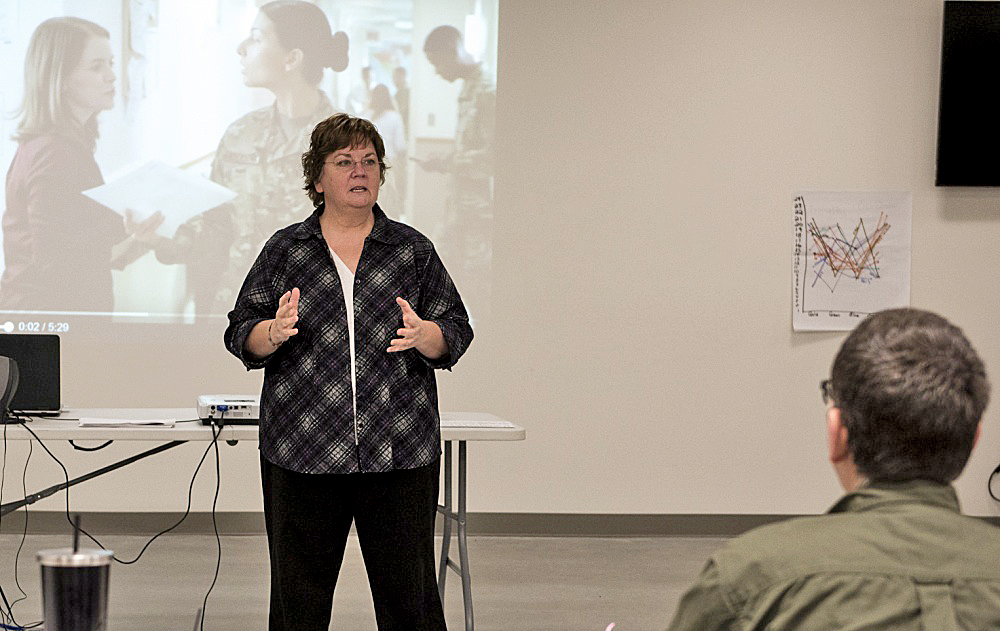 Peer-to-peer program trains guardsmen to craft support team to get through a crisis
By Staff Sgt. Rose M Lust
141st Air Refueling Wing
A classroom of peer-to-peer support team members listen as two participants enact a scenario that could feasibly be encountered in real-life.
In the scenario, an airman is struggling with marital and financial issues at home and it is affecting their ability to do their job. A peer support team member engages the airman to talk about their issues and to offer help. Once the scenario is complete, the class discusses what they liked about the role play and offer possible suggestions for improvement to the peer support team member.

Peer-to-peer is a uniquely joint program between the Washington Air and Army National Guard that aims to train guardsmen in building a support team to provide assistance through a crisis or challenges in one's life.

Marcia Richard, the director of psychological health at the 141st Air Refueling Wing, Fairchild Air Force Base, Wash., facilitates each peer-to-peer training alongside Lynn McKinnon, the DPH at the 194th Wing, Camp Murray, and U.S. Army Staff Sgt. Adam Zangenberg, the Resilience, Risk Reduction and Suicide Prevention program manager at Camp Murray.

"The need for peer support is there; you never know what someone is going through or when a crisis will arise," Richard said. "Not everyone has the natural ability to know what to do or say after seeing that someone is in distress or begins to cry. Our training is skill-based, so we teach you those skills on what to do after someone opens up to you and where or who they may be referred to."

The training is held over a period of two days and covers a wide range of topics like intervention, conflict resolution, substance abuse, suicide prevention and communication skills, among other topics that someone may encounter with another peer in a real-life situation. Participants observe and learn techniques and talking points on how to navigate through a difficult situation and are then able to go through scenarios with facilitators and other trainees in the class to gain practical experience.

"There is a lot of interaction," Richard said. "There are open discussions and simulated situations that incorporates all of the skills we teach throughout the training."
Mary Thomas, the Airman and Family Programs Manager at the 141st ARW facilitates, a research-based personality test, at each peer-to-peer training event, and has been assisting with the program since 2009.

"Being in the military, there are some things that you can't tell your spouse or a professional because perhaps they can't relate or you simply aren't allowed to," Thomas said. "So where do you go when you need to talk to someone? You turn to your wingman; peer-to-peer is an extension of the entire wingman concept."

The benefits for the wing are twofold, said Richard. We have a pool of trained individuals who will step up when in need, but those individuals can not only take the skills they've learned back to their units, but to their family and friends as well.

"The biggest feedback I get is that not only are guardsmen reaching out to their peers and co-workers, but they're taking these skills home and using it with their families," Richard said. "I'm hearing people talk about improved relationships with their children, spouses, and their friends."
According to Richard, since the inception of the program, reports of suicidal ideations have increased across the Washington National Guard, which equates to guardsman coming forward and seeking help, rather than harming themselves.

Reaching out to a peer support team member is up to each individual, but they must keep in mind that in some situations they are mandatory reporters and have a legal obligation to report any suspected abuse or self-harm.

Training events are held three times a year and rotate between Fairchild Air Force Base, Camp Murray, and at the Yakima Training Center in Yakima.
For those wanting information on how to become a peer-to-peer support team member, please contact Marcia Richard at (360) 247-7087.
---