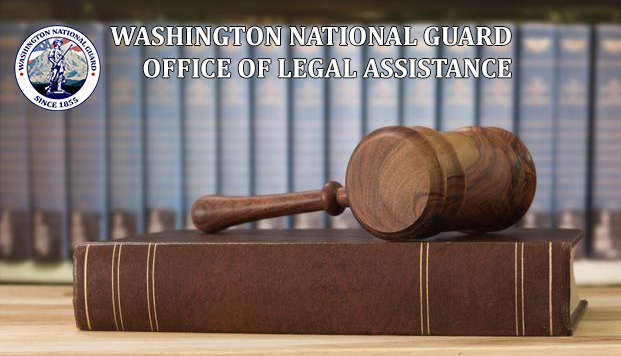 WASHINGTON NATIONAL GUARD JAG / LEGAL ASSISTANCE OFFICE
Mission: The Washington National Guard Office of Legal Assistance is committed to helping soldiers, retirees, and their family members by providing no cost legal advice and assistance in preparing legal documents.
Legal assistance attorneys will not appear in civilian courts or give advice concerning private income producing activities. Within these limitations, the legal assistance attorneys and staff may provide legal counseling, draft letters, draft wills and powers of attorney, provide notary service, negotiate legal disputes with third parties, review and explain legal documents (sales contracts, leases, court papers, etc), provide pro se assistance in limited situations, or make referrals to civilian attorneys when appropriate.
---
JAG / LEGAL ASSISTANCE HOURS
The Office of Legal Assistance (OLA) is open daily Monday through Friday from 0800 to 1630
Clients are strongly encouraged to call 253-512-8262 to make an appointment.
All clients are required to fill out a Consultation Form-Electronic prior to consultations.
Location/Contact Information:
Phone: 253-512-8262

Email Us:

Address: Bldg. 21, Camp Murray, Tacoma, WA 98430
---
Looking for Trail Defense Services? Click Here