Youth Academy teams with Junior Achievement for financial literacy
---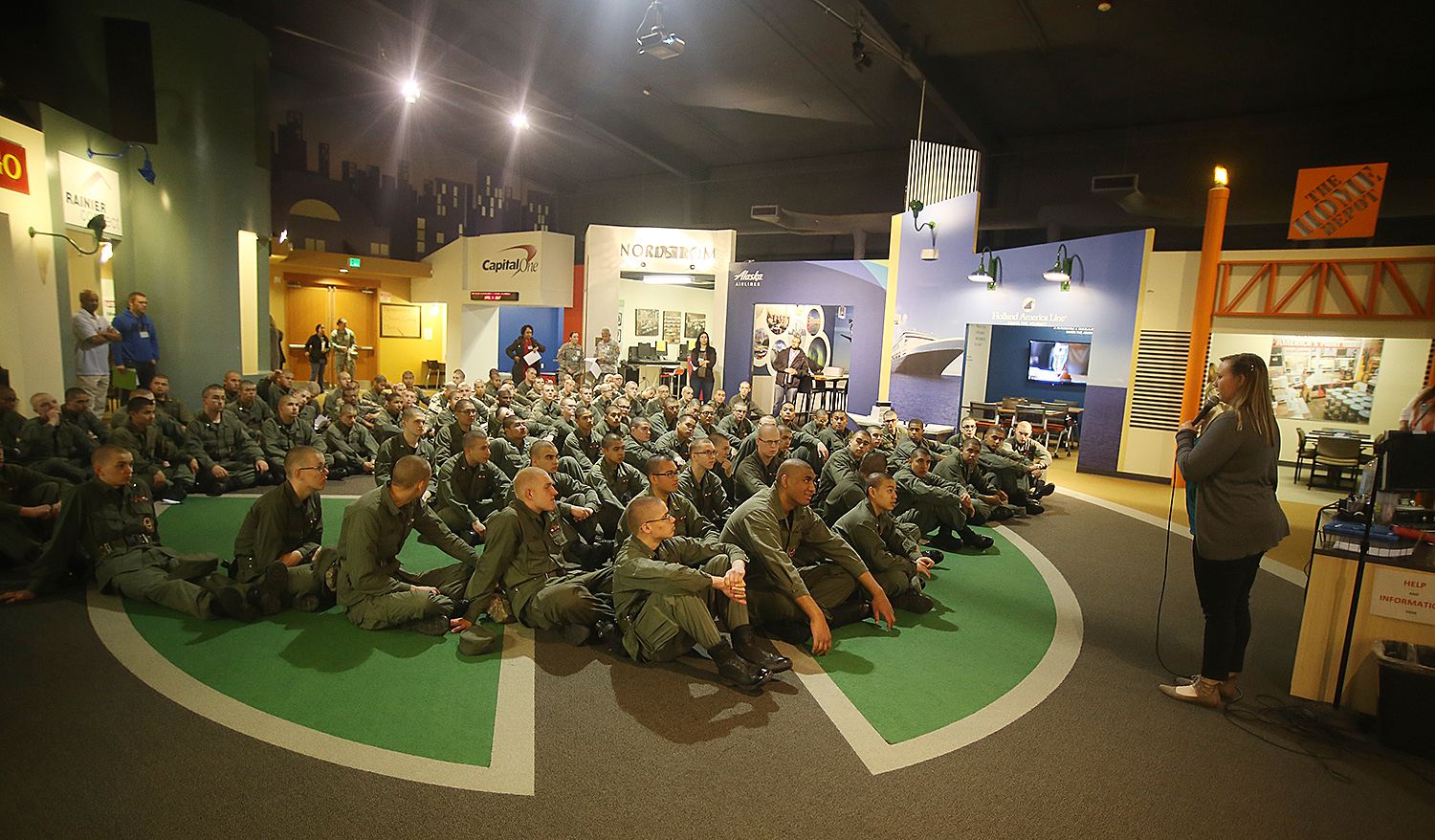 Alissa Nicholson of Junior Achievement of Washington talks with cadets of the Washington Youth Academy
at Junior Achievement's Finance Park in Auburn.
Youth Academy teams with Junior Achievement for financial literacy
Cadet Ethan Wallace was facing a dilemma: Does he buy a house or does he rent? If he rents, then the insurance is less and then he can afford high speed Internet – and work from home, maybe saving expenses. If he buys a home, then he can build up equity – but then he'd have to slash his budget all over the place.
It sounds like some key choices someone in their 30s might have to face, but Wallace is a high school junior who is a cadet at the Washington Youth Academy. He's at the Academy because he says he made some poor choices, was late for classes and just never did his homework when he was a student at Auburn High School. Now, he's on track to graduate from the Academy in June with a whole lot of credits to let him return back to AHS to finish his education.
The exercise was part of Junior Achievement's Finance Park in Auburn, where thousands of students from all over the region have a chance to deal with real life budget scenarios. The Youth Academy has been sending cadets to the finance park for the all-day exercise for the past few years.
Wallace, like all of his peers spending the day at the facility, was given a real world persona – single dad in his 30s with a kid and a job as a software developer. Then, he was given a salary and a debt. He was told how much in credit cards and college loans he had to pay off and he was told that he still had to figure out a way to pay for housing, food, insurance, utilities, clothing, education, health care – plus entertainment, if there was anything left.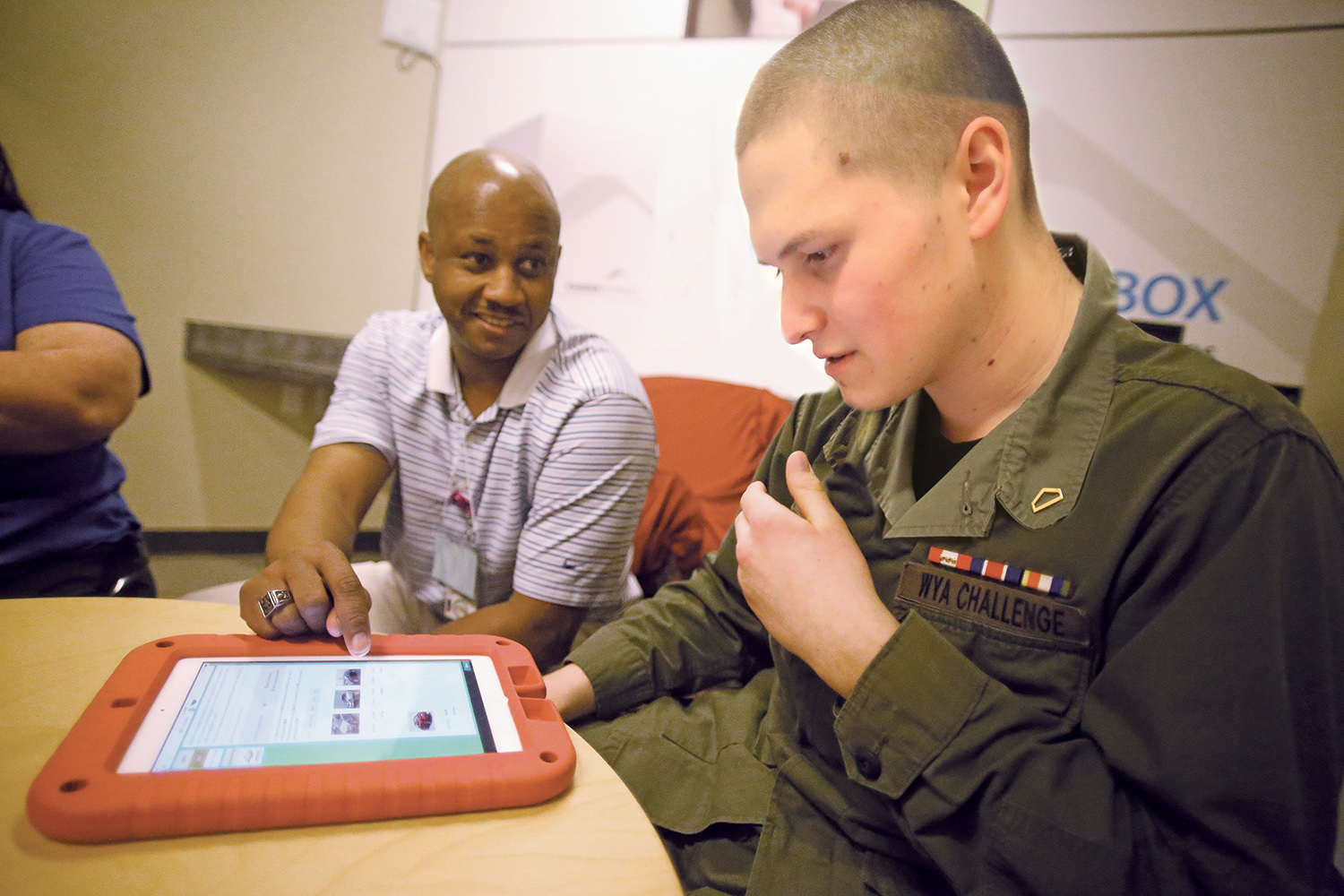 Darwin Wiggins, a case manager at the Washington Youth Academy, provides guidance to
Cadet Ethan Wallace of Auburn.
The financial education part starts in the classroom, where teachers encourage students to think before they spend money and how to budget. Teachers talk about taxes and careers and saving money for emergencies and college.
But the real world part of the class comes at Finance Park in Auburn, an elaborate simulation where sponsors have crafted individual storefronts for students to learn messages about life – everything from Alaska Airlines talking about entertainment and vacations to Chevrolet talking about cars. The goal is to give students a solid foundation for making intelligent, personal-finance decisions throughout their lives. As luck would have it, April was also National Financial Literacy Month.
Darwin Wiggins, a case manager at the Washington Youth Academy, made it pretty simple for Wallace: "Don't focus on the expensive cars. Focus on your family. Focus on what you need, not what you want."
Wiggins says that it's one thing for the cadets to be taught something in a class, but quite another when confronted with how to do a real budget.
"These lessons can really stick with the cadets when they're confronted with real choices," Wiggins said.
The Academy pays $15 per student and the Junior Achievement of Washington nonprofit picks up the rest of the costs in sponsorships and donations.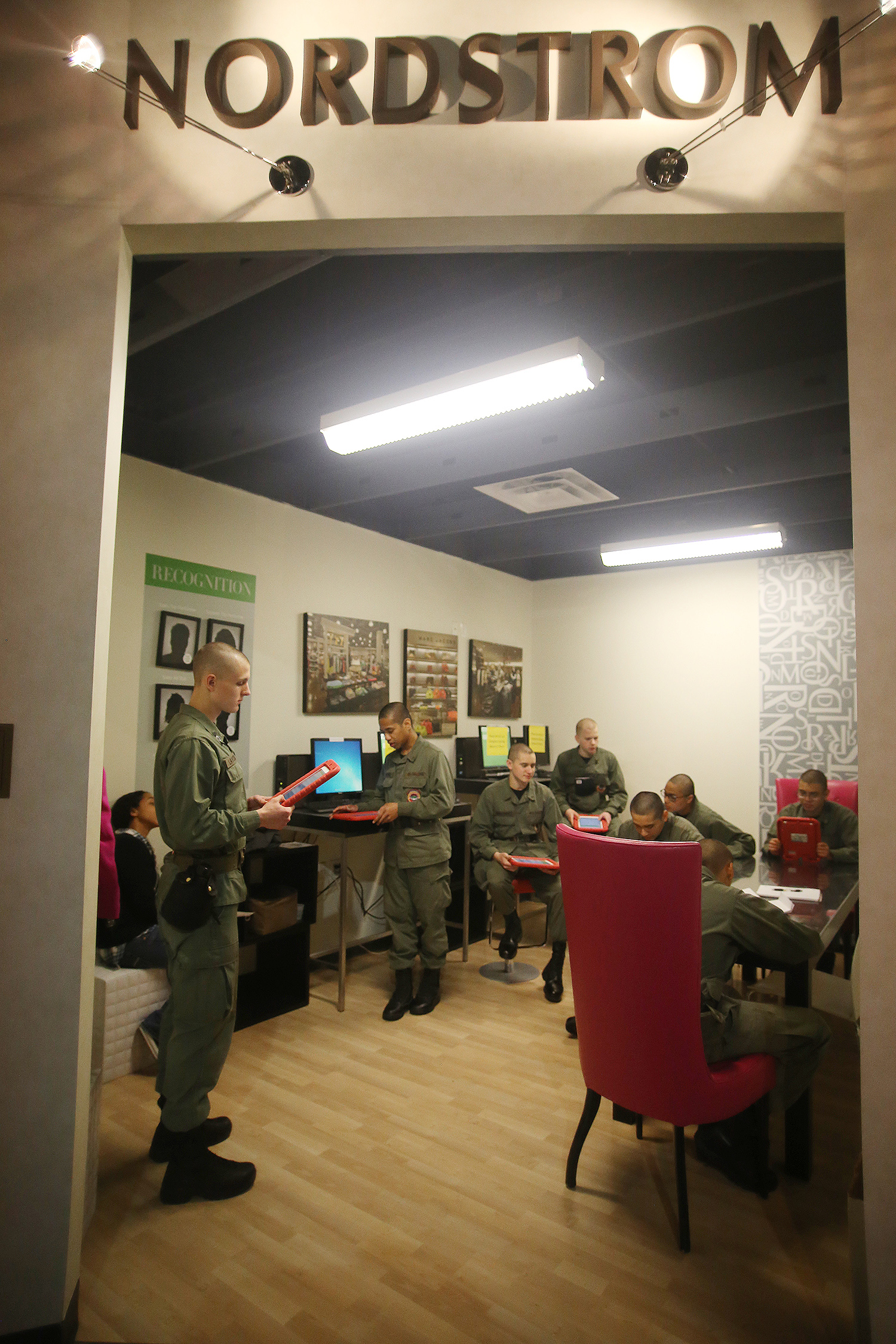 Sponsorships at Junior Achievement of Washington helps support
financial literacy education.
Washington Youth Academy Director Larry Pierce says the Academy chooses to use the Junior Achievement financial literacy education because there's proof that it works.
"I've had cadets come to me after graduation and say that the lessons they've learned stay with them as they move through life," Pierce said.
The Washington Youth Academy is more than just helping at-risk teens gain back high school credits to graduate. The financial literacy component helps the Academy instill teens with life coping skills, job skills and responsible citizenship – three of the core components of being a successful cadet.
Junior Achievement advisers point out that more than three quarters of renters between the ages of 18 and 24 spend more than they earn every month, citing a 2014 rent.com survey. And young adults are racking up credit card debt at a more rapid rate than other age groups and they're slower at paying it off, citing an Ohio State University 2015 study.
Cadet Michael McCluskey says the hardest part for him was not getting to buy the things he really wanted.
"Every time I turned around, I saw something, like, 'I want that!'" he said. "Even though you wanted it, you couldn't get it. So, you needed to decide on what you needed, not what you wanted."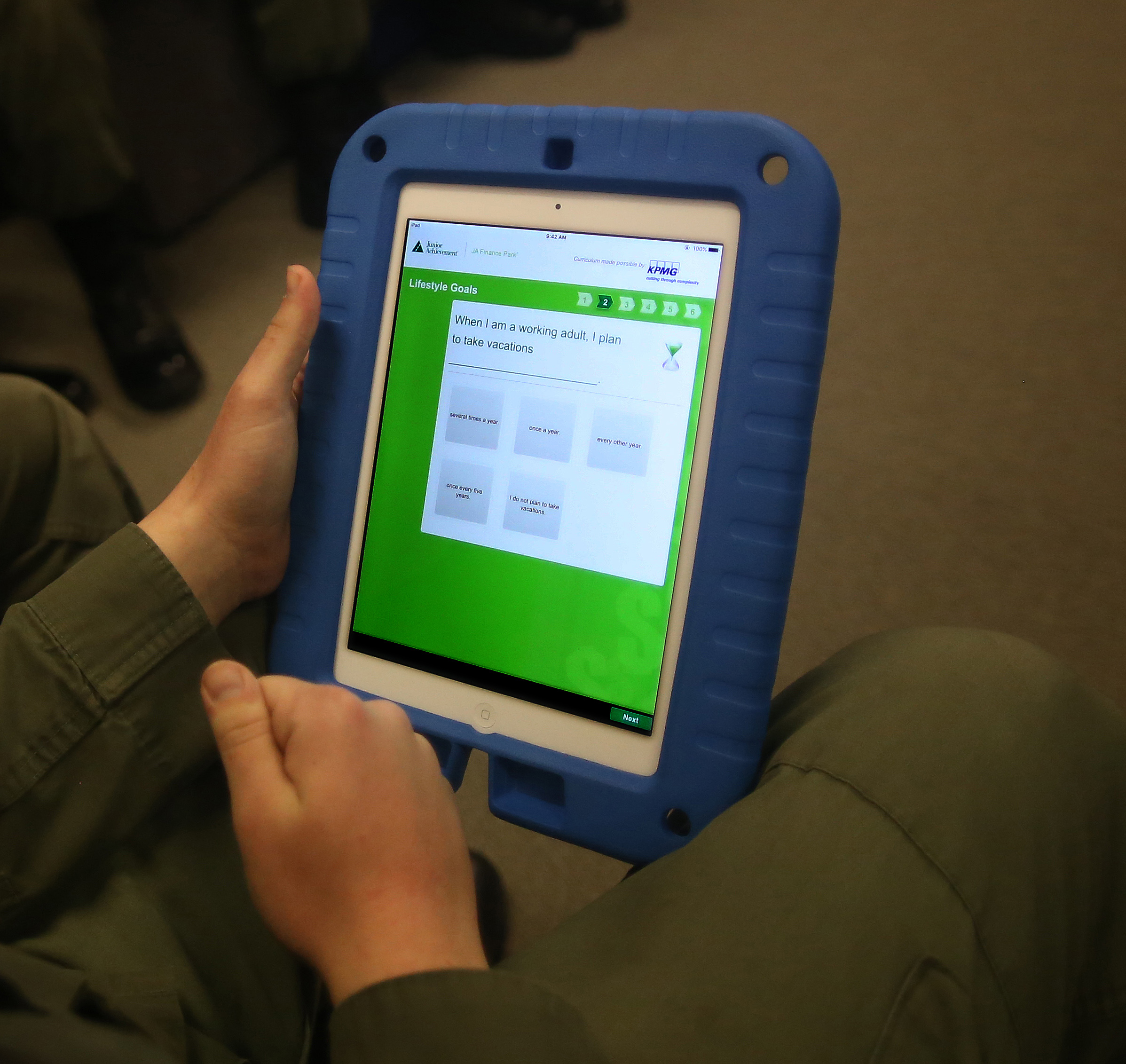 New tablets replaced the pen and paper method of budgeting.
Cadet Justin Deyot added, "I really learned that I don't want kids and I don't want to get married. I had to pay for all these things for my child and my spouse, before I could pay for things for myself. It tripled the price of everything."
Many of Deyot's fellow students shouted out in agreement that to get the cars – and shoes – of their dreams, they wanted to stay single and childless for as long as possible.
Cadet Jonathan Sharp said the scenario made him 33 years old with two kids.
"I never realized how much kids really cost," he said. "Childcare was the majority of my paycheck."
Sighing a bit, and acknowledging all the times he asked his mom for things they couldn't afford, he added, "Sorry, Mom."
"You can't rely on your parent's money 24-7 and you're going to have to make some difficult choices when you grow up," McCluskey said. "No matter how hard your choices are, you basically have to push through and always have a plan because if you don't have a plan, then you're going to fall behind. And if you're in debt, then you're going to be poor. You have to get through life one day at a time, but also have a plan at the same time."
---