Redlegs train on new M777 Howitzer at Joint Base Lewis McChord
---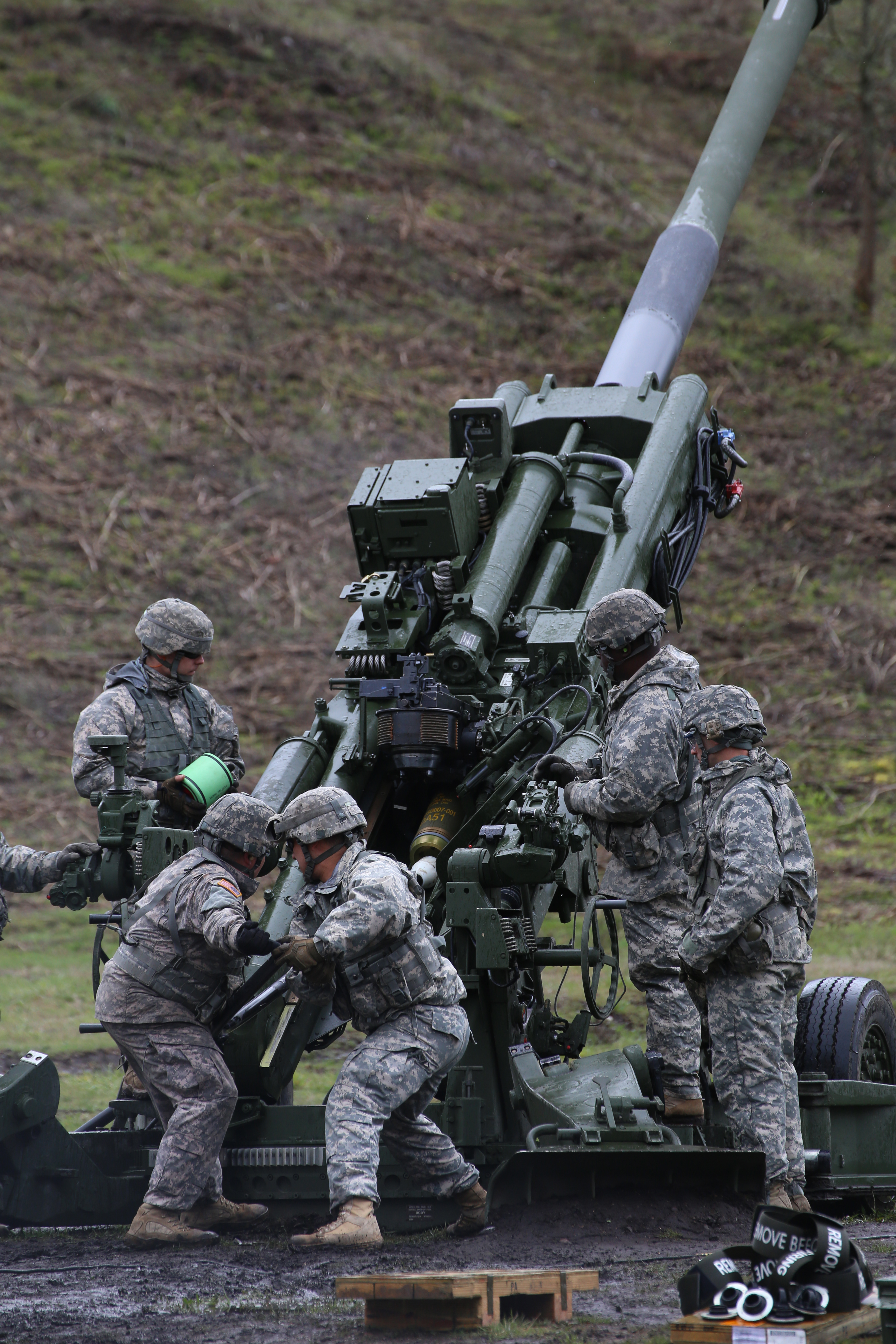 The breach opens, a pair of cannon crewmen load one 155 millimeter caliber artillery round into the chamber of the 35 foot weapon. The smell of gun powder lingers in the air as the team prepares for the inevitable blast that will shake the nearly five ton M777 Howitzer backwards and forwards.
The gun chief screams ready, the lanyard is tightened and with a quick movement, the 95 pound round is shot nearly four miles over the Joint Base Lewis-McChord impact area and with a thunderous boom the round makes impact and dirt and dust fly up into the sky.
It's just another day of doing what the Redlegs from 2nd Battalion, 146th Field Artillery Regiment do. For many though this is the first time they have fired the M777. Part of the on-going Stryker transformation called for the unit to trade their M109 tracked howitzers for the more versatile towed behind M777.
"It's been a little bit easier [transition] than we thought it would be," said Lt. Col. Jack Mushallo, battalion commander, 2nd Battalion, 146th Field Artillery Regiment. "The M777 has a lot of the same systems as the M109 with the biggest difference being that the new howitzers require more manual operations than the old M109."
The M109 Howitzer is much like a tank — soldiers sit inside and simply stop if they need to deploy any rounds. The M777 must be towed and is completely inoperable until it is assembled.
"The biggest change is probably that everyone's involved, it's a young man's game because it's physical," Mushallo said. "Before the [M109 Howitzer] did it all aside from lifting the rounds in, you didn't have to traverse any wheels or dig spades in and it wasn't as physical. This is a lot more physically demanding than the [M109]."
Even with the increase in manual labor, soldiers of the 146th are still excited about the new equipment, learning how to operate it and getting to work as a full team to operate the M777.
"It's something new, it's something exciting," exclaimed Sgt. Gerardo Najera. "This is my first time actually firing one of these and being a chief on it so it's exciting."
The gun chief is responsible for overseeing his crews operation of their howitzer.
"I have to make sure everything is on point. If anything gets messed up it's on me so I pretty much have to verify my whole gun section," Najera explained. "I verify that we use the right fuse, right ammunition and right powder. I verify that we're laid right, I verify anything pretty much that has to do with the fire mission; I verify everything."
A gun crew consists of seven to10 soldiers who must work together cohesively to properly operate the new M777. The amount of communication required when operating the new weapons is vitally important, leading to better team work and stronger bonds throughout the 146th.
"Now every single soldier that's on this crew has a job, and it takes all of them working together to operate the howitzer effectively," said Mushallo. "It's like a symphony, the conductor needs to know what everyone is doing and everyone is working together as one team, one unit."
---