What to know before the next flood, landslide
---
(Our flood series talks about pumping out a flooded basement, food safety after a flood, flood insurance & more)
Western Wash prone to slides, flooding this week
Record and major flooding is forecast for chunks of Western Washington this week and as the rain continues to saturate the earth, the landslide risk is higher than ever. Just six inches of swiftly moving water can knock people off their feet. Cars are easily swept away in only two feet of water. Mudslides and landslides can damage or demolish homes, and injure or kill occupants. Slides can start on slopes as low as 15 degrees, but faster and more dangerous on steeper slopes. Slides often exceed 20 mph and can approach 100 mph. Our thoughts are still with those killed at Oso by the devastating landslide.
FLOODS
Before a flood
Find out if you live in a flood prone area and identify where dams are in your area.
Know the terms Flood Watch, Flash Flood Watch, Flood Warning, Flash Flood Warning, and Urban and Small Stream Warning.
Plan for evacuation.
Consider purchasing flood insurance (although, there's a 30-day waiting period).
Take steps to flood proof your home. Call your local building department or emergency management office for information.
Keep all insurance policies and your household inventory in a safe place.
Review the National Weather Service's flood alerts.
Sign up for your local emergency management notification listing. If you don't see yours here, contact your local officials.
During
Listen to radio or television stations for local information. We're also providing general updates on Twitter here.
Be aware of streams, drainage channels and areas known to flood suddenly.
If local authorities issue a flood watch, prepare to evacuate.
Secure your home. If time permits, also secure items located outside the house.
If instructed, turn off utilities at the main switches or valves.
Fill your car with fuel.
Fill the bathtub with water in case the water supply becomes contaminated or services are cut off. Sterilize the bathtub first.
When deep flooding is likely, permit the flood waters to flow freely into your basement to avoid structural damage to the foundation and the house.
Turn around, don't drown! No need to drive or walk through flooded waters.
After
Stay away from flood waters.
Stay away from moving water six inches can easily sweep you off your feet.
Be aware of where waters have receded and may have weakened road surfaces.
Stay away from and report downed power lines.
Stay away from disaster areas unless authorities ask for volunteers.
Continue listening to the radio for information about where to get assistance.
Consider health and safety needs. Wash your hands frequently with soap and clean water if you come in contact with flood waters.
Throw away food that has come in contact with flood waters.
Call your insurance agent.
Keep records of all clean up and repair costs.
Take photos of or videotape your belongings and your home.
Don't throw away damaged goods until an official inventory has been taken.
SLIDES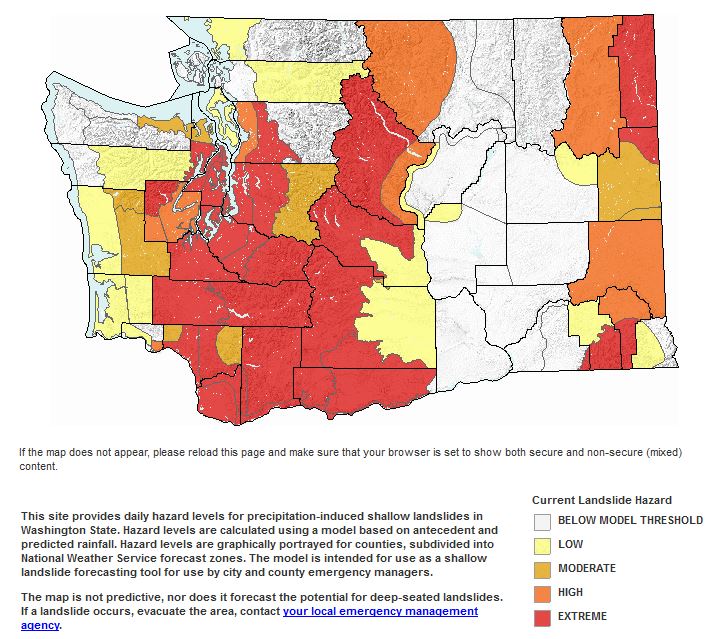 Map of 12/8/15 courtesy state Department of Natural Resources.
What to watch for before a slide
Mud- and landslides often occur without warning and sometimes in areas where they have never been seen before.
To be safe, assume that all drainages in steep, hilly or mountainous areas could have mudslides or landslides.
Stay alert to the amount of rainfall during intense storms. Buy a rain gauge and install it where you can check it frequently.
Whenever rainfall has exceeded 3 or 4 inches per day or 1/4 inch per hour, the soil may be logged and more rain could trigger a mudslide.
Any sudden increase in runoff is cause for concern.
Watch for new springs or seeps on slopes; cracks in snow, ice, soil or rock; bulges at the base of slopes; the appearance of holes or bare spots on hillsides; tilting trees; or increased muddiness of streams.
Listen for unusual rumbling or noises that may indicate shifting bedrock or breaking vegetation.
If a slide occurs
Evacuate from the slide area immediately.
Call 911.
Do not go back inside your home until it is declared safe by authorities.
After a slide
If you smell gas or hear a hissing sound—open a window and leave the building. Shut off the main gas valve outside.
If there is electrical damage—switch off the power at the main control panel.
If water pipes are damaged, shut off the main water supply valve.
Do not flush toilets until you know that sewage lines are intact.
Contact disaster relief services if you need housing, food, etc.
Clean up spilled medicines, bleaches and flammable liquids.
Clean and disinfect items that got caught in the slide. The mud left behind by slides could contain sewage and chemicals.
Photograph and inventory your home and damaged goods.
If you have insurance, call your insurance agent.
Keep records of all clean-up and repair costs.
If you are a tenant, notify the landlord.
Report your slide to USGS here.
---