Washington's Armored Brigade Combat Team to convert to Stryker Brigade
---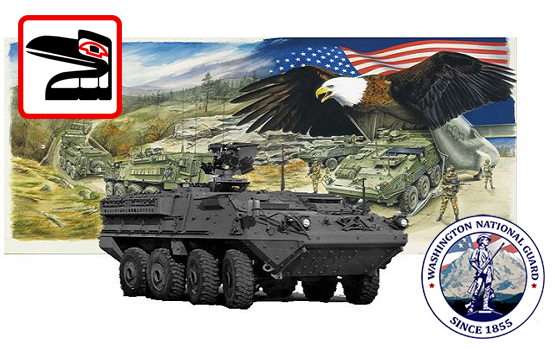 Contact: CPT Joseph Siemandel
Phone: (253) 512-8989
Email: pao@washingtonguard.org
Washington's Armored Brigade Combat Team to convert to Stryker Brigade
CAMP MURRAY, WA – On July 9, the Department of Defense announced its plan to convert the Washington National Guard's 81st Armored Brigade Combat Team, which currently operates M1A1 Abrams Tanks and Bradley Fighting Vehicles, into a Stryker Brigade Combat Team.
"This is a huge win for Washington state," said Major General Bret Daugherty, the state's adjutant general and commander of the Washington National Guard. "Our tanks and Bradleys are critical for our federal mission, however, they're too heavy to move on our local roads making them almost useless following a state disaster. The Strykers are a more mobile, versatile vehicle that will ensure the Washington National Guard can get out into our communities and perform its mission to save lives and protect property here at home. That ability will be especially important following a Cascadia Subduction Zone earthquake and tsunami. The conversion also aligns us more closely with our partners at Joint Base Lewis-McChord, enabling our soldiers to receive unique training to help prepare for any future overseas deployments."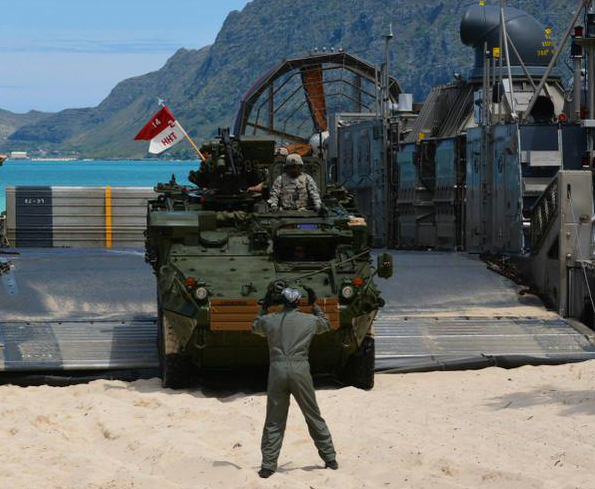 A Stryker unit is shown in Hawaii in May. (U. S. Army Photo. )
"This was a huge undertaking that took years of hard work and collaboration," Daugherty continued. "I met personally with every member of our Congressional delegation to stress the importance of this conversion and appreciate their ongoing efforts to make this happen. Governor Inslee was a strong backer of this proposal and an important advocate on our behalf. And our state Legislature and local elected leaders and civic organizations helped emphasize the benefits to both our state and nation. I truly appreciate everyone's assistance and support, and look forward to working with our partners to ensure a successful conversion."
Washington will become just the second state to have a Stryker Brigade within its National Guard, joining the Pennsylvania National Guard's 56th Stryker Brigade Combat Team, which converted in 2006.
The 81st Brigade, headquartered in Seattle, is the largest brigade-sized element in the Washington National Guard, responsible for more than 3,200 Guardsmen stationed in Washington and 600 in San Bernardino, California. The brigade deployed twice in support of Operation Iraqi Freedom (2004-2005, 2008-2009).
The citizen-soldiers and airmen of the Washington National Guard are dedicated to the mission of safeguarding lives and property in Washington state, and serving as sentinels for freedom overseas.
---