Washington strike teams on the way to help California wildfires
---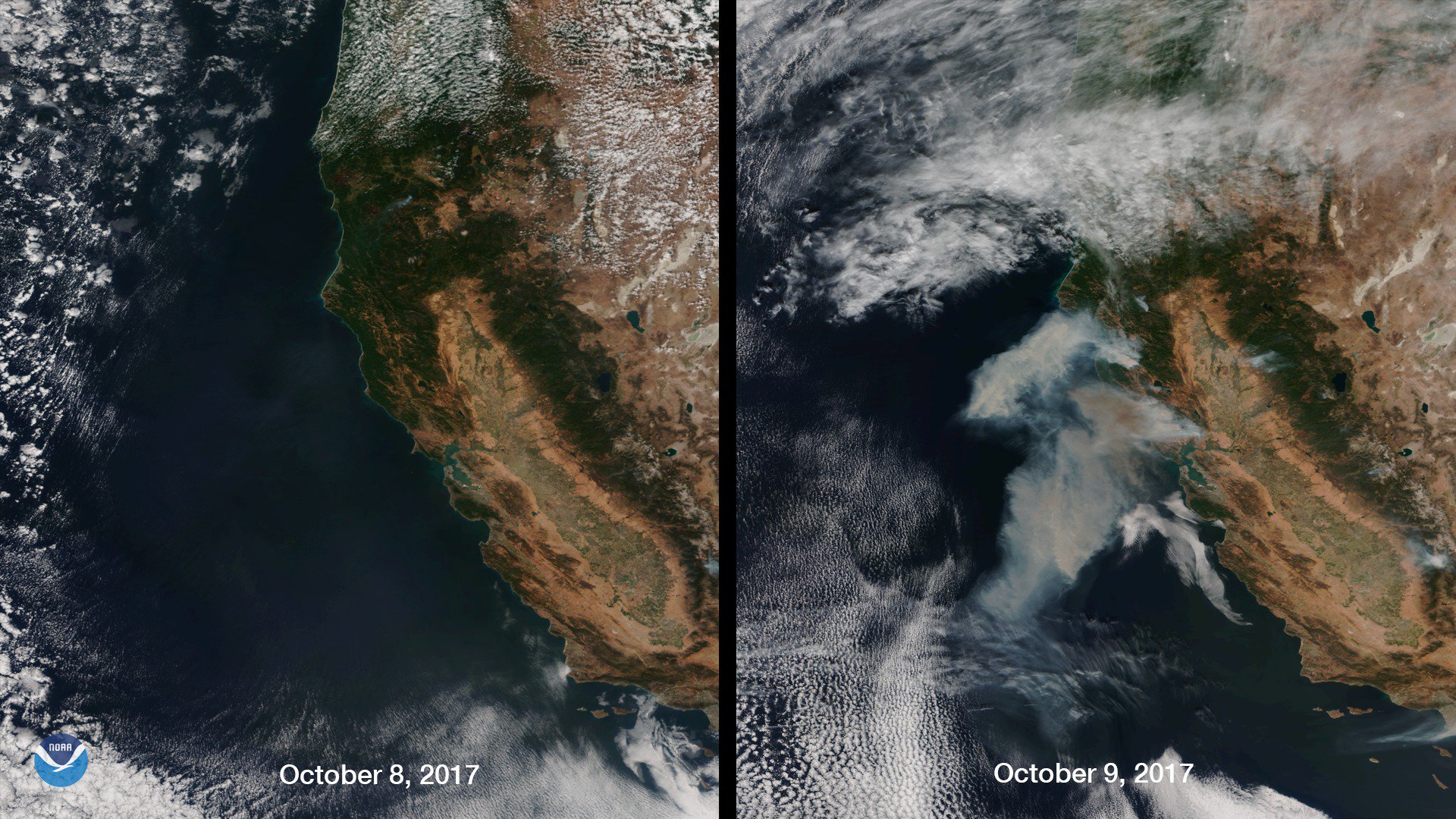 The California Wildfires ignited and spread quickly. Satellite imagery captures change over just one day. (NOAA Satelites)
Washington strike teams on the way to help California wildfires
Fire agencies from across Washington state are sending dozens of fire engines and crews to the wildfires in California under request from the Emergency Management Assistance Compact (EMAC), a nationally adopted mutual aid agreement among states to share resources during times of need.
There are 50 fire engines and two command vehicles that are being dispatched on Oct. 13 to California with 193 firefighters from 45 fire departments / fire districts across the entire state of Washington. Altogether, the forces will combine into nine strike teams, according to Washington Emergency Management Director Robert Ezelle.
"Firefighters from across the state came together to form the strike teams," Ezelle said. "They are on the road now and should arrive at their staging areas tomorrow."
Ezelle said Washington state stands ready to also assist our California partners if they need help with recovery efforts.
Firefighters began battling multiple wildfires on October 9 in numerous counties across California, prompting mass evacuations, according to the California Office of Emergency Services, which posts updates here. Thousands of acres burned and threatened infrastructure as strong winds fueled the fast-moving fires. As of Oct. 12, as many as 18 fires are burning in nine counties and an estimated 20,000 people are evacuated.
Assistance to California comes from Arlington, Bainbridge Island, Burien Fire, Everett, Gig Harbor, Key Peninsula Fire, Lacey Fire, Lewis, Mt. Vernon, North Kitsap Fire & rescue, South Snohomish Fire & Recsue, Seattle, Skagit County Fire District 14, Snohomish Fire District 26 (which also includes a Type 3 Incident Management Team), multiple fire districts in Snohomish County, South Kitsap, multiple fire districts in Thurston County, Shoreline Fire, Chelan Fire District 1, Walla Walla, Benton County, Richland, Kennewick, Benton County, Cowlitz, Franklin Fire District 3, Bothell Fire, Eastside Fire, Seattle Fire District, Vashon Island Fire, King County Fire District 45, Thurston County Fire Protection District 17, West Thurston Regional Fire Authority, Shoreline Fire, Valley Regional Fire Authority and the Getchell Fire Department.
A tenth strike team will be deployed later this afternoon (Oct. 13) comprised of Spokane Fire Protection District 8, City of Spokane Fire and Chelan Fire and Rescue.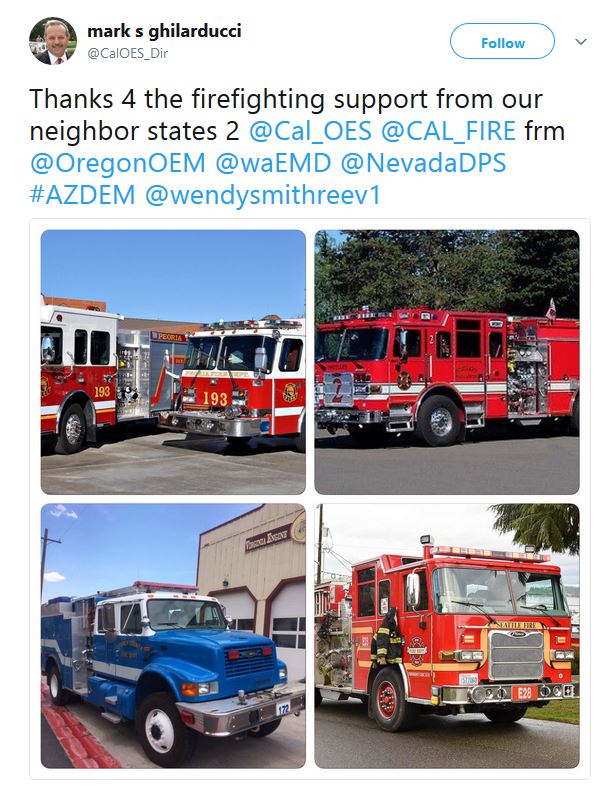 The assistance comes after many of these fire districts have battled wildfires in our own state.
The burn risk across much of Washington state remains low or moderate, according to the Washington Department of Natural Resource's wildfire public information map. There are still some areas of Eastern Washington, where fire danger remains a concern.
Our DNR friends offer the following recommendations to help reduce the risk of wildfires:
Be sure recreation vehicles have operating spark arrestors
Do not park vehicles in dry, grassy areas as residual heat from exhaust systems can ignite the dry grass
Know the current wildfire risk in your county, destination, or area you may be working in
Note: It's always illegal to light fireworks or use incendiary ammunition or exploding targets on DNR-protected lands
Learn more from our friend Smokey Bear
---