Washington signs with Malaysia as state partners
---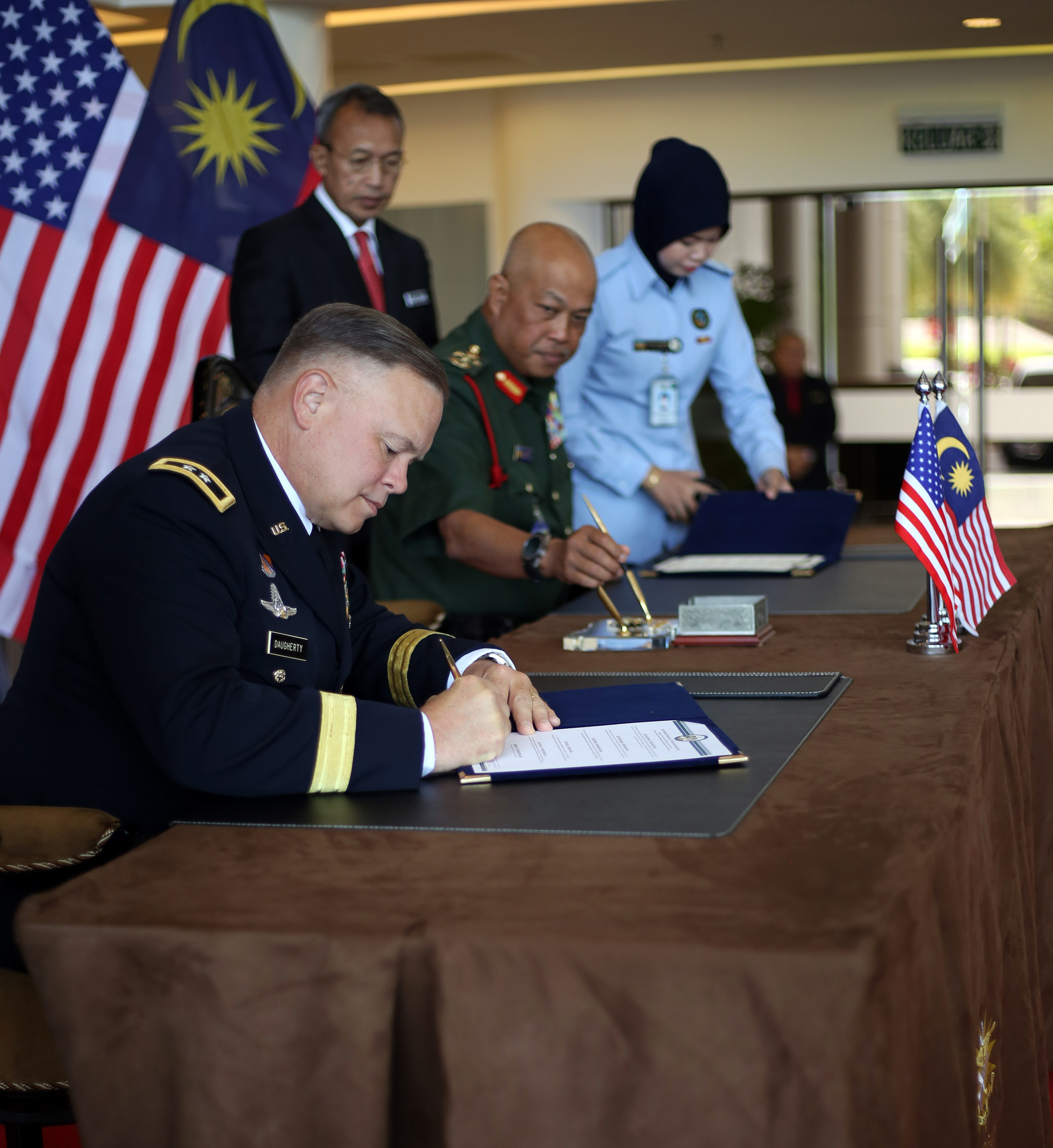 Maj. Gen. Bret D. Daugherty, commander of the Washington National Guard signs an agreement with General Tan Sri Raja Mohamed Affandi bin Raja Mohamed Noor, Chief of Defence Force, Malaysia during a signing ceremony at the Malaysian Ministry of Defence solidifying Malaysia as a partner nation with Washington state under the State Partnership Program (SPP). The SPP links a state's National Guard with the armed forces of a partner country in a cooperative, mutually beneficial relationship by means of tailored, small footprint, high-impact security cooperation engagements that foster long-term enduring relationships with U.S. friends and allies around the world. (U.S. Army National Guard photo by Sgt. 1st Class Jason Kriess)
Kuala Lumpur, MALAYSIA – Gathered in an open foyer of the Malaysian Ministry of Defence overlooking the sprawling and complex skyline of Kuala Lumpur, the leaders of the Malaysian Armed Forces and Washington National Guard signed a written agreement pledging each other's commitment to build enduring relationships through sustained cooperation on areas of mutual interest.

Maj. Gen. Bret D. Daugherty, commander of the Washington National Guard, and General Tan Sri Raja Mohamed Affandi bin Raja Mohamed Noor, Chief of the Malaysian Armed Forces, signed the agreement on August 16, 2017 as part of the National Guard's State Partnership Program (SPP).

SPP is a Department of Defense joint security cooperation program administered by the National Guard Bureau that links a state's National Guard with the armed forces of a partner country in order to build long-lasting, mutually beneficial relationships with U.S. allies around the world.

This brings together trained forces to interact in a broad range of cooperative engagements on various topics including homeland defense, disaster response, crisis management and inter-agency cooperation.

Although the partnership with Malaysia will begin by engaging the two organization's armed forces, Daugherty hopes that after continued collaboration we will soon be able to link civilian areas of government for a more robust partnership.

"I'm hopeful that our partnership will grow over time to areas beyond just the military. Areas like commerce, education, health care and energy," Daugherty said. "These are just a few areas that I think Malaysians and people from the state of Washington can explore together."

The SPP has been successfully building relationships around the globe for more than 20 years and this agreement marks the 73rd unique partnership under the SPP and is Washington's second. Thailand is Washington's other partner nation.

"What we have signed today, will move us forward, not an inch but leap-frog us forward for better cooperation," General Affandi said. "This partnership will open the gateway for more dedicated cooperation and commits us to work collectively toward our common goals."

With Washington now having two partner countries that border each other, Daugherty hopes to leverage their proximity to begin engaging the three countries together.

"When you look at other states that have two partnership countries sometimes they're on two completely different continents," Daugherty said. "It's a really unique opportunity for us to be able to not only work just with Thailand or just with Malaysia, but to do some trilateral work between all three of us at some point in the future."

"For more than 60 years, the U.S. is proud to have partnered with Malaysia to enhance regional security," said Lieutenant Colonel Sukhdev Purewal, Chief of the Office of Defense Cooperation at U.S. Embassy, Kuala Lumpur. "By leveraging all the various aspects of the multi-faceted SPP, the signing of this agreement marks another important milestone in the strengthening of this long-standing relationship."

The State Partnership Program arose from a 1991 U.S. European Command decision to pair reserve component soldiers and airmen with the armed forces of the then newly formed nations of the Baltic Region following the collapse of the Soviet Bloc.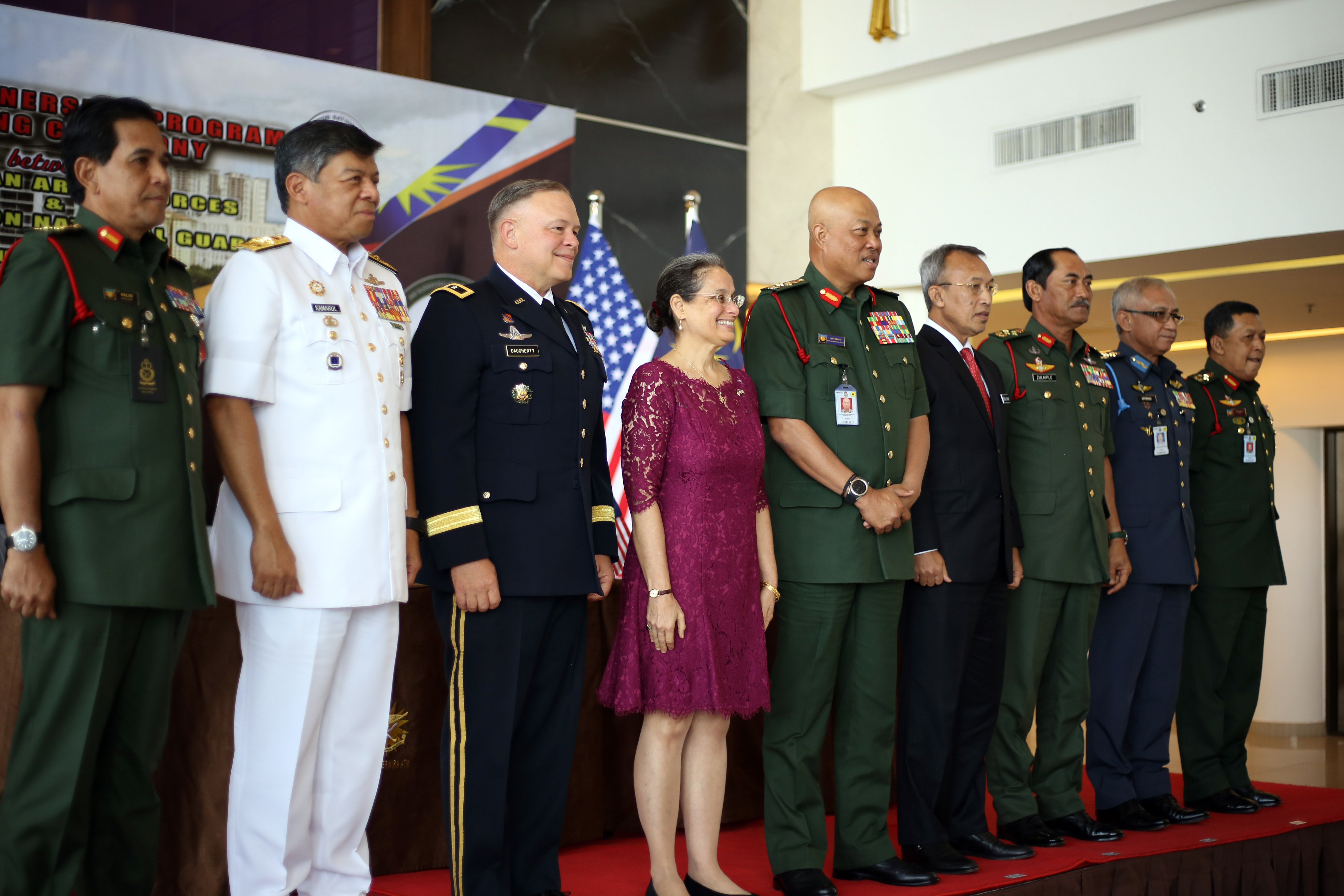 ---