Remembering Maj. Gen. (Ret) Tim Lowenberg
---
"After I learned I would be Governor, the first call I made was to reappoint Major General Tim Lowenberg as the Adjutant General on the behalf of the state of Washington, best thing I did," – Chris Gregoire, former Governor, State of Washington.
Maj. Gen. (Ret) Tim Lowenberg once said he wanted to be remembered as a general that took care of the soldiers – and never backed away from a challenge.
His legacy will far exceed his wishes.
On August 27, Lowenberg, the former adjutant general of the Washington Military Department and commander of the Washington National Guard, unexpectedly died at the age of 70.
He helped oversee a time of deep transition for the state agency, with soldiers being deployed to the Middle East, emergency preparedness coming into focus for the state and a brand new school coming online to give troubled teens a second chance. He served as the adjutant general from 1999 to 2012, highlighting a career that spanned more than 44 years in the U.S. Air Force.
"He was a great leader, mentor and friend to all of us and led our team through many difficult challenges during his 13 years as adjutant general," said Maj. Gen. Bret Daugherty, the current adjutant general.
"America's freedom endures because of those who answer the call to serve. General Lowenberg was the epitome of service, and on behalf of a grateful state and nation, I want to thank him and his family for their service and sacrifice," Gov. Jay Inslee said after hearing of Lowenberg's death.
Lowenberg's impact and dedication to service will leave a lasting impression on the U.S. Air Force and the Washington Military Department. Prior to his retirement, Lowenberg sat down to provide a historic look back at his career, talking about his life, legacy and service to our nation.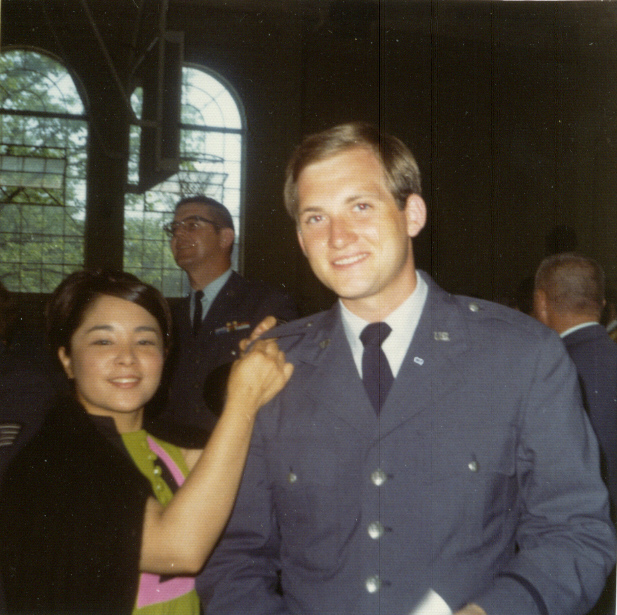 2nd Lt Tim Lowenberg and wife Mary on commissioning day in 1968
Lowenberg was raised in the small rural town of Donnellson, Iowa and after graduating high school, enrolled at the University of Iowa in 1964. At the time, all freshmen were required to take first year Reserve Officer Training Corps classes, and he enjoyed the experience and continued.
"I was influenced a lot by an uncle who served in the Army, and then two tours in the Navy in World War II," said Lowenberg in the 2012 interview. "I wanted to serve in any way I could."
After receiving his commission in 1968, Lowenberg started law school at Iowa.
"Along with an ROTC scholarship, I had to work multiple jobs to pay for school and that continued all the way through law school," he recalled.
After completing law school in 1971, Lowenberg served on active duty at McChord Air Force base. Originally assigned as personal affairs officer with the 62nd Air Base Group, he was reassigned as a judge advocate a year later.
In May of 1978, Lowenberg, then a major, left active duty and joined the Washington Air National Guard as a Judge Advocate Staff Officer.
"I left active service. I did enjoy service, but like most Guardsmen I wanted to have it all, serve my country, I wanted to be in uniform, and wanted to pursue my own interests," Lowenberg recalled.
His first few years in the National Guard weren't what he was expecting. In his historical interview, Lowenberg recalls that the Guard of the late '70s was not up to the standards he had grown accustomed to in the active duty.
"I had been in the Guard about a year and a half and I remember walking into the Air Guard Chief of Staff's office, it was a colonel as I recall, and asking for a transfer to the Air Force Reserve," said Lowenberg. "He asked me to tell him more, and I did, and at the end of the conversation he said, 'Would you give us a try for another year? If you still feel the same way I will sign your paperwork.'"
Later that year, Col. Robert Collins was named the adjutant general of the Washington National Guard, and one of his first calls was to Maj. Lowenberg.
"He asked me, 'Remember the conversation we had, remember the things that were broken? Can I count on you to help me change them?'" said Lowenberg. "If he had been threatened or offended by my candor, I might have just well been in and out of the Guard."
In May 1989, Col. Lowenberg was promoted to the assistant adjutant general for the Air National Guard. This is where Lowenberg and his fellow general officers started breaking down walls.
The post-Vietnam war military was very different than it is today. Army National Guard and Air National Guard headquarters were separated. No information was being shared and the relationship between professional officers was very stand-offish.
"The adjutant general would hold leaders meetings, we were friendly but it always seemed like we were at arm's length from one another."
After a successful four and a half years as the assistant adjutant general, then Brig. Gen. Lowenberg was selected to work at the Pentagon as the Air National Guard Assistant to the Judge Advocate General of the Air Force.
For six years, he worked on multiple high profile assignments that would shape the Air Force.
It was while planning a United Nations' peace keeping trip to Haiti, Lowenberg got the call that would bring him back to Washington state.
"I clearly remember it was a 2 o'clock on a Friday afternoon, with a change of command ceremony already scheduled for noon the following Monday, no announcement had been made and I didn't think I was a serious candidate for adjutant general," said Lowenberg. "I didn't put a lot of thought into it, and my receptionist called back to my office and said Governor Locke is on the phone, and I am thinking he is going to tell me who he picked."
The offer to be the adjutant general came as a shock for Lowenberg.
"I hadn't even talked to my law partners about a change in career, so we had a quick huddle and it was something you follow your heart in."
On Sept. 13, 1999, Lowenberg became the adjutant general.
"I remember mostly the feeling of responsibility for getting it right and setting the tone right from the beginning," said Lowenberg. "Until that point only one Air National Guardsman had served as the adjutant general."
Lowenberg took the position with a great focus. In 1995, the Washington Military Department took over responsibility for Emergency Management. Not only would Lowenberg be the adjutant general, he also was the director of emergency management and the homeland security advisor to the governor.
"At the time, the Guard was very much, militarily, a strategic reserve. But because of the other part of the Military Department portfolio, our Emergency Management oversight for state and local agencies, because of our access to intelligence information, what shaped my perspective from the earliest days was, long before I became adjutant general, we had gone a decade with terrorist activities that came close to home."
Right away, Lowenberg helped Locke stand up a statewide committee on terrorism. He realized that the Guard could have a bigger role to play in global defense and counter-terrorism.
While in Montana to attend a meeting with national emergency management directors, Lowenberg learned of the tragic events of Sept. 11, 2001.
In the public eye, National Guardsmen began standing armed at airports across the country, providing security and reassuring passengers. Behind the scenes the Guard was also beefing up operations overseas. In Nov. 2003, more than 3,000 members of the 81st Brigade Combat Team reported for active duty service at Ft. Lewis to begin training for a deployment to Iraq.
"I anticipated the deployment of every element of our force, I didn't anticipate this was going to be a short-term engagement," Lowenberg recalled. "But you prepare for the worst and gladly accept anything less than that, but you always think big and plan for that."
After a short train up period during the winter of 2004, 3,000 Washingtonians in the 81st Brigade Combat Team mobilized and spent 2004 and part of 2005 in Iraq, Kuwait and Saudi Arabia supporting Operations Iraqi Freedom and Enduring Freedom.
At home, Lowenberg oversaw the morphing of the Western Air Defense Sector, which has grown significantly since 2001, and worked heavily at the national level to see the creation of the 10th Civil Support Team.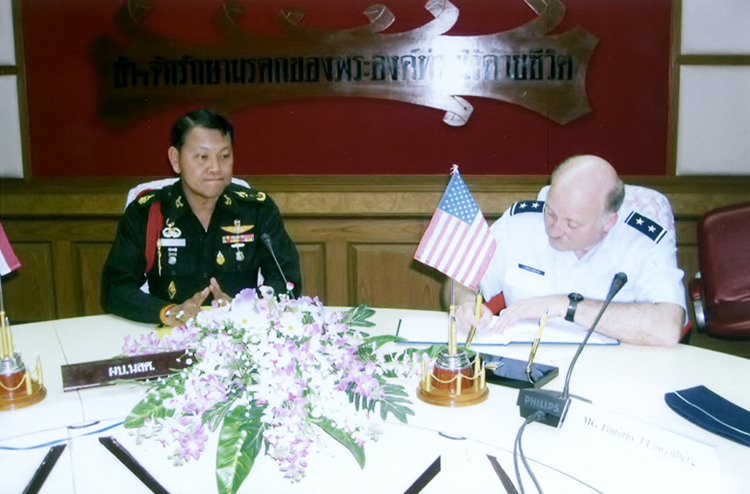 Maj. Gen. Lowenberg signing the State Partnership Program agreement with the Kingdom of Thailand in 2002.
Another significant contribution during the early years of Lowenberg's tenure as the adjutant general was the state partnership program agreement with Washington and the Kingdom of Thailand.
"Washington is the most heavily trade dependent state in the nation, especially with Asia," said Lowenberg.
During Lowenberg's tenure as the adjutant general, he also saw the creation of the 194th Wing, and increased the focus of the Air National Guard in Washington to include cyber warfare and defense.
As the 81st Brigade Combat Team returned in 2005, Lowenberg watched multiple units from the Washington National Guard deploy and redeploy to and from the Middle East.
"At one point we had more than 60 percent of the end strength of the Washington Army National Guard deployed out of the country," Lowenberg said. "We, as a Guard, had to adapt so we could still respond quickly to a domestic emergency."
As the adjutant general, Lowenberg would watch as more than 12,000 citizen-soldiers and airmen deployed overseas to Iraq, Afghanistan, Kuwait and Saudi Arabia.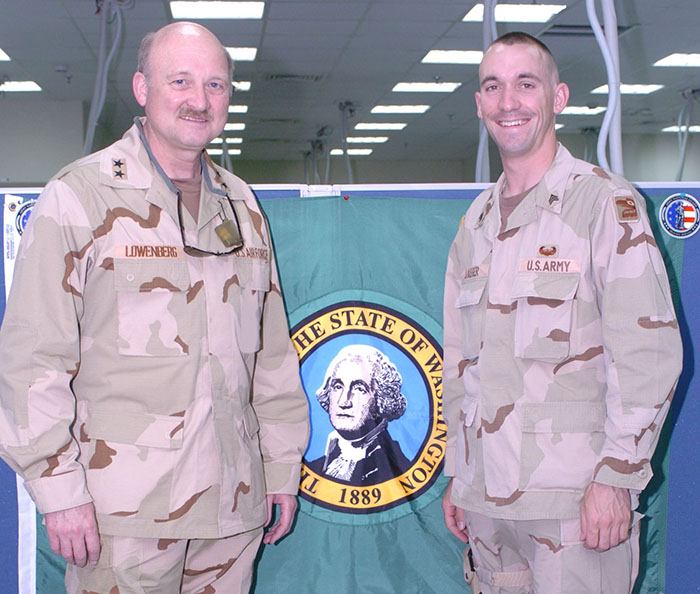 Maj. Gen. Lowenberg visiting 81st Brigade Combat Team members in Iraq in 2004.
https://mil.wa.gov/cp/matrix/news/post/entries/create
"One of my biggest regrets was not getting into theater more, and visiting the troops, the rigorous schedule of being adjutant general kept me here."
Deployments not only kept the Guard busy from 2003-2009, the National Guard was also responding to multiple state emergencies, including floods, fires, snow storms and national emergencies such as Hurricanes Katrina and Rita as well as supporting multiple Olympic games in Salt Lake City and Vancouver, B.C.
In March 2008, Lowenberg along with Gov. Chris Gregoire and Congressman Norm Dicks broke ground on a 17,000 square foot facility in Bremerton for the Washington Youth Academy. Even after retiring from service in 2012, Lowenberg stayed active with the Washington Youth Academy, was active with the Youth Academy's foundation and was on stage in December 2016 to congratulate the 2,000th graduate of the program.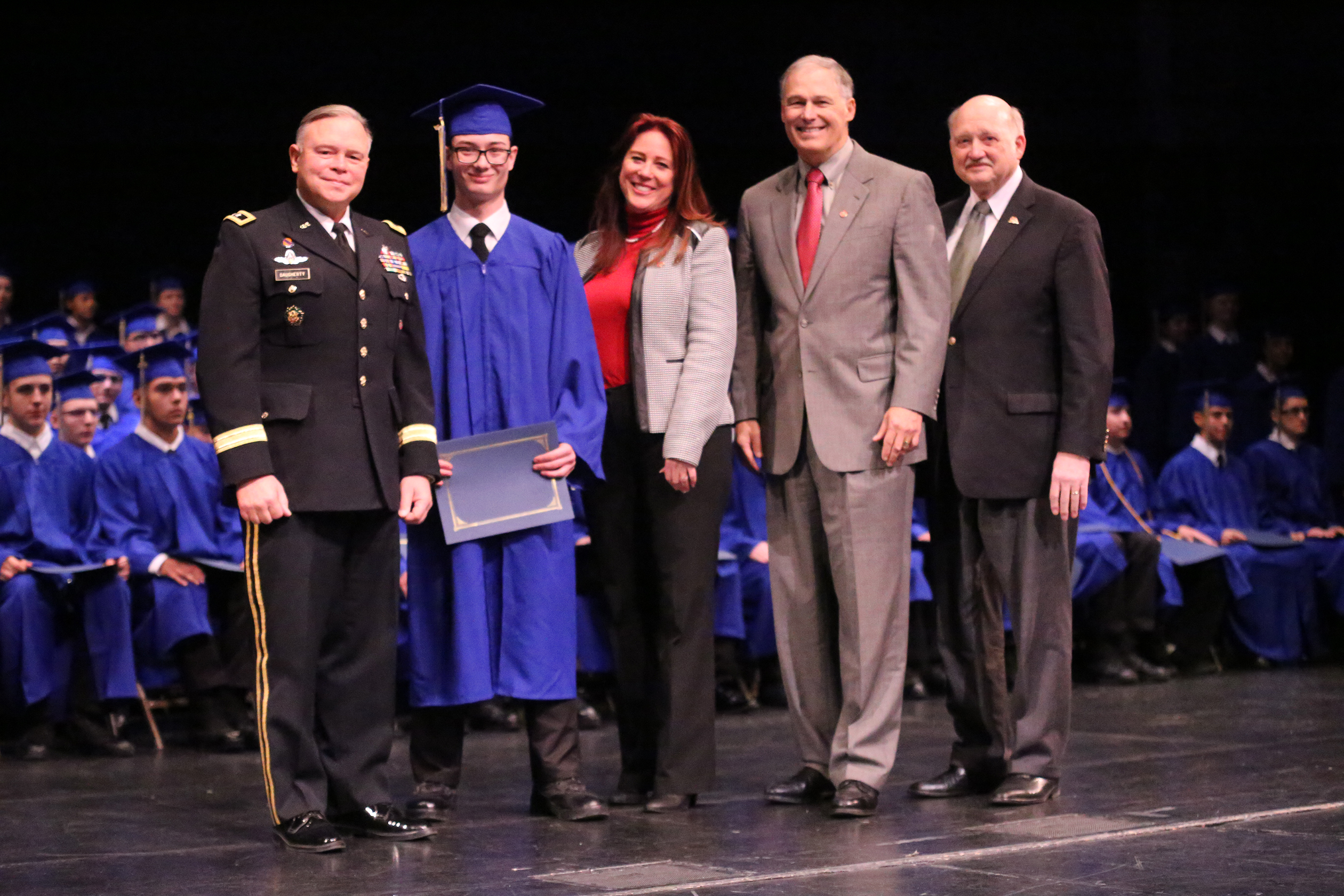 Maj. Gen. Daugherty, Cadet Michael Perez, Sec. of State Kim Wyman, Gov. Jay Inslee and Maj. Gen. (Ret) Lowenberg at Washington Youth Academy graduation in Dec. 2016.
One of the last impacts that Lowenberg made during his tenure as the adjutant general was the standing up of the Washington National Guard Homeland Response Force.
"We need to be able to deploy anywhere, and be prepared to deploy anywhere around the world," Lowenberg said.
In August 2011, the Washington National Guard's Homeland Response Force was certified, becoming the second in the nation, and ready to support Federal Emergency Management Agency Region 10 during large scale disasters. They would be tested less than 20 months later when called to respond to the State Route 530 land slide in Oso, Wash.
On July 28, 2012, Lowenberg retired from the Washington National Guard passing the torch to Daugherty.
"General Lowenberg has been an invaluable advisor and confidant to me since the day I became Governor," Gregoire said in a 2012 release. "His leadership at the state and national level on military issues, homeland security and domestic preparedness are second to none. He deserves a wonderful retirement, but he will be sorely missed."
Lowenberg was the second longest-serving adjutant general since the Washington Territorial Militia was first fielded in 1855. His time in office was second only to Major General Maurice Thompson, a Washington National Guard icon who served for nearly half of a century in the Guard; 27 of those years as adjutant general.
"I want to be remembered as someone that took care of the troops, never backed down from a challenge and loved everything he did," said Lowenberg.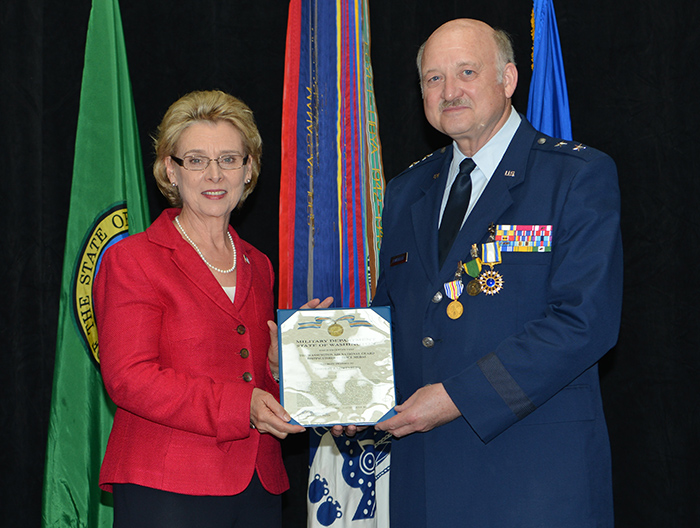 Gov. Chris Gregoire and Maj. Gen. Lowenberg on his retirement day, July 31, 2012.
---