Washington, Oregon Air National Guard Airmen visit local school in Thailand during Enduring Partner
---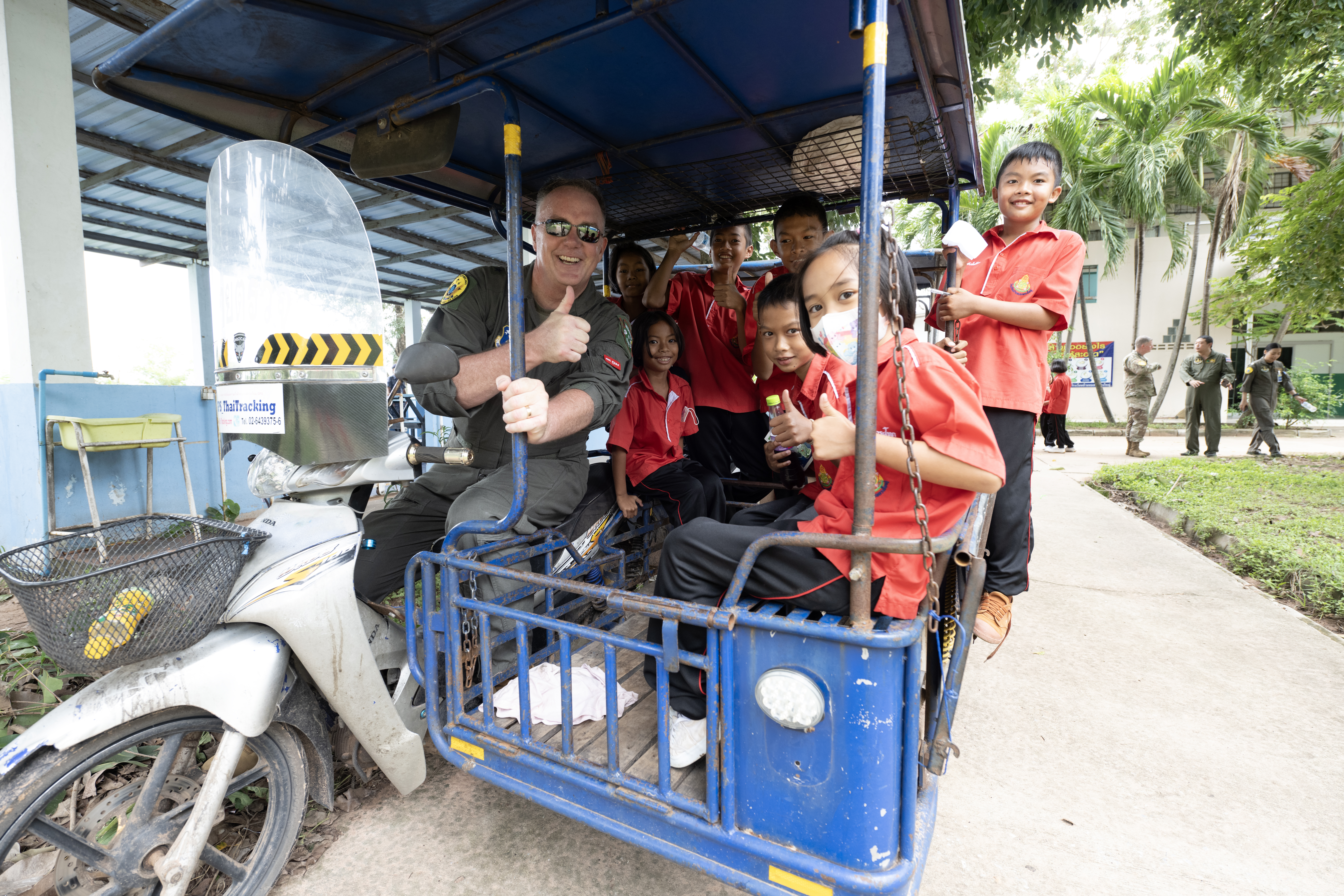 U.S. Air Force Brig. Gen. Gent Welsh, Washington Air National Guard Commander, poses with a group of children at Nong Phluang Yai primary school, Korat, Royal Kingdom of Thailand, September 13, 2023. This community outreach partnership was a core part of the Enduring Partners 2023 exercise between the Kingdom of Thailand, the Washington and Oregon Air National Guard. The school visit gave a chance to connect U.S. military, Royal Thai military and the community of Korat. (U.S. Air Force photo by Tech. Sgt. Michael L. Brown)
The Washington and Oregon Air National Guard along with the Royal Thai Air Force visited Nong Phluang Yai primary school in Korat, Royal Kingdom of Thailand, Sept. 13.

The military personnel brought soccer balls, volleyballs, toys, and educational materials to distribute to the children at the school. Exercise Director, Royal Thai Air Force Group Captain Nat Kamintra, kicked off the ceremony with a welcome speech accompanied by words from U.S. Air Force Brig. Gen. Gent Welsh, Washington Air National Guard Commander.

"Alongside this training we have organized this community relations event focusing on civil and public affairs operations to proactively enhance the image, confidence, and trust of the public in the Air Force," said Kamintra.

Following the opening remarks by Kamintra, Welsh briefly addressed the crowd in Thai and then again in English.

"Thank you to the teachers for hosting us," said Welsh. "On behalf of the United States, the Washington and Oregon Air National Guard, I cannot tell you how excited we are to be here and appreciative to the Royal Thai Air Force and the people of Korat for being such gracious hosts."

The exercise directors then recognized the school's director and several teachers for their hard work. Welsh presented the teachers with a coin, a patch and a sticker as a token of appreciation for the teachers work in educating the future of the Kingdom of Thailand.

The students were then presented with their gifts, bags of soccer balls and volleyballs. A Royal Thai Air Force band played as some military members and children ran out to play soccer. Some people stayed and danced to the rhythmic sounds of the band as the melody filled the air.

The soccer games and volleyball games were light-hearted fun, no scores were kept, no arguments over something being out of bounds, just smiles and laughter.

"This is by far one of the coolest things I have been able to do in the military," said Staff Sgt. Darius Carlton, 141st Operations Group, host aviation resource manager. "Those kids really wore me down."

While the moments only lasted for a few hours, the memories generated for both the children and military members should last a lifetime.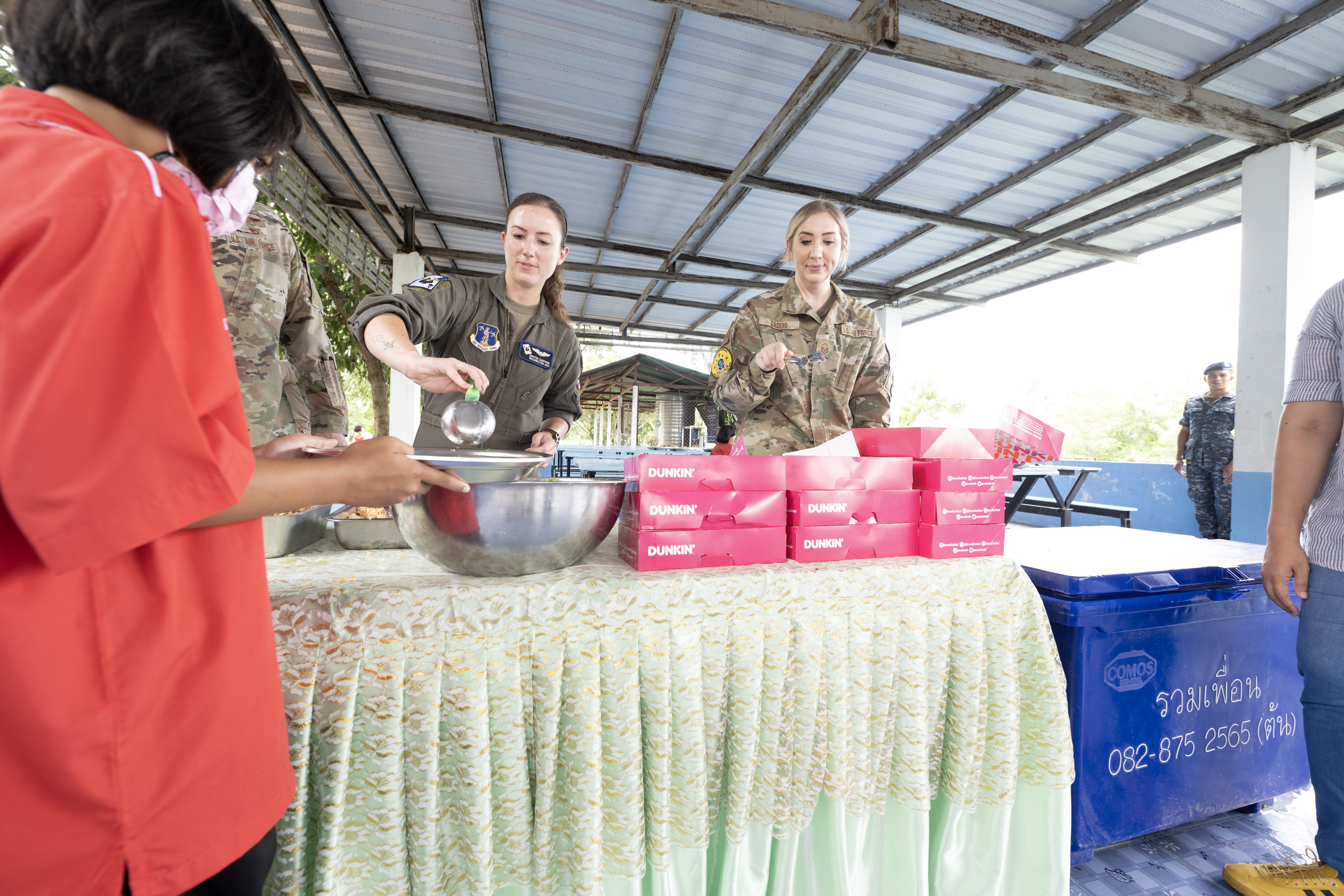 U.S. Air Force 1st Lt. Kirsten Guenther, 116th Air Refueling Squadron KC-135 pilot, and Master Sgt. Gina D'Addio, 141st Operations Support Squadron Aircrew Flight Equipment technician, serve lunch to children at Nong Phluang Yai primary school, Korat, Royal Kingdom of Thailand, September 13, 2023. This community outreach partnership was a core part of the Enduring Partners 2023 exercise between the Kingdom of Thailand, the Washington and Oregon Air National Guard. The school visit gave a chance to connect U.S. military, Royal Thai military and the community of Korat. (U.S. Air Force photo by Tech. Sgt. Michael L. Brown)
---