Washington National Guardsman awarded Howard O Scott Citizen-Soldier of Year
---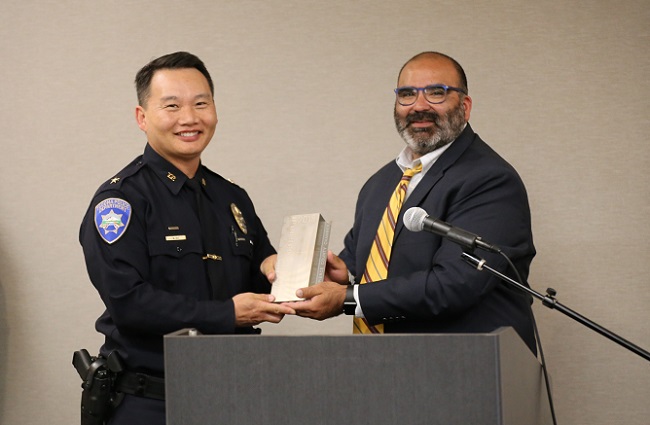 While he's most often seen in his Tacoma Police uniform, it's his successful military career that earned Lt. Col. Mike Ake the prestigious Howard O. Scott Award.
"I want to thank everyone that has been a mentor to me along the way," said Ake. "It meant a lot to me."
For 37 years the Tacoma-Pierce County Chamber of Commerce has presented a deserving citizen-soldier or airmen from Pierce County the award, named after a man who served the nation when called upon during World War II as part of "America's Greatest Generation." Mr. Scott returned to succeed as a banker, giving his time to community service organizations, trusting and enjoying in his belief that doing so is one's responsibility.
A graduate of Spanaway High School, Ake has served his state and nation as a member of the military for more than 30 years. In 1987, he joined the U.S. Army Reserve and graduated from the Washington National Guard's Officer Candidate School in 1995. He has served in a number of roles, and is currently the Joint Forces Headquarters J1 Policy Officer.
While building a stellar military career, Ake has served the people of Tacoma for more than 30 years on the police force. Today he is the Assistant Chief of Police, leading the Investigations Bureau, a position he was promoted into that role in late 2010.
"No one represents Pierce County better, and the Guard," said Col. Gerald Dezsofi, commander, 56th Theater Information Operation Group. "He is very engaged in the strategic mission of the Washington Army National Guard, both domestically and internationally."
Taking part in the National Guard State Partnership Program, Ake has traveled multiple times to the Kingdom Of Thailand to lead exercises, as well as teach Incident Command and Response to Thai-counterparts. As a member of the Special Operations Detachment – Pacific he deployed to Afghanistan in 2008 and came home to continue both his stellar military and civilian careers.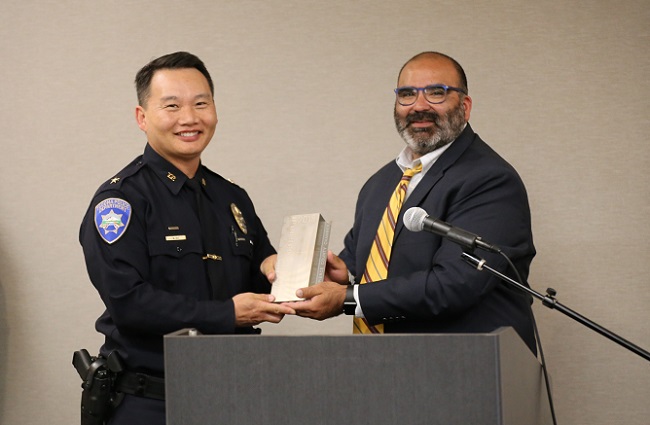 Between 2004 and 2006, he was part of the Department of Justice program, Weed and Seed, focusing on minority communities with the intent to establish trust and create open dialogue between disparaged communities and government services. Several community engagements were conducted, building a foundation to improve relationships by providing education to various demographics including at-risk youth.
Through his innovation, a program was developed to reduce street level prostitution, diverting volunteer "Johns" from the court system along with applying their court fees to fund education and housing for prostitutes. From this direct exposure, participants learned how their actions impacted the crime rate in the community. Also, a plank member of the Tacoma Project Peace Initiative, efforts of the initiative led to better conversations and opportunities for the Tacoma Police Department to engage with all aspects of the community, reducing the barriers experienced in similar jurisdictions across the nation.
From 2010-2017, Ake helped coordinate with local, regional, state and federal agencies to improve the Tacoma's Homeland Security posture. He also helped spearhead grant opportunities to fund required equipment and training for these special teams. This included improving Special Weapons and Tactics (SWAT), Marine Services Unit, Explosives Ordinance Detail (Bomb Squad) and other various specialty teams that are part of the Tacoma Police Department.
An effective leader who motivates others to be their absolute best, many would say Lt. Col. Ake is one of the finest citizen-soldiers in the Washington National Guard. All his endeavors represent his unparalleled dedication to the nation, this state and its citizens, plus those who call Tacoma home. He fully embodies the vision of the Tacoma-Pierce County Chamber's ideal nominee for the Howard O. Scott Citizen Soldier of the Year.
---