Washington National Guard serves up a legacy of food
---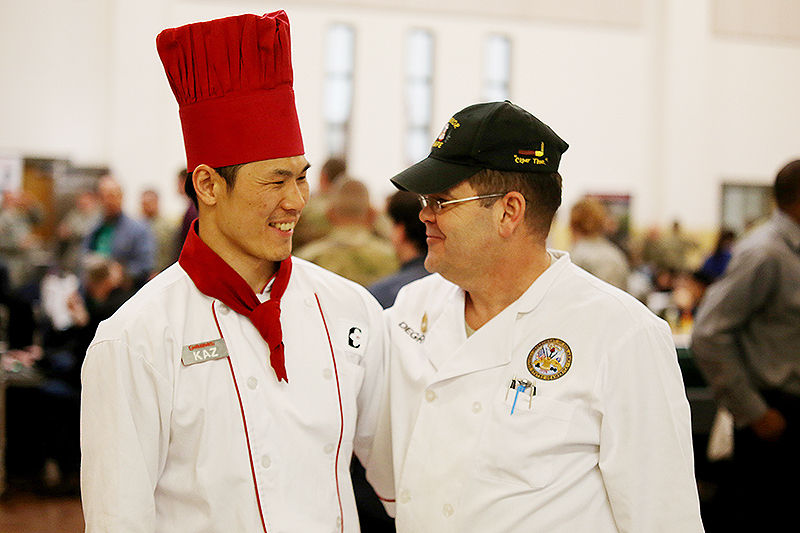 Master Sgt. Darrell DeGroff smiles as Chef Kaz of Japanese restaurant Hamanasu talks
at the food service expo the Guard puts on to bring soldiers, teens and the restaurant industry together.
Washington National Guard serves up a legacy of food
Master Sgt. Darrell DeGroff says when he was serving oversees a decade ago, three of his best friends died. Those deaths have stuck with him during his military career and given him a passion to ensure that soldiers' meals are the best possible.
DeGroff, who is now the food services director for the Washington National Guard, says, "Everyday, I open up a dining facility or restaurant, I see my old buddies standing there, saying, 'D., what's for dinner?' I try to bring that passion. It is hard work but we make a huge difference in their lives."
For each of the past five years, DeGroff has helped organize a kind of Food Services Expo bringing soldiers together with the food services and restaurant industry to talk about best practices. The expo takes place at Joint Base Lewis-McChord, which includes a culinary arts competition for high schoolers and college students, food and product demonstrations and a chance to sample food that could potentially be served to Guard members during a menu board trial period.
(Watch a special report from PBS-affiliate KBTC about the food expo here.)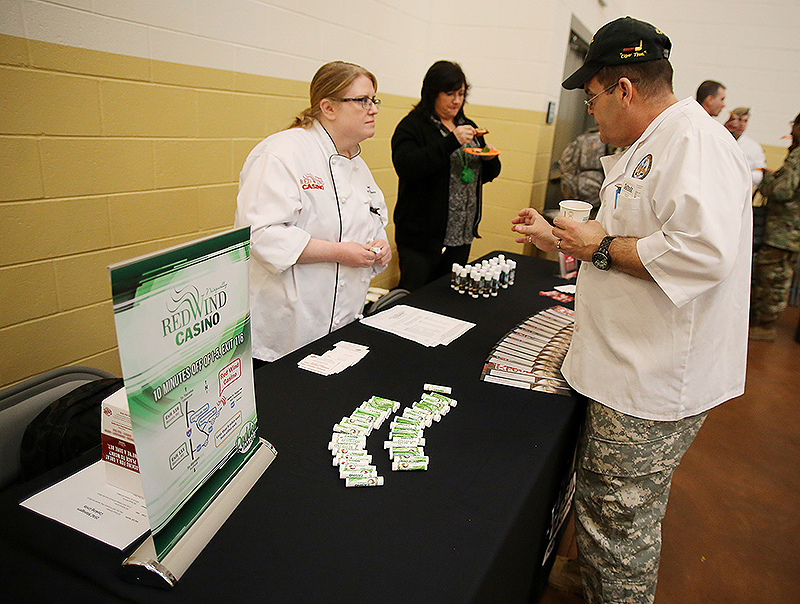 Master Sgt. Darrell DeGroff speaks to a chef from Red Wind Casino in Lacey,
which was talking to soldiers about job opportunities.
The expo also connects soldiers, who have been trained to cook, with restaurants and businesses that are looking to hire cooks or simply offer networking opportunities for when soldiers need a job, they know who to call.
U.S. Army Specialist Aaron Perchaz said he ended up speaking to chefs visiting from Red Wind Casino in Lacey about potential jobs they have available.
DeGroff said Compass Group, which does food service for major technology companies in the Seattle area, was interviewing soldiers on the spot for potential job openings.
"If you own a restaurant, you need people to show up to work," DeGroff said. "You need people that understand if you're not profitable, they don't have a job. You need people who care about the mission. You want people who aren't on drugs and don't steal. Well, when you come to us and interview our folks, they've already had background checks. They meet qualifications that employers are working with and, most likely, they already have their health care taken care of by the Guard and they can buy health care cheaper than an employer pays for it."
"I think this whole event is awesome," Perchaz said. "You get to meet a lot of people who teach you things. Master Sgt. DeGroff just does an amazing job connecting soldiers, not just in the Guard but in the regular Army, too. These restaurants want us because we know how to cook good food and I think that's awesome."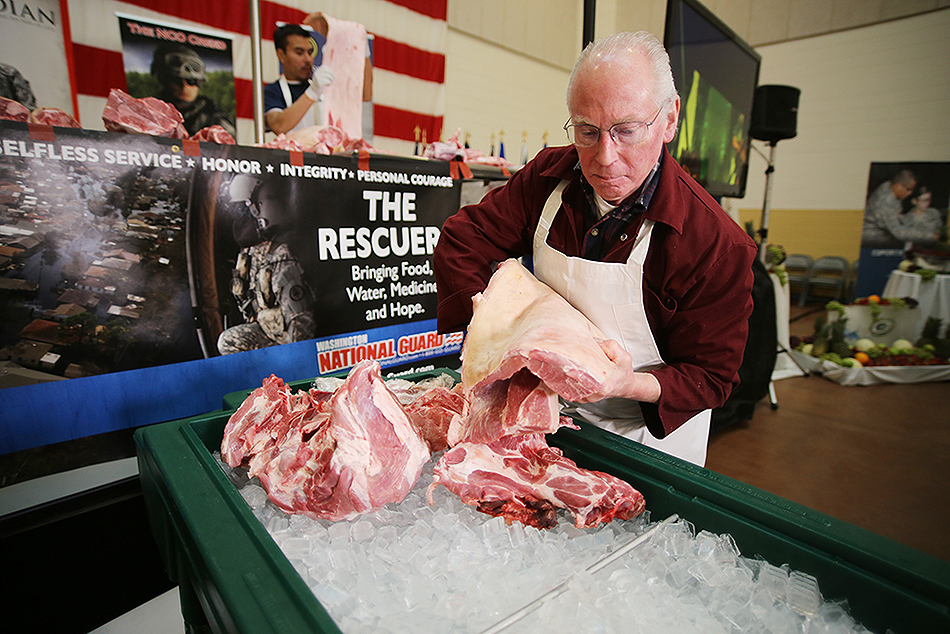 Stewart Carlson, owner of Stewart's Meats in Yelm, places beef chunks into ice after doing a food demonstration on stage.
Perchaz said he learned more in a half hour watching Stewart Carlson, owner of Stewart's Meats, deconstruct meat than he has reading a lifetime of cook books or cooking technique guides.
For Carlson, the event was a chance to get to meet potential customers while also passing on a lifetime of knowledge. His family has owned Stewart's Meats in Yelm since 1933.
"This is a good educational opportunity for everyone to get involved with," Carlson said, adding this was the first time he'd demonstrated in 40 years, but would do it again for the Guard in a heartbeat. "Everybody has to eat. The soldiers and the teens come and learn from different vendors and suppliers. Today, we had so many people interested in just what we do and how we do it."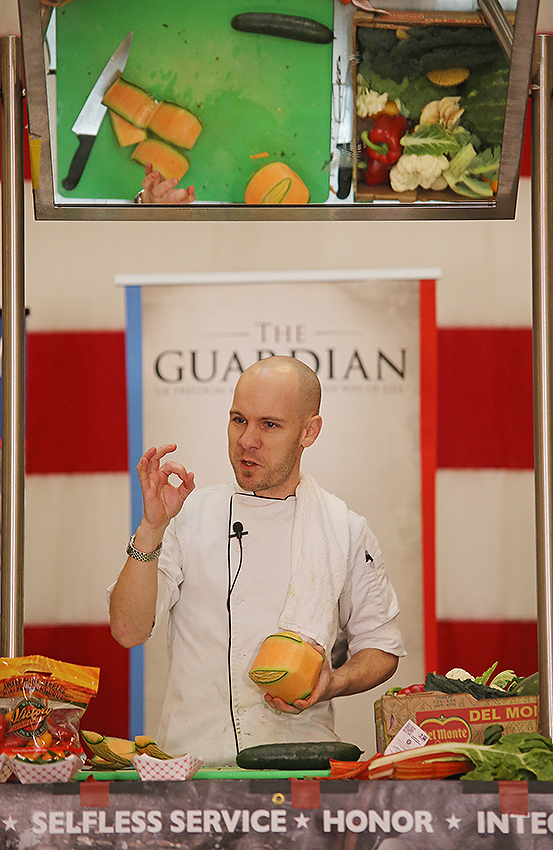 Chef Leland Henderson demonstrates how to cut fruit properly.
Besides Stewart's, there were demonstrations on how to do Italian cuisine, Irish food and Japanese food. Chef Leland Henderson, Executive Corp Chef of Spokane Produce, showed attendees proper ways to cut melon and Master Sgt. DeGroff even deconstructed a huge albacore tuna.
"So you're asking, 'Why in the world would you want to buy a whole fish when you could just buy a fillet?'" DeGroff said. "I want us to take a look and have the skill sets to break this fish down and have a higher quality product and still stay within our price point."
Price point is the key for most of the expo.
In 2012, when DeGroff came to Camp Murray from Iraq, the soldiers who make up the cooks in the Guard sat at roughly 61 percent strength. And instead of cooking meals for soldiers, there was an overabundance of per diems and caterers, DeGroff said.
"When I started here, I saw we were catering everywhere, and said, 'This is nuts.' The people who are here want to cook. They want to do their job. This year we will serve almost $4 million in groceries. And if we catered that it would be $10 million to $12 million. We are saving the National Guard millions of dollars a year by cooking fresh food that they want to eat."
Soldiers and professional chefs judge food prepared by culinary students at Bates Technical College.
Each dinner served by the Guard is supposed to fit within a $4.24 basic daily food allowance. To show the challenges of that, the Guard invites area high schools and colleges to try their luck in making meals that fit to those guidelines.
"If I tell you that you have $4.24 to buy groceries for dinner, you'll look at me and tell me you can't do it," DeGroff said. "But when these students learn through serving 100, 200 or 1,000 people, they start to learn to purchase properly and begin to do things."
Student Chantanaye Hudley of Lakes High School said that balancing the meal out with such a little budget proved hard.
"You need to make certain cuts," added student Nadja Johnson of Lakes High School. "Instead of buying bigger things, you cut what you want in half to make budget."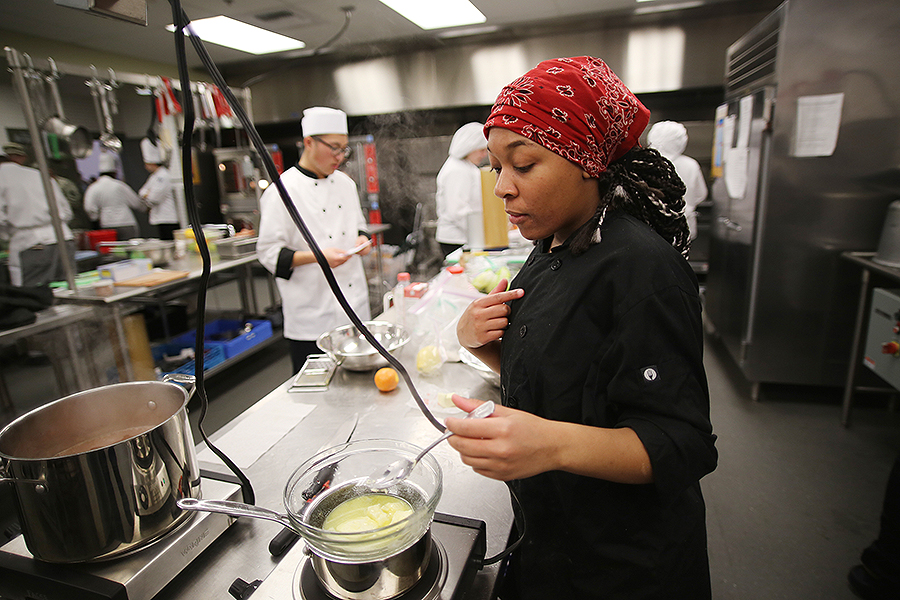 Chantanaye Hudley of Lakes High School works with her fellow culinary students to prepare a meal,
which will be judged by Guard soldiers and professional chefs.
Professional restaurant chefs team with Guard soldiers to judge the students' meals. Sometimes, ideas are gleaned to use in regular meals served to soldiers during training or a full-time kitchen that has been set up to serve soldiers in Yakima.
During a morning judging session, Command Sgt. Major Abby West of the Washington National Guard tried out food prepared by culinary students attending Bates Technical School, Lakes High School and Steilacoom High School. All three schools prepared cherry desserts.
"I hate cherries, but I think this is all really good!" West said.
With a plate of trout served with diced vegetables and mashed potatoes done in a gourmet style using a star-tipped piping bag, her eyes widened, "If I went into a dining facility and this was served to me, I'd expect candelabras on the table. Soldiers would lose their mind over this."
One restaurant chef asked the Bates students, how would they serve the food in the field?
"Cook it to temp and hot hold it dry and then have a moist gravy or something to pour over it once we get on site," the student replied, met with smiles from Guard soldiers nearby.
"This contest allows the students to cook and show off their cooking techniques, but it also integrates them into the business," DeGroff said. "The teachers love it because it's one thing to get a kid to cook and listen, it's another to get them to understand the business end of it."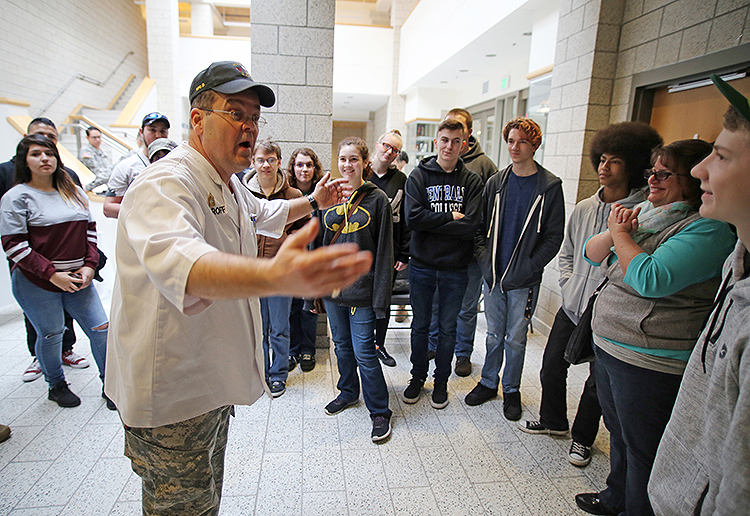 Master Sgt. Darrell DeGroff speaks with students from Centralia High School, who were among hundreds of teens l
earning culinary skills during a showcase on March 17 at Joint Base Lewis-McChord that brought together high schools,
the restaurant industry and the Washington National Guard.
---