Washington National Guard helps food banks statewide
---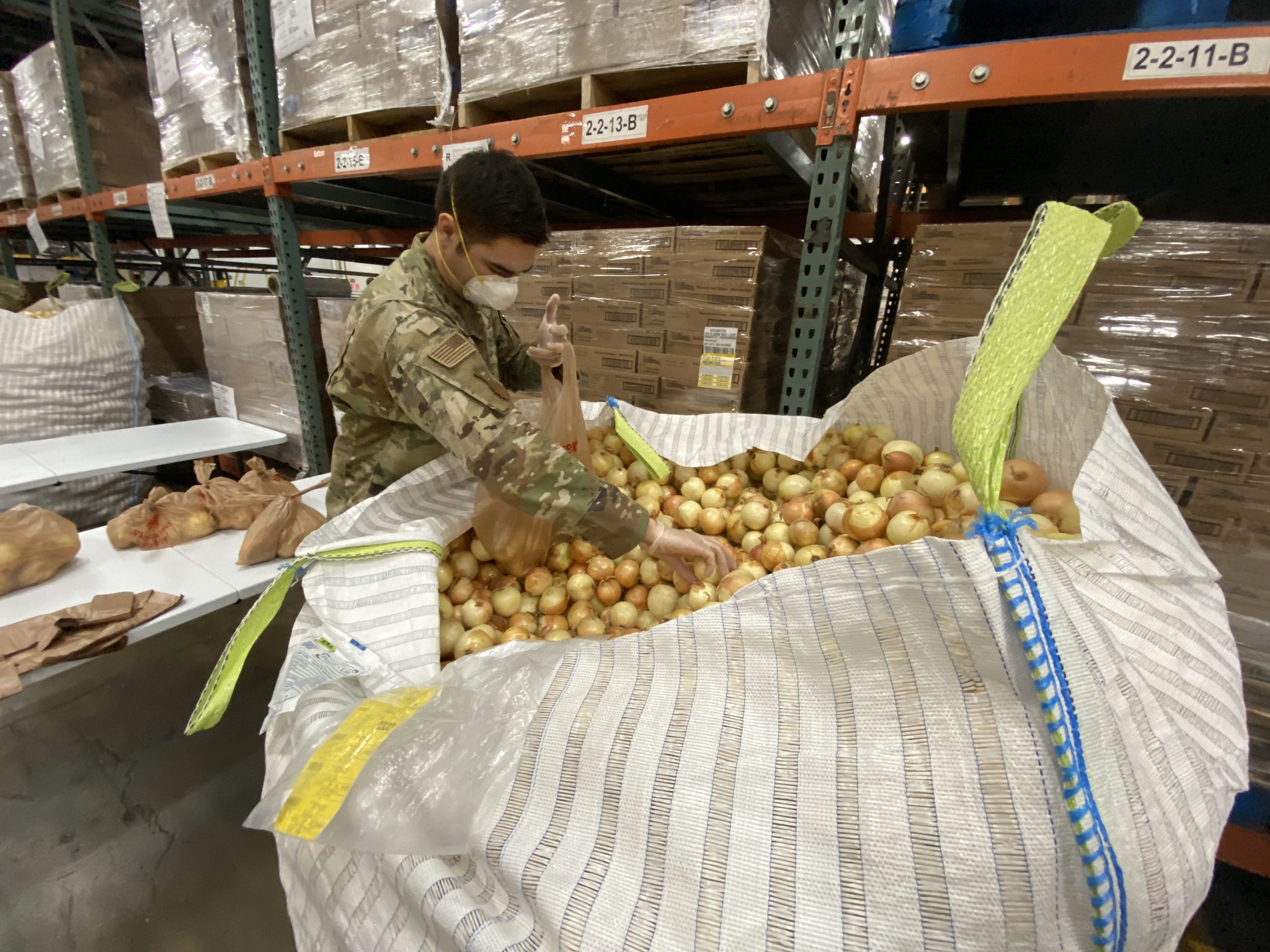 Washington National Guard helps at food banks statewide
With many Washingtonians not able to work, buying even basics, like food, is becoming more of a challenge. At the same time, volunteers who are relied upon to operate our local food banks are staying home, many of whom fall in the at-risk categories for COVID-19.
There are 348 soldiers and airmen supporting the COVID-19 response, including logistics, operations and supporting multiple missions across the state. Soldiers and airmen are now involved in supporting 17 food banks across the state with an additional 18 food banks being supported in the coming days. In addition, two testing sites, one in Yakima and another in Kitsap County, are also fully supported by the Washington National Guard. Yesterday, the first day for full operations in Yakima, produced 139 tests.
"These Guardsmen will provide critical support to our food banks and pantries that are low on staff and need help getting food to some of our most vulnerable citizens," said Maj. Gen. Bret Daugherty, the adjutant general. "By looking out for our neighbors and following proper health safety guidelines, we will get through this together."
The food confidence missions are supporting the receipt, packaging and distribution of food to the community in Walla Walla, Wenatchee, Lakewood, Issaquah, Bremerton, Spokane, Kent, North Bend and Pasco.
"At the request of county authorities, we're sending out the first wave of Washington Air National Guard Airmen to support food banks across the state," said Col. Kenneth Borchers, 194th Wing Commander. "These volunteers have stepped up to help shore up the shortage of volunteer workers during these trying times. The massive economic impact caused by COVID-19 means that food bank services are critically needed, now more than ever. These Guardsmen are determined to do all they can to help their fellow citizens."
Capt. Steve Vuleta, B flight assistant commander with the 111th Air Support Operations Squadron, is the troop commander for the Air Guard component of the food bank distribution forces, and like many of the Air Guardsmen on the team, is an example of the need to always be ready to step up and serve.

"It's been a really good time so far. It's really worked like a well-oiled machine. I've been making sure we have everything we need and making sure our people are taken care of, so they can go out there and take care of the community," he said. "The non-commissioned officers are leading the way like they always do and everyone is really response, really knowledgeable, really eager to help out."
"I'm enormously proud of them and hope they can provide some level of comfort and reassurance to our community as we collectively struggle through this unprecedented challenge," said Borchers.
At the Issaquah location, Guardsmen are unloading deliveries, processing food, repackaging and staging for distribution each 44-pound box to families that come through. Lisa Haynes, the volunteer coordinator, said they are supporting Issaquah and the entire east side of King County.

"This is a huge help," said Haynes. "We are starting a new process and we just don't know how many people are really in need right now, but we grateful to have the Guard here supporting us. We are also blessed to have the support of so many grocers and companies."
At a food bank in the community of Edgewood, Air National Guard Staff Sgt. Amber Barker is ready to support the community she lives just 30 minutes from.

"I live just down the road, and this is my first chance to help the community so I was glad to volunteer," said Barker.

Kate Wright, the Executive Director at the Edgewood food bank said that the support is critical because many of the staff are listed as high-risk if they catch the virus.

"I am not supposed to be here," said Wright. "I could be high risk, so having the Guard here is so helpful. We are helping to feed more than 400 families a week now, almost double what we were at before the COVID-19 pandemic."
---