WADS able to scramble jets faster after lean improvement process
---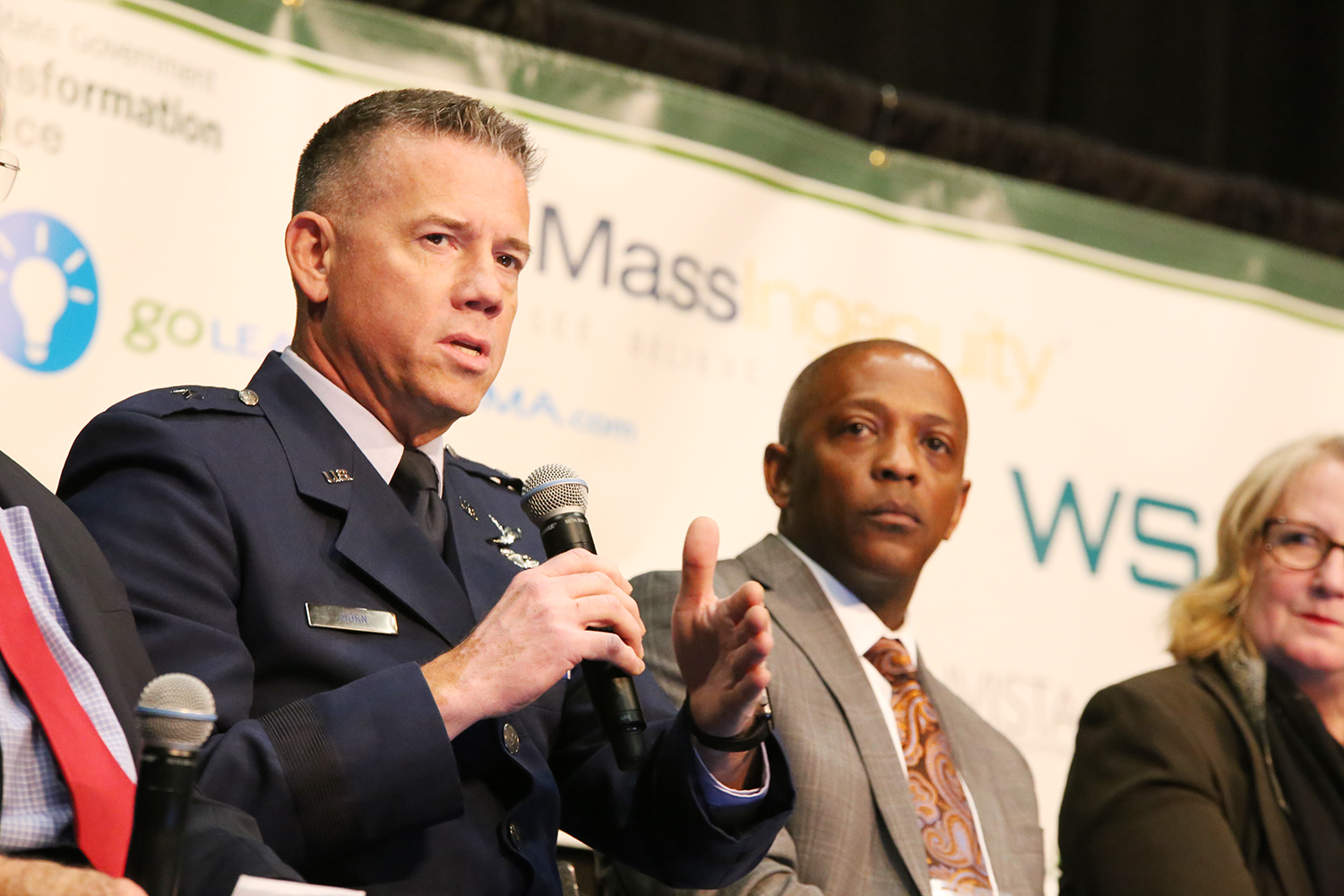 When an unidentified aircraft comes up on the screens at the Western Air Defense Sector, it took 18 distinct steps and a whole host of people to decide whether to scramble jets and determine if the aircraft posed a threat.
Today, after a vigorous process improvement effort, it now takes three distinct steps, an accomplishment Brigadier General Jeremy Horn was proud to announce during a panel at the Washington State Government Lean Transformation Conference on Oct. 17.
With a conference theme of "Growing a culture of problem solvers," Horn explained why it was important to empower employees to look for and solve problems – and why managers and even military officers need to sometimes get out of the way and allow risks for efficiencies to becomes obvious.
The prime example of letting employees take risks lies with the Western Air Defense Sector, where employees were used to a process that hadn't changed in a long time, Horn said. But by letting employees take a hard look at the existing processes – and getting buy-in for change, lives are safer.
"One of our organizations that you probably don't even know about but you sleep better at night because it exists is the Western Air Defense Sector," Horn told the mostly civilian audience. "We call them WADS, responsible for 24-7 monitoring of the air space between the Mississippi River up to Alaska, the entire western part of our United States, 70 percent of our land mass. They are keeping constant vigilance making sure the bad guys aren't coming into the air space unannounced."
Horn explained that a junior person seeing a blip on the screen would get the first indication that something may be wrong. Then, a sergeant would be notified. Then, another sergeant. Then, a watch officer. "And then they would have to go to a commander for a final decision on what to do," Horn added. "So, they looked at this and all the steps on this and figured we could tighten it up, make it more accurate and be in a shorter duration. They realized they could do it better."
Horn said they used value stream mapping to figure out how the system currently worked and what the ideal process would be.
"What they were able to do is eliminate the steps that added no value and also do steps that allowed things to happen at the same time, in a parallel function," Horn said. "They were able to take it down from 18 steps to three distinct steps and one of the tools they used was collaborative information sharing, where that young sensor operator could post something to a collaborative communications tool one time, and hopefully people can see that and have the information they need to begin their work to get the information they need to get it all to the commander.
"By taking 18 steps down to three, it reduced the engagement cycle significantly and it increased the accuracy because the process was more transparent," Horn said.
Hollie Jensen, the enterprise lean leader for Gov. Jay Inslee's Results Washington initiative, noted that the lean process worked the way it was supposed to, identifying a gap from the beginning "and instead of saying this thing doesn't work, we better fix it, you said, 'What is the real gap and where are we headed?'"
"How did you create a safe space to make it work?" she asked.
"What we found out is if it's our Continuous Process Improvement Office going around and telling people, 'you need to fix this,'" Horn said. "That's not a way to succeed. If it's a senior leader saying, we have a problem, help us figure out a way to fix it and here's the tools to do it, it's a much better way. Better it comes from a grassroots perspective, to have our employees be empowered to fix problems in order to try to innovate."
Horn offered another bit of wisdom, especially coming from a military organization. He says he recently had his team come together to craft a mission statement and wanted the ideas to come from everyone, not necessarily him.
"The more senior I become in the organization, the more I realize that my ideas become "Go Dos" – and so I need to be very cautious of that," he said. "It could be very easy to have things be a top driven team."
Horn shared the stage for about an hour with State Auditor Pat McCarthy, who emphasized the value of performance audits; Department of Revenue Deputy Director Marcus Glasper, who talked about being cognizant of public input and not creating policies in a vacuum; and Michael Meotti, executive director of the Washington Student Achievement Council, who noted that facilitating is connecting interested parties, working with them and learning to walk away.
Details about the conference, as well as meeting material and presentations will be posted at https://www.results.wa.gov/what-we-do/learn-about-lean/lean-conference
---