First Responders, Working Together
---
Washington National Guard Sgt. Adrian Bojorquez, a CBRNE chemical specialist from the 792nd Chemical Battalion, trains hospital staff from the Summit Pacific Medical Center on chemical decontamination procedures and techniques as part of a joint training exercise, October 14, 2017 in Elma, Washington. The exercise, consisting of the Summit Pacific Medical Center staff, Grays Harbor County emergency personnel and Washington National Guard members, aimed to increase the multiple agencies response, communication and decontamination techniques and procedures making everyone better prepared to work cohesively in the event of a natural or man-made disaster. (US Army National Guard Photo by SPC Brianne Kim)
When a disaster strikes, resources are put to the test. Especially in smaller, rural communities.
"We're a small critical access hospital so we would anticipate in a real situation that we're probably going to get a lot of patients and might even get overrun so it's a great exercise for us to find out where the holes are," said Nick Greeley, a registered nurse at Summit Pacific Medical Center.
To strengthen its emergency response, the Summit Pacific Medical Center recently teamed up with the Washington National Guard and Grays Harbor County to conduct a regional exercise on October 14, 2017 in Elma, Washington. The exercise focused on incident response, decontamination (DECON) capabilities and medical treatment in the event of a major disaster.
The exercise simulated an earthquake scenario causing damage to tanks and piping at Vertellus, a local chemical plant, resulting in the release of methanol and isopropylamine chemicals. Mock casualties contaminated with the chemicals were sent to Summit Pacific Medical Center for treatment.
Training on DECON procedures is an important aspect for Summit Pacific hospital staff given the Vertellus plant is located just miles away, and contaminated patients are a real possibility for the hospital and Grays Harbor County.
"We're cross training with the hospital staff so that they can get practice utilizing their equipment and better understand the DECON process," said Sgt. 1st Class Courtney Serad, a DECON land supervisor with 792nd Chemical Company.
During the exercise, guardsmen acting as mock casualties were sent through the DECON process at the incident site and then transported to the hospital by Grays Harbor EMTs before going through the hospital's DECON process and receiving medical treatment.
"The decontamination station is where [hospital staff] will be doing an undress, so cutting casualties out of clothing to try and remove the large amount of contaminate and then doing a wash and rinse within the tent," Serad said. "They got more practice with their equipment and they understand the DECON process so that in the event they have to do it themselves they're prepared to do so."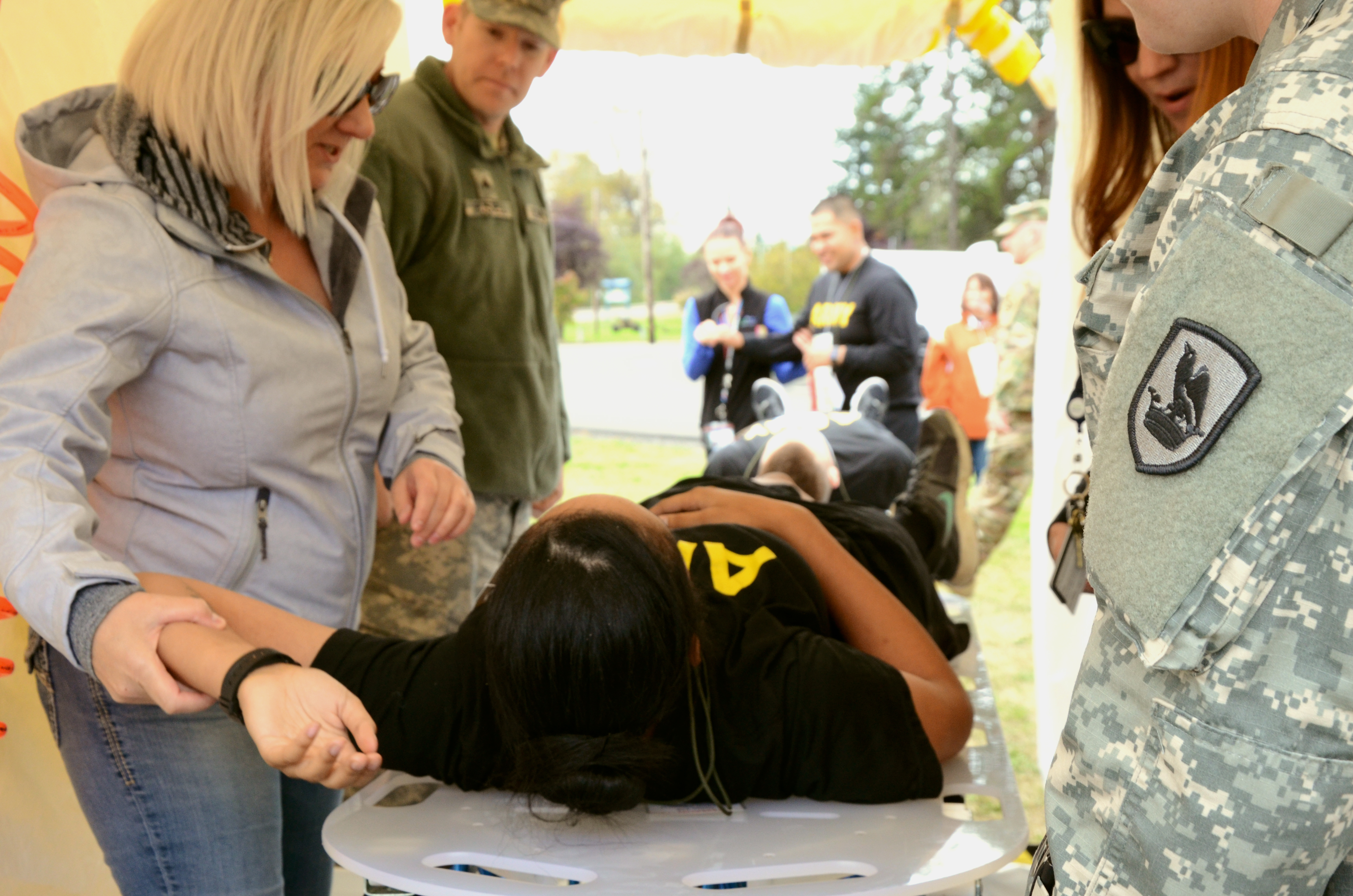 Washington National Guard soldiers from the 792nd Chemical Company train with hospital staff from the Summit Pacific Medical Center on chemical decontamination procedures and techniques as part of a joint training exercise, October 14, 2017 in Elma, Washington. The exercise, which included Summit Pacific Medical Center staff, Grays Harbor County emergency response personnel and Washington National Guard members, aimed to increase the multiple agencies response, communication and decontamination techniques and procedures making everyone better prepared to work cohesively in the event of a natural or man-made disaster. (US Army National Guard Photo by SPC Brianne Kim)
In the event of an earthquake that disrupts infrastructure, if the limited staff that is trained and familiar with the DECON equipment cannot get to the hospital then it will be up to those with less knowledge and experience handling the equipment to set it up and begin operations, Greeley explained. "We need to be able to do that so I feel that we probably need to have more of our core staff regularly drilling on this."
The exercise not only enabled hospital staff to become more experienced with DECON procedures but also strengthened the relations between the Washington National Guard and local emergency responders, ensuring that if the time comes each agency will be able to work seamlessly together to successfully care for casualties as quickly as possible.
"There can be scenarios that are so big that we all have to work together quickly and efficiently even if we don't routinely work together," Greeley said. "And so I find that an exercise like this is really, really helpful to just see how different components of the machine work together. It's hugely important to make sure we are all communicating well and we understand the plan so we can do the most good as quickly as possible for people that need help."
"Working with the community is a massive, massive benefit because this is what we do as the National Guard. We're local state responders, our primary focus is how are we going to respond with locals when we need to whether it's wild land fires or floods or in a scenario like this where we're practicing for an earthquake," Serad said. "Anytime we can get out into our local communities and practice these scenarios and how we're going to interact and how we're going to engage and build relationships is a huge, huge benefit."
---