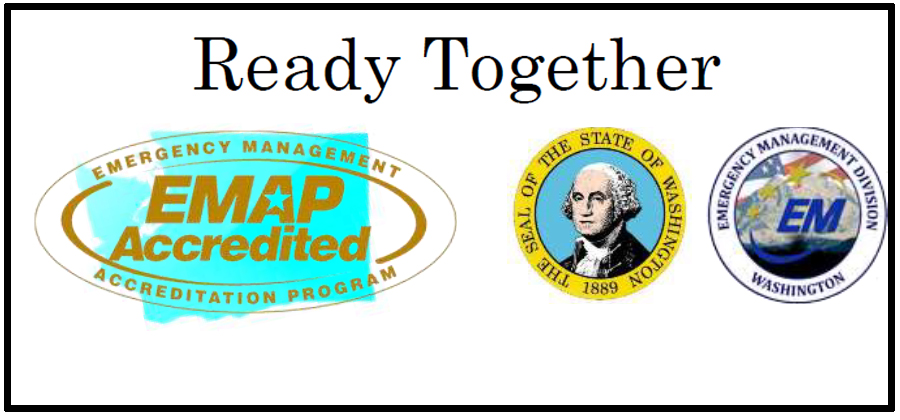 WA EMD receives full accreditation from national organization
---
On July 23, the Washington Emergency Management Division received full accreditation by the Emergency Management Accreditation Program (EMAP), a national organization that ensures emergency management organizations do their jobs well.
To achieve accreditation, applicants must demonstrate through self-assessment, documentation and peer assessment that the agency meets a standard created and honed by experts within the Emergency Management Accreditation Program. Emergency management programs nationwide use accreditation to prove the capabilities of their disaster preparedness and response systems.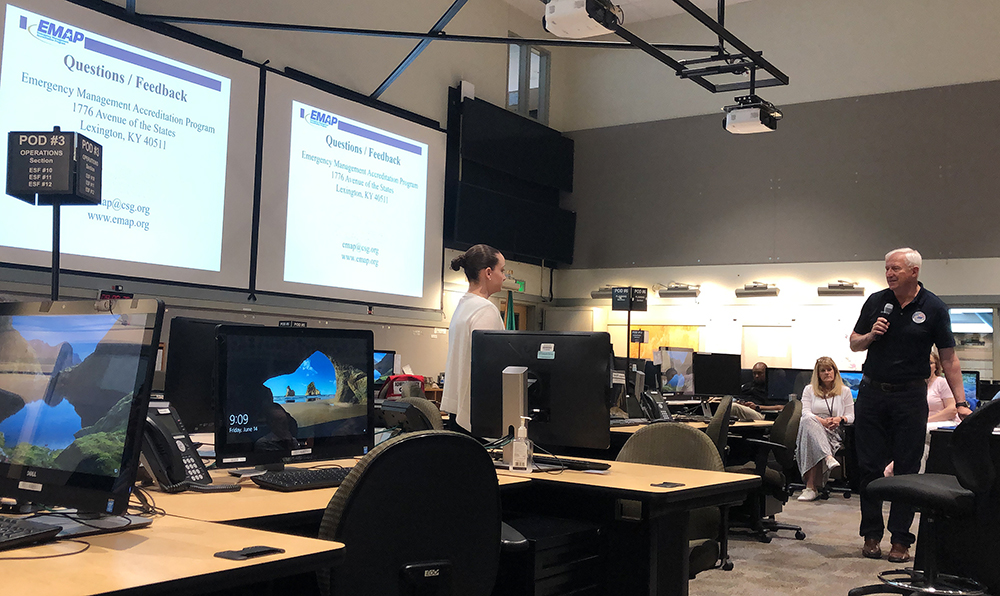 FILE PHOTO: EMD Director Robert Ezelle speaks with members of the Emergency Management Accreditation Program after a presentation in the state Emergency Operations Center in June 2019.

"The state of Washington is commended for the work accomplished to achieve compliance with industry standards. To achieve accreditation, your program, which includes many agencies and individuals within the program, took steps to document compliance with 64 industry-recognized standards and a peer-review on-site assessment by a team of EMAP trained assessors," wrote Nicholas Crossley, the chair of the EMAP Commission.
Crossley noted that accreditation recognizes the ability of programs to bring together personnel, resources and communications from a variety of agencies and organizations in preparation for and in response to a disaster of any may type.
Washington state started the process in 2017 and received conditional accreditation in December 2019. Conditional accreditation was awarded because there were a few areas that needed to be adjusted to receive full accreditation.
Washington Emergency Management Division Director Robert Ezelle noted that the full accreditation was achieved with everything else going on, including activation of the state Emergency Operations Center for the longest time in state history because of COVID-19.
"This is the culmination of several years of hard work by our statewide team to document that we are in full compliance with the Emergency Management Standard," Ezelle told staff in an email. "This is truly a team effort. You should be proud of your accomplishment and the fact that we now number among the states that claim full accreditation."
"Congratulations to all!" added Maj. Gen. Bret D. Daugherty. "I'm really proud of everyone who played a role in this accreditation. This is a major, professional accomplishment."
Daugherty also awarded a special award for the quarter to Assessment & Exercise Supervisor Robert Sabarese for his efforts to guide the agency from conditional to full accreditation, helping Washington become the 29th state to complete this program.
"We applaud the state of Washington's leadership and congratulate you on your commitment to achieve accreditation," Crossley with the EMAP commission added. "More importantly, we recognize the dedication to the safety and security of the residents that it represents."
---