Emergency Management garners national accreditation
---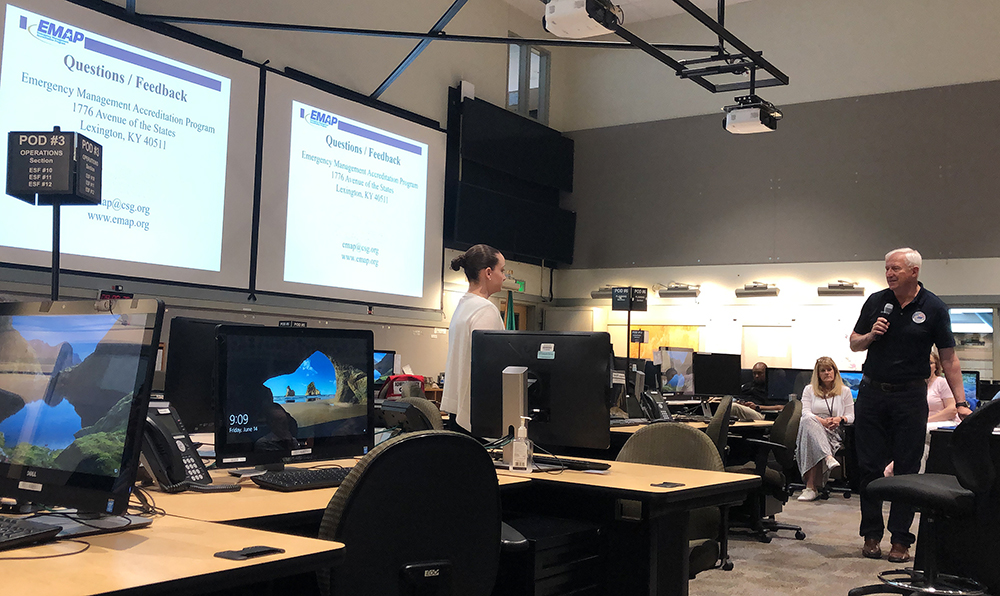 EMD Director Robert Ezelle speaks with members of the Emergency Management Accreditation Program after a presentation in the state Emergency Operations Center in June. In December, Washington Emergency Management Division received conditional accreditation for the national program.
After almost two years since initial application, the Washington Emergency Management Division has received conditional accreditation by the Emergency Management Accreditation Program (EMAP).
To achieve accreditation, applicants must demonstrate through self-assessment, documentation and peer assessment that the agency meets a standard created and honed by experts within the Emergency Management Accreditation Program. Emergency management programs nationwide use accreditation to prove the capabilities of their disaster preparedness and response systems.
Conditional accreditation may be awarded when there are a few areas that need to be adjusted to receive full accreditation.
"We know what we need to do to bring us into full compliance and our team has a plan to complete the work by the middle of next year," said Washington Emergency Management Division Director Robert Ezelle. "I am so proud of our staff and our team across not just our agency but our partners in the state to help us get this far. This is a huge accomplishment and is testimony to the superb work our team does. My heartfelt thanks to all who worked so tirelessly to bring us over the finish line."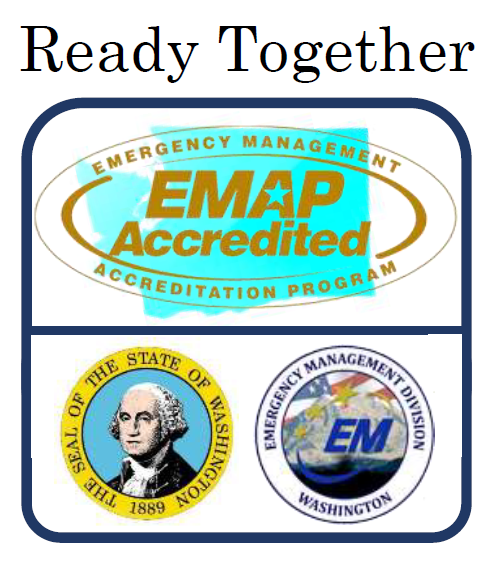 Last June, 10 evaluators from emergency management programs across the country traveled to Camp Murray and met with staff for a week, conducting interviews and reviewing documentation to ensure the agency was meeting the 64 EMAP standards. These standards are the framework for building and ensuring a solid emergency management program known as the Emergency Management Standard. The standard defines what components must be in place but does not tell the agency how they must do it. That's up to each individual organization.
The evaluation and accreditation is not solely for EMD, but for the state's emergency management program as a whole. The state program involves other agencies ranging from the departments of Health and Agriculture to the Washington State Patrol and the Fusion Center.
EMAP, run by a non-profit organization affiliated with the Council of State Governments and the National Emergency Management Association, provides a national standard for emergency management programs. The non-profit organization's board awarded the conditional accreditation in December. The board is made up of experienced emergency management professionals from local, state and federal governments, academia and the non-profit sector. The jurisdiction-wide system provides for management and coordination of prevention, mitigation, preparedness, response and recovery activities for all hazards.
Cost to the state for accreditation is about $13,000, which pays for self-assessment training, the on-site peer review and related activities. Accreditation is valid for five years.
---