Stakeholders gather for earthquake preparedness
---
In advance of Cascadia Rising, stakeholders gather for earthquake preparedness
More than 150 stakeholders gathered in Olympia on Jan. 8 in preparation for a four-day functional exercise practicing for a worst case earthquake scenario, which is a likely 9.0 earthquake along the Cascadia Subduction Zone and a big tsunami that follows.
Stakeholders heard from earthquake experts and had a chance to ask questions and gather input before the exercise starts this summer.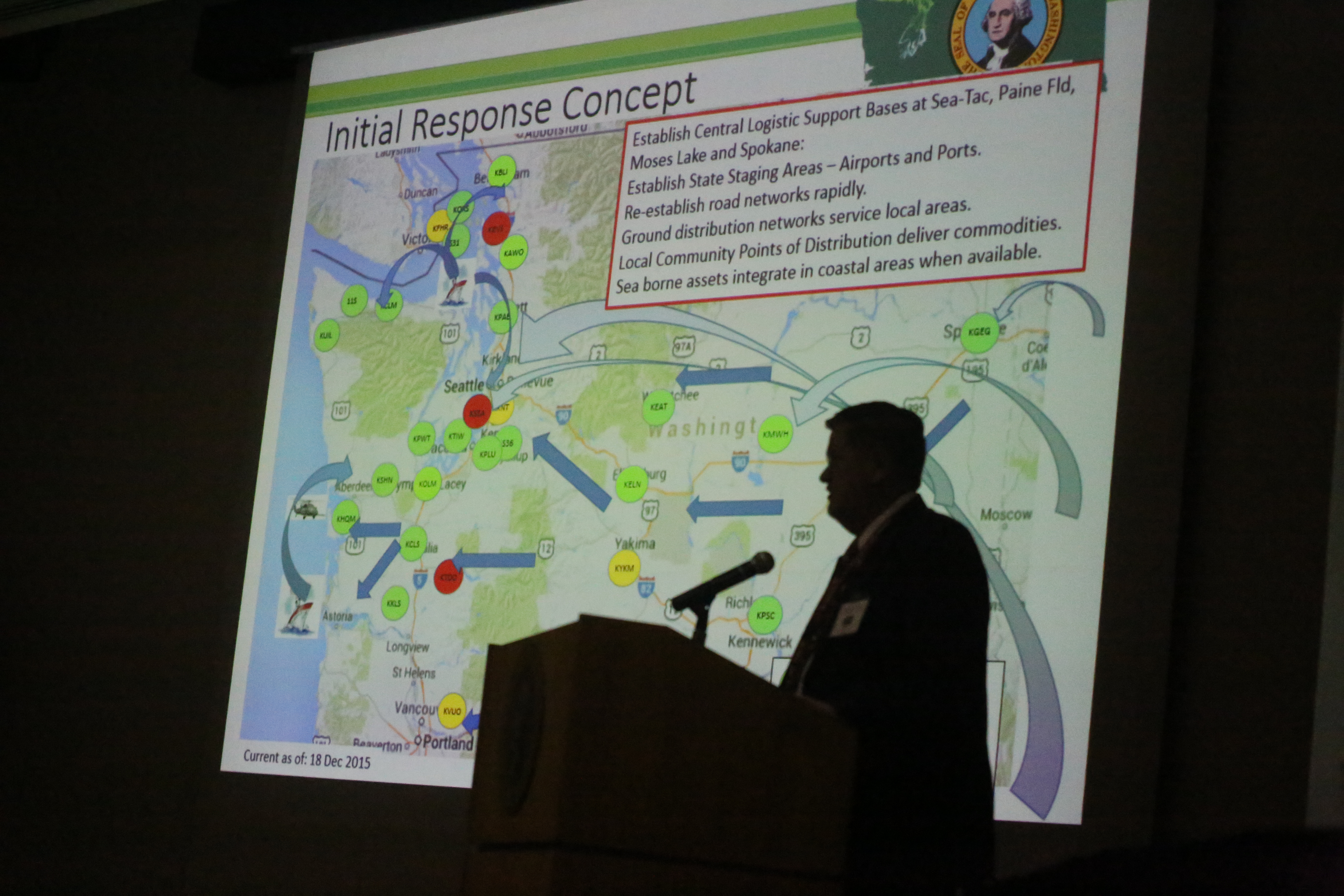 Preparedness Manager John Ufford talks about how Eastern Washington will be relied on to help out
a damaged Western Washington in the face of an earthquake.
Gov. Jay Inslee, who spoke at the Jan. 8 event, notes that the public attention continues to be on earthquakes in recent months and he's hopeful that local partners will work to ensure people who live in tsunami-prone communities understand evacuation paths and what to do in the face of a large earthquake. Inslee called on the stakeholders to unite with an educational system to encourage an evacuation consciousness "so every single person who lives in that range will understand what to do when the earth starts shaking."
"I think we can make a major difference in a major catastrophe … but we know we can reduce those casualties and reduce the time it will take to restore our economy if we do pre-planning," Inslee told attendees. "I'm very convinced of that."
There was also a call on partners to continue to work on priorities based on the Resilient Washington framework.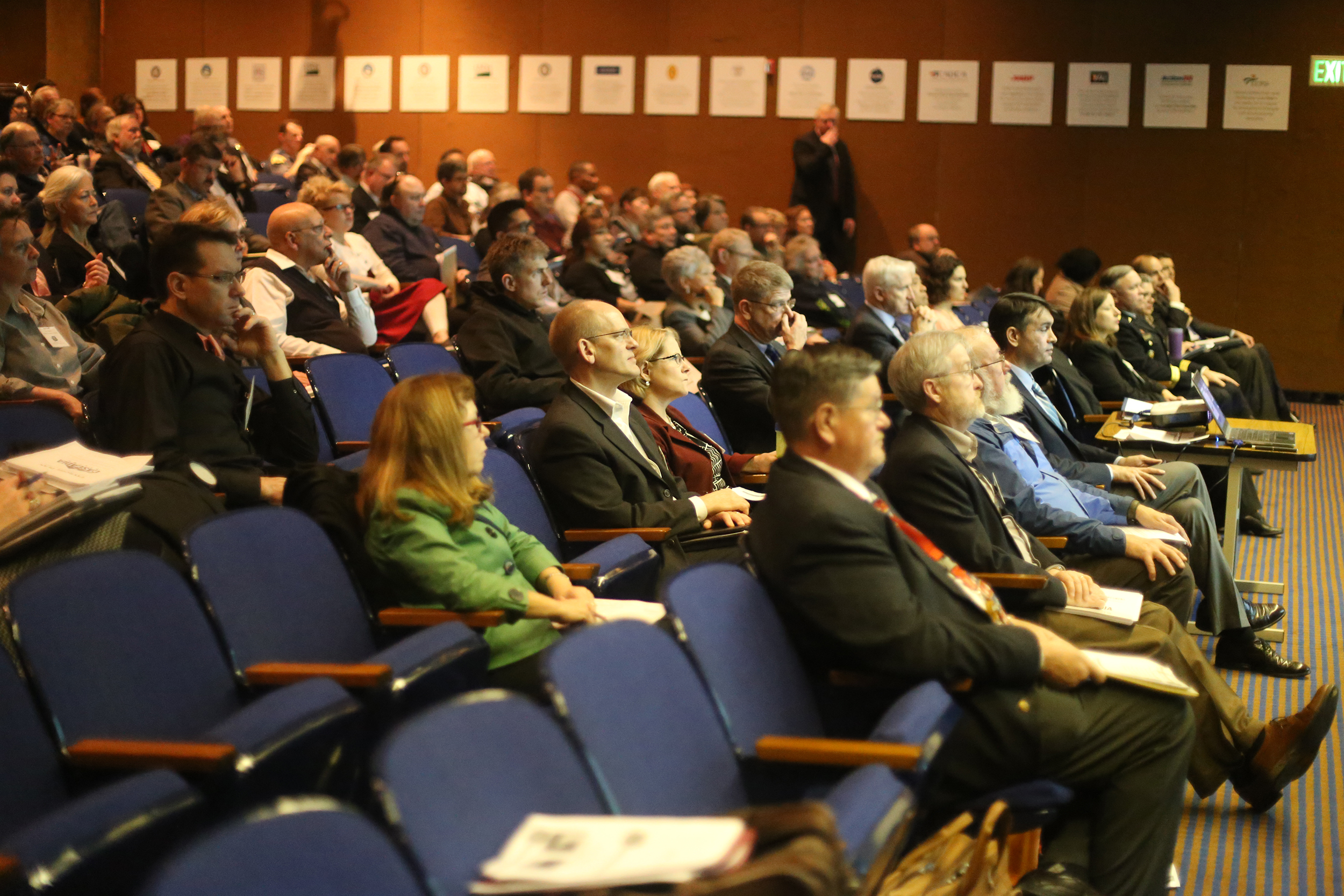 A packed crowd in Olympia.
"I have to say I am certain that a Cascadia Subduction Zone earthquake will be the largest national disaster in our country's history," said Major General Bret D. Daugherty, who is in charge of the Washington Military Department. "Current estimates is between 8,000 and 10,000 of our fellow Washingtonians will be killed in this event. Over the last three years, we've had one major bridge collapse, one major landslide and numerous smaller landslides and two summers of wildfires and just think about the impact that has had on our state. But when Cascadia happens, virtually every bridge in Western Washington is coming down and we are going to have dozens of Oso-like landslides and fires could burn in our cities and urban ."
The event was a precursor to the exercise known as Cascadia Rising, which will occur June 7-10. Emergency Operations and Coordination Centers at all levels of government and the private sector will activate to coordinate simulated field response operations both within their jurisdictions and also with neighboring communities, state EOCs, FEMA and major military commands.
Daugherty and earthquake experts all emphasize that the last Cascadia earthquake was on Jan. 26, 1700 and a Cascadia earthquake is due every 300 to 500 years.
"Given those facts, this is not a no notice event," Daugherty said. "Our task is to prepare for this disaster before it strikes us. It could happen in 100 years but it could also happen tomorrow. We're living on borrowed time. And that's why we're all here: To get prepared."
Washington Emergency Management Division Geologic Hazards Manager John Schelling says besides the 1700 earthquake, there's been a more modern history of tsunami impacts on the coast, pointing to a 9.2 earthquake in 1964, which generated a wave height in Washington of 10 to 12 feet, knocked out bridges and caused infrastructure damage. In Alaska, 119 people died. The Puget Sound has also coped with larger earthquakes -- a 6.8 earthquake that struck on April 13, 1949 and a 6.7 earthquake that struck on April 29, 1965 as well as the 6.8 earthquake at Nisqually on Feb. 28, 2001.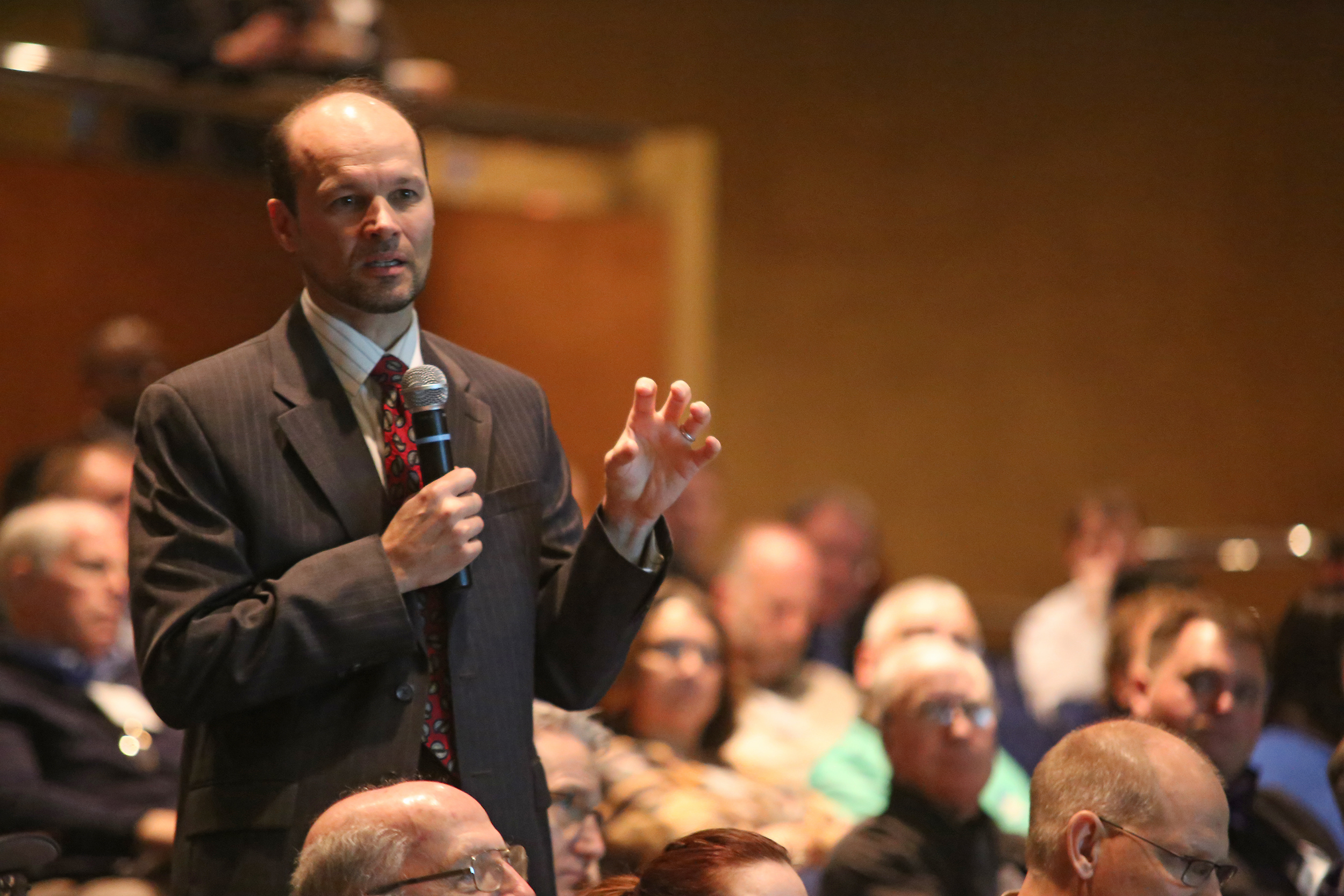 Michael Loehr, of the state Department of Health, makes a point.
Among priorities following a Cascadia earthquake, emergency management officials said, would be to re-establish communications, search and rescue, security, meet basic human needs, restore critical infrastructure, open schools and local businesses and begin recovery.
Stakeholders also talked about concerns of food storage, damaged hospitals and fire stations, long-term housing needs, how to deal with a population that relies less on cash and more on credit and debit cards and how to effectively call for more police and rescue help across county lines without firm mutual aid agreements in place.
Michael Loehr, chief of emergency preparedness and response for the Washington Department of Health, also noted that doctors working out of a community shelter or parking garage would not be covered under their malpractice insurance policies since they won't be working in their damaged, powerless hospitals, but will likely still want to help. It's a public policy issue that should be dealt with before the earthquake hits, he notes.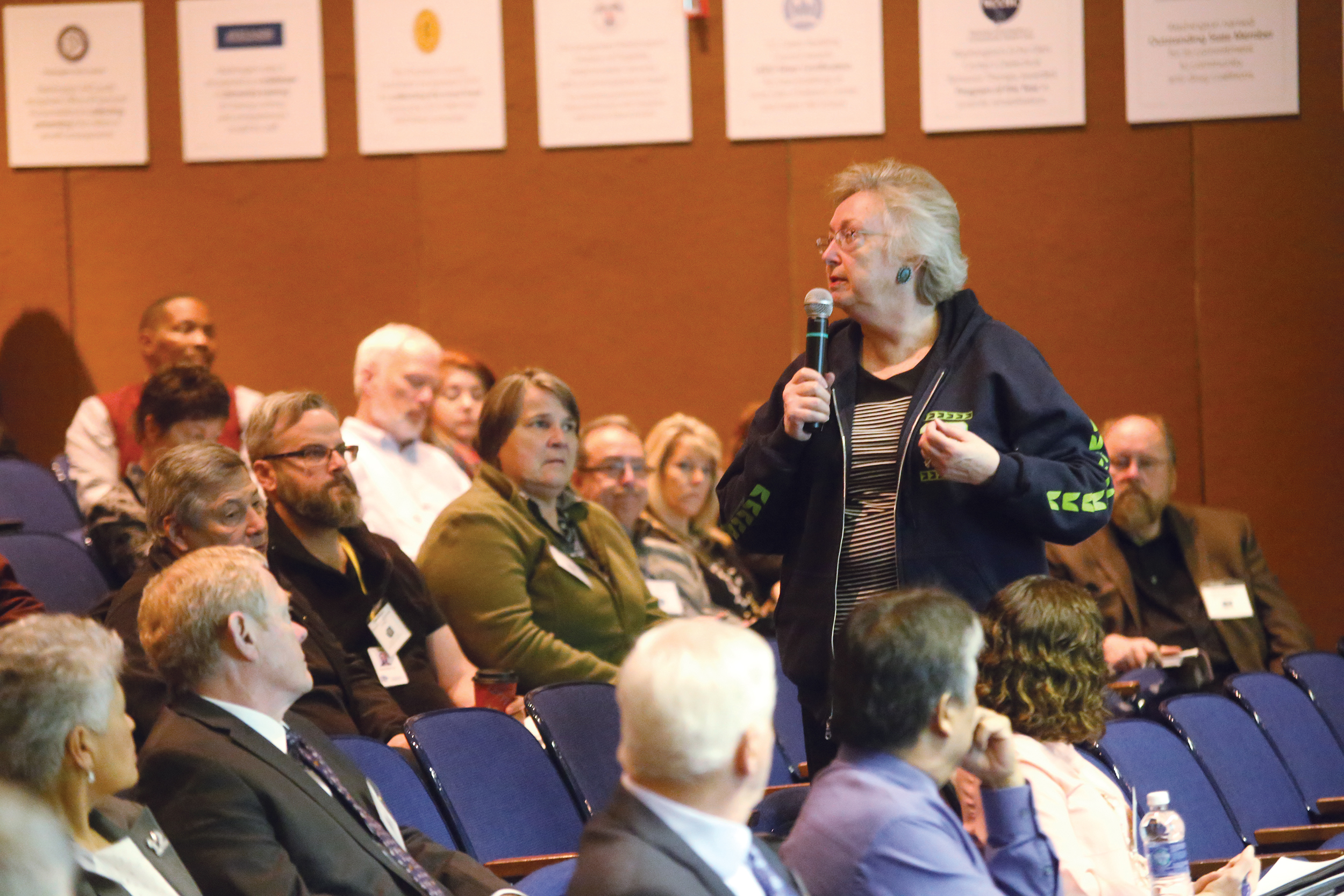 Ocean Shores Mayor Crystal Dingler shares her concerns witht he audience.
Ocean Shores Mayor Crystal Dingler was among the stakeholders to talk about the challenges her city could deal with in the face of a major tsunami and earthquake.
"We are essentially a large sandbar subject to liquefaction," Dingler said. "We have lots of bridges because we have waterways throughout the city. Even if we didn't have the bridges falling down, even if we didn't have the liquefaction, there's no place to go. It's a two lane highway in and out so if you look for that with maybe 20,000 to 50,000 people on a weekend, it could be something."
---