Big 1965 earthquake happened 50 years ago
---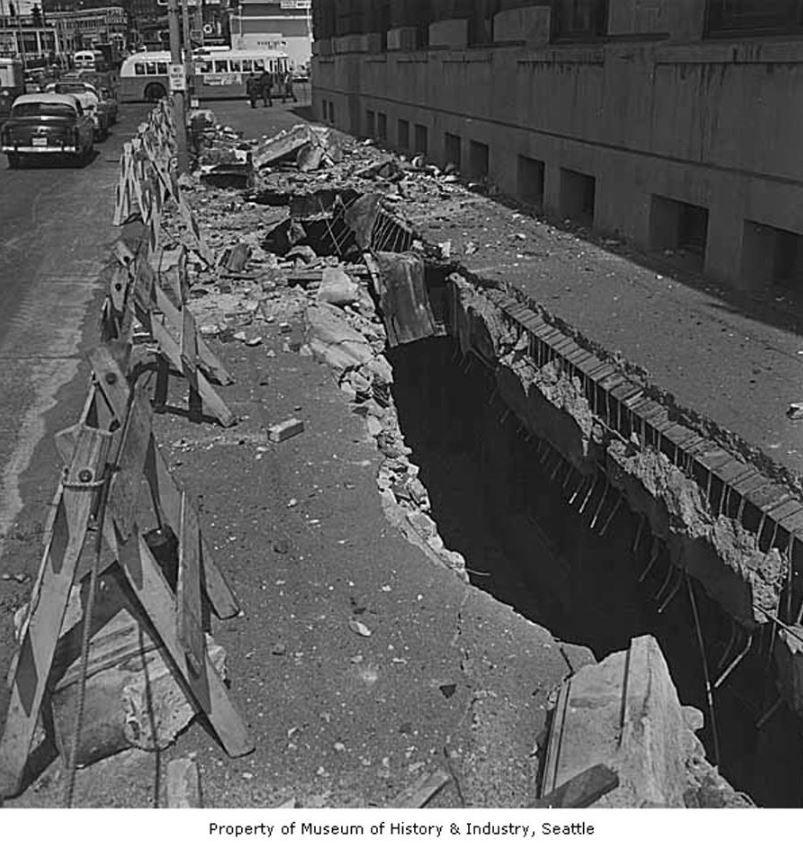 Earthquake damage in Seattle from the 1965 quake (Seattle P-I via MOHAI)
This month in history: Two major earthquakes hit Puget Sound
With all eyes on the devastation in Nepal, Washington Emergency Management Division officials are reminding the public that earthquake dangers are just as probable here.
In Nepal, the 7.8 earthquake killed thousands and collapsed masonry-style buildings. If a megaquake were to hit here, hundreds of historic brick buildings in the Seattle and Tacoma downtown cores would be in danger.
In fact, several buildings did collapse in two significant earthquakes that rocked the Puget Sound, both coincidentally have anniversaries this month – a 6.8 earthquake that struck on April 13, 1949 and a 6.7 earthquake that struck 50 years ago this month on April 29, 1965.
"We get more than 2,700 earthquakes on average per year in Washington," said John Schelling, the earthquake, tsunami and volcano manager with the Washington Emergency Management Division. "Most of them are too small to be felt. These deeper earthquakes are felt over a wide area.
The best course of action is to develop a preparedness plan with information on our website.
The Washington State Hazard Mitigation Plan details the events in both earthquakes.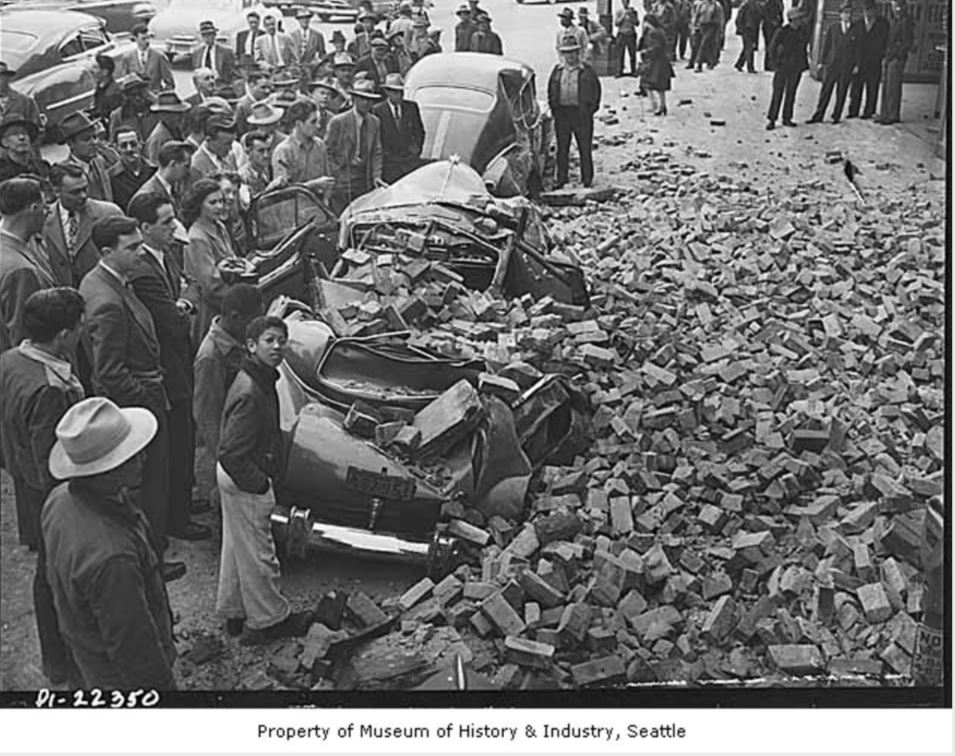 A car was crushed by debris outside the Busy Bee in Seattle in April of 1949. (Seattle P-I via MOHAI )
The April 13, 1949 earthquake struck about 8 miles north-northeast of Olympia, along the southern edge of Puget Sound, killing 8 people and injuring many more. Property damage in Olympia, Seattle, and Tacoma was estimated at $25 million (in 1949 dollars).
In Centralia, alone, the earthquake damaged 40 percent of the homes and businesses. Ground water, released by the shaking, flooded several blocks of Puyallup. In Olympia, there was a lot of damage concentrated at the Port, which faced dangers of liquefaction and was built on artificial fill. A USGS report notes that almost all large buildings in Olympia were damaged to some extent, including eight structures on the Capitol grounds.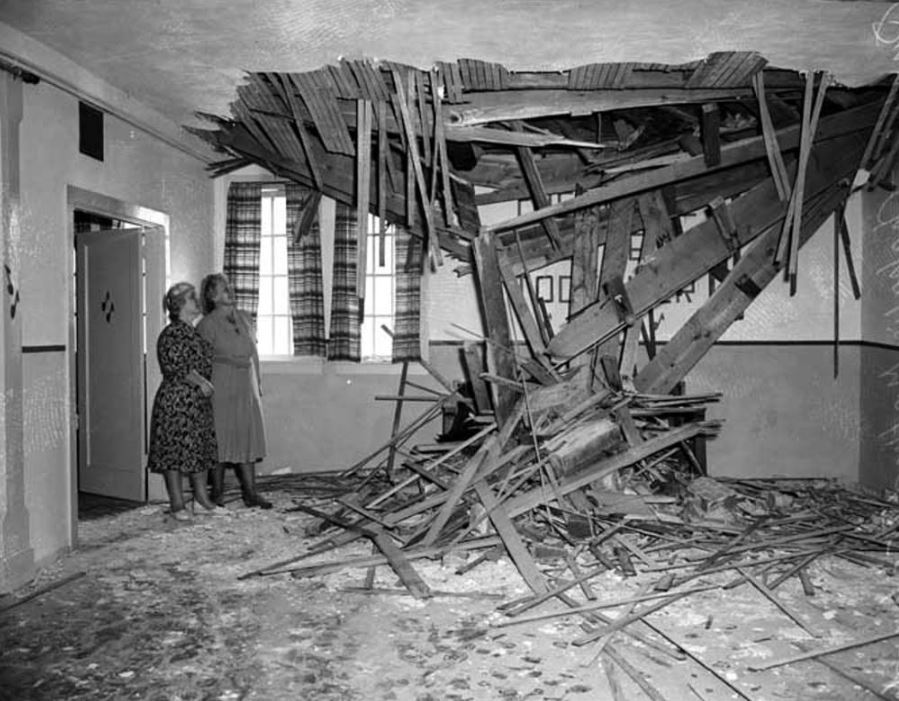 Two women look at earthquake damage in Chehalis from the 1949 quake (Photographer unknown via MOHAI ).
Near Tacoma, a huge section of a 200-foot cliff toppled into Puget Sound three days after the earthquake that produced a tsunami that swept across Tacoma Narrows and reflected back to Tacoma, flooding a group of houses along the shoreline. South of Tacoma, railroad bridges were thrown out of alignment. A 23-ton cable saddle was thrown from the top of a Tacoma Narrows bridge tower, causing considerable damage.
Twenty-six years later, on April 29, 1965, a 6.7 earthquake struck 12 miles north of Tacoma, killing 7 people and causing about $12.5 million (in 1965 dollars).
In general, damage patterns repeated those observed in the April 1949 earthquake. Buildings damaged in 1949 often sustained additional damage in 1965.
"The largest building damage was undoubtedly incurred by the Boeing aircraft plants; one at Renton and the other in southwestern Seattle," according to the Mineral Information Service in a report at the time. "In these two plants, both located on natural mud flats and artificial fill, floors settled away from the foundation piling, much interior concrete block was cracked, fluorescent light fixtures were down, acoustical ceiling tile fell, and concrete tiles fell away from structural steel members."
Minor damage was widespread through Seattle to Everett on the north and to Olympia on the south and extended from a few miles east of Renton to almost as far west as the Hood Canal. Three persons were killed by falling debris, one in downtown Seattle and two on Harbor Island, according to the July 1965 Mineral Information Service report.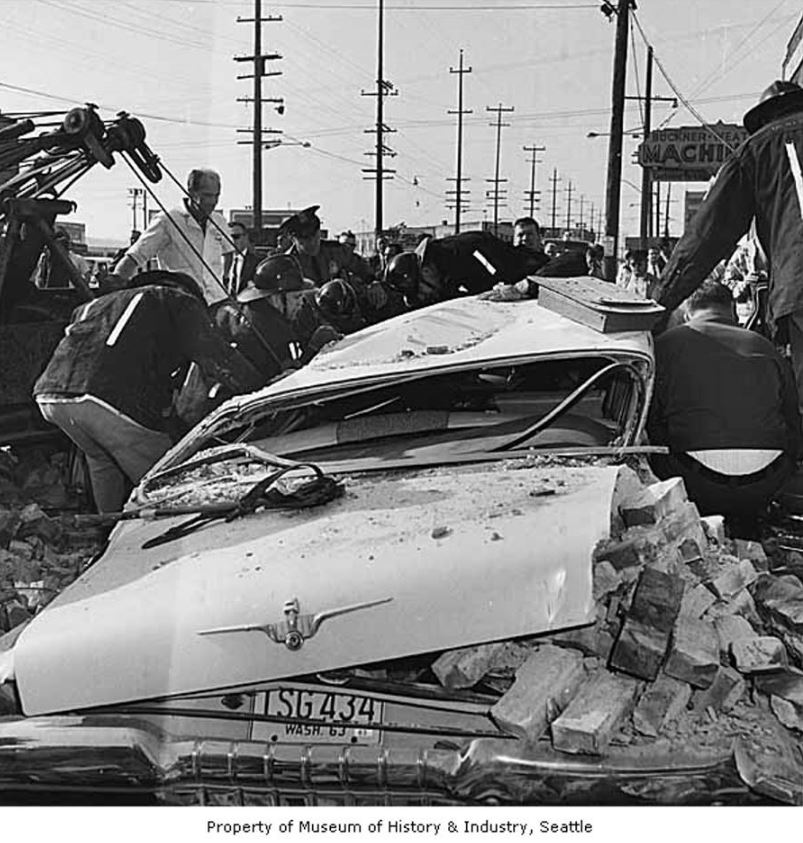 A man died when his car was crushed during the earthquake in Seattle back in 1965 (Seattle P-I via MOHAI)
Most of the damage in Seattle was concentrated in areas of filled ground, including Pioneer Square and the waterfront, both with many older masonry buildings. Nearly every waterfront building experienced damage. The low-lying and filled areas along the Duwamish River and its mouth settled, causing severe damage at Harbor Island; slumping occurred along a steep slope near Admiral Way.
Damage to utilities in the area was not as severe as in 1949.
Buildings with unreinforced brick-bearing walls with sand-lime mortar were damaged most severely. Multistory buildings generally had slight or no damage. However, the Legislative Building once again was damaged and temporarily closed. Government activities moved to nearby motels. The Legislature Building in Olympia would sustain more damage in the 2001 Nisqually earthquake.
Both the 1949 and the 1965 earthquakes were felt in Idaho, Montana, Oregon, and in British Columbia, Canada.
"Our thoughts and prayers are with the people of Nepal right now," Schelling said. "They have weathered this catastrophic incident. And we have our own hazards here in Washington that we have to think about, with megathrusts off our own coast, the Cascadia Subduction Zone in particular and a number of shallow faults across Washington."
The time is right to sign up for the Great Washington Shake Out and develop your own family and business plans. The event is set for 10:15 a.m., Oct. 15, 2015. Sign up: http://www.shakeout.org/washington.
---