Push on to convert 81st Armored Brigade to a Stryker Brigade
---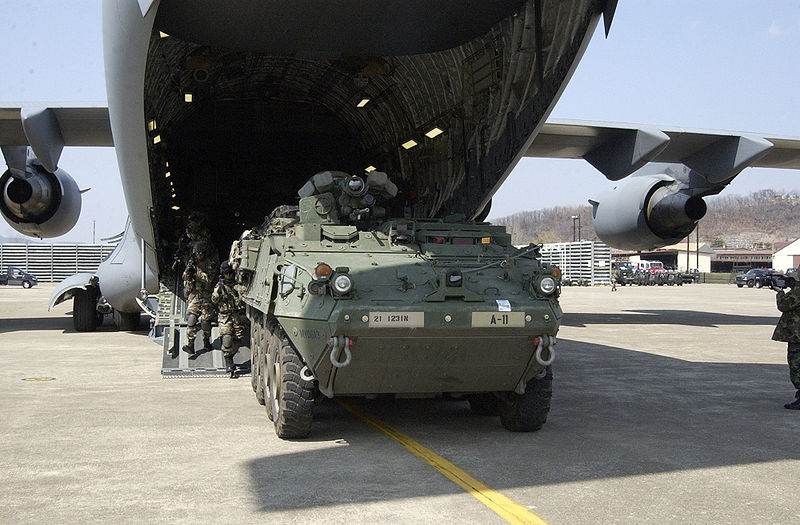 A U.S. Army Stryker Infantry Carrier Vehicle at Daegu Air Base in Daegu,
Republic of Korea, on March 20, 2005. (DOD photo)
Push on to convert 81st Armored Brigade to a Stryker Brigade
A joint resolution introduced Jan. 29 in the Washington State Senate asks President Barack Obama to transition the Washington National Guard's 81st Armored Brigade Combat Team to a Stryker Brigade Combat Team. Personnel and equipment have returned home from the war in the Middle East and decisions will soon be made on unit assignment for stationing these equipment resources.
The non-binding resolution would need to be approved by the full state House and state Senate and is just a request, but follows up on several other requests made by Washington National Guard officials in recent years to convert the 81st Armored Brigade Combat Team.
Strykers are armored personnel carriers and supply vehicles that can go anywhere and National Guard officials see a use for the vehicles in domestic emergencies such as flooding events.
Pennsylvania is currently the only place that has a Stryker Brigade for National Guard use.
"A Stryker Brigade Combat Team stationed on the West Coast will strengthen our nation's defense by maintaining Stryker capacity focused on the Asia-Pacific Region, enhance Regular Army/Army National Guard partnership, and provide a key domestic response capability," the resolution states. "...Your Memorialists respectfully pray that as you consider force structure balance in this era of constrained resources, coupled with the tactical, strategic, and domestic needs of our nation, you will support the conversion of the 81st Armored Brigade Combat Team of the Washington National Guard into a Stryker Brigade Combat Team with brigade units stationed in Washington, Oregon, and California."
The legislation is spearheaded by state Sen. Steve Hobbs, a major in the Washington National Guard, and is co-sponsored by 14 other state senators.
Its bill number is Senate Joint Memorial 8008.
Background on the issue in this KING 5 story from last year:
---