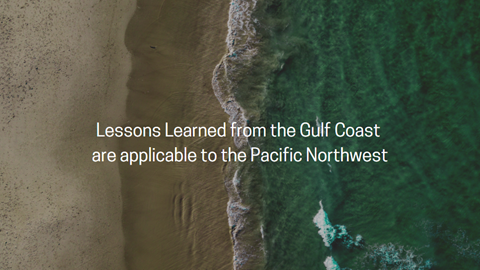 Personal story: How I learned to be better prepared
---
By Magin Maier

It was my senior year of college and I had just finished a solid grocery haul with my roommate at the Tchoupitoulas Street Walmart in New Orleans, Louisiana. As we loaded bags of Top Ramen, gallons of ice cream and frozen TV dinners into the back of my decrepit Volvo station wagon, we had nothing but excitement for the final push to the finish line of our college careers. Little did we know, we wouldn't be going back to class that first week. And I should have prepared better.
These are a few important lessons along the way:
Keep your gas tank at least half-full. I may not be hopping into a line of cars to evacuate town every now and then anymore, but I'm very aware that severe storms, winter weather or power outages may render the pumps at gas stations useless or that I may not be able to make it to a gas station. There are other benefits too: if you're trapped at home and the power goes out, you can charge your phone in your car or use it as a place to stay warm.
Having an emergency kit in your vehicle is crucial. If you're trapped on the road due to unforeseen circumstances, having a well-stocked vehicle kit can help make you more comfortable and prepare you for the worst-case scenario. Items to put in your kit include: cell phone charger, water, snacks, blanket, flashlight with extra batteries, jumper cables, seasonal equipment (e.g. ice scraper) and road flares/reflectors.
Have a go-bag. A go-bag is a smaller, portable version of your home emergency kit that is used in the event of a rapid evacuation. Everyone in your household, including pets and service animals, should have one. Learn what items to put in a go-bag here.
Local emergency alerts save lives. It can take mere minutes to sign up for this critical, free service. Sign up for local emergency alerts in Washington State here.
How did I learn these lessons? Read on to discover the ride of my life.
Living in Southeast Louisiana, you get used to tracking storms that come rolling off the Gulf of Mexico. Although you love the folks in neighboring states, you always hope the storm's track shifts away from where you live or dissipates entirely without making landfall. My dad was the first to text me that New Orleans was in the "cone of uncertainty," the probable track of the center of a hurricane, for a recently developed storm. This was nothing new, so I didn't think too much of it.
Here's the deal. In New Orleans, when classes or work are cancelled due to hurricanes or tropical storms, you host a "hurrication" (a hurricane vacation) with your friends who are unable or choose not to evacuate. It often tends to be a rip-roaring good time. With Hurricane Isaac classified as a Category 1, we had planned to hunker down with fellow classmates who were planning to wait out the storm in the city.
However, Isaac was looking more ominous as it moved closer inland. It was a large and slow-moving storm, even if its categorization didn't seem too scary. Hurricane Katrina and more recent flooding events left indelible memories on the city's inhabitants, and many chose to leave during the city's call for a voluntary evacuation.
As the universities cancelled the first week of classes, businesses were boarding up their windows and residents were packing their bags to head out of town. It was at that moment, my roommate and I decided to make the call. Our street often flooded during heavy rains and another sticky, hot summer week was predicted. Without working air conditioning in a power outage, it was at best uncomfortable; at worst, downright dangerous. We piled into my rickety station wagon and headed north to my brother's house in Baton Rouge, Louisiana.
After listening to the local news station and getting a round of local emergency alerts blaring from my phone, I took a chance. The major interstate heading out of the city, Interstate 10, was bumper-to-bumper traffic. During a mandatory evacuation, New Orleans will implement contraflow on the interstate, meaning vehicles travel in the opposite direction of a lane's normal traffic flow. As a result, people can move quicker inland to safety and get further away from the Gulf Coast. Since this was only a voluntary evacuation, I figured I'd take the back roads to save some time sitting in traffic.
In the spirit of previous optimism, I had no vehicle emergency kit, but I did have some plastic water bottles (that had been roasting in the Louisiana sun for three years = not good), a picked-over first aid kit that only had odd-shaped bandages left, and a can of Fix-a-Flat. It was better than nothing, I guess. (My parents would've been appalled.) I figured it was only a 90-minute drive anyway.
That typical 90-minute drive took us closer to seven hours, and you know what's the worst? When it feels like it's 1000 degrees outside, the sun is beating down on your car, and you can't keep your AC running in standstill traffic because you didn't heed the advice of your parents and keep your gas tank as close to full as possible during hurricane season. I wound up turning my car off as we sat in traffic to save on gas, as both my roommate and I sweated profusely next to each other. There's nothing like the sickly smell of each other's ripe body odor to bring you closer together. Plus, with a lack of emergency snacks and car charger for our phones, we weren't in the best of moods.
We finally made it to Baton Rouge as twilight rolled in, with dead cellphones, a few items of clothing, and minimal toiletries in tow. I figured we'd be back on the road in a couple of days anyway. Wrong again.
As we waited out the storm in my brother's cramped apartment and the days ticked by, I thought about how I could literally run faster than Isaac moved. The storm parked itself over Southeast Louisiana and shifted between sprinkling rain and full-on monsooning. The power went out in Baton Rouge not long after it went out in New Orleans. So we passed the time by cooking food from the refrigerator on a makeshift grill before it went rancid.
Here comes my second mistake. I had never thought to put together a go-bag. I hadn't brought along many clothes, a spare battery pack for my cellphone, cash, enough toiletry items, or a comfort item – something to keep me preoccupied like a book, colored pencils, or cards. I was bored out of my mind, but we were safe; and that's what mattered.
Hurricane Isaac made not just one, but two landfalls. The storm briefly came ashore in Louisiana before heading back out to sea and then making landfall again. It caused tornadoes and widespread flooding in five states. The strong storm surge inundated many of Louisiana's coastal regions, rendering homes uninhabitable.
In New Orleans, the power was out in my neighborhood for more than a week as local utility crews triaged the damage from Isaac. Eventually, we returned to our soggy neighborhood, with tree branches and debris scattered throughout the street. Plus, frozen dinners and gallons of ice cream perfumed the air in our apartment with the smell of rotting food and sour milk. Welcome back!
To this day, even though I've since relocated to the Pacific Northwest, I hold those lessons from my days of hurricane evacuations close. Preparing for disasters can be simple, easy and inexpensive. It can also reduce stress and help you survive. To get started (or continue) on your preparedness journey, check out our Prepare in a Year guide for 12 simple actions you can take to make you and the people you live with more prepared for the unexpected.
---